Acorn adds further Daco systems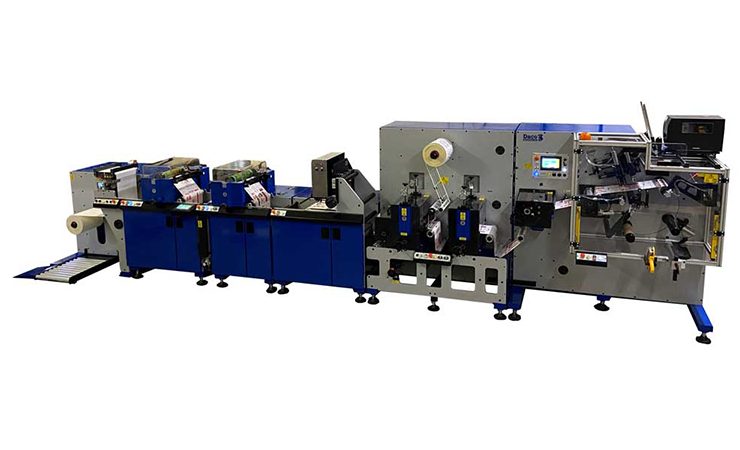 The Daco TD350 at Acorn Labels includes a UV inkjet digital module to extend the label printer's capabilities
UK printer Acorn Labels has furthered its fleet of Daco Solutions systems with investment in a two-colour TD350 label converting line, with another two systems on order.
Established in 1994, Acorn Labels produces plain and full-colour, printed labels and tapes for customers in a wide range of industries. The company uses both flexo and digital print technology, and has also diversified into supplying pallet wraps, strapping and thermal ribbons.
The TD350 installed recently features a fully automatic turret rewind module, two die-cutting stations, and a single-colour UV inkjet module. Supplied by Inkjet Solutions, this mono digital module has helped expand the capabilities of Acorn Labels yet further, as it is now be able to offer extra value to customers by adding variable data, QR codes and barcodes to labels.
The machine has taken over the work of two older machines, cutting running time by 25% in the process. The 350mm-wide machine has been specified with two full rotary flexo stations with turnbar for printing and coating, and two servo-driven die-cutting stations, along with a Daco DBS-350ES back scorer with two knife holders for edge trimming and winding. Daco's patented SVT inline turret module – an automatic servo-driven four-spindle turret rewinder – has a unique, double-sided tape system to secure the edge of the roll, rather than using hotmelt. Via laser, the machine automatically positions the mandrels to align with the tape. When a roll is finished, the onboard Toshiba Tec thermal printer produces a label with all the job data, which is then used to secure the roll end.
'We installed the Daco TD350 only one month ago, and it has been a real life-saver for us,' commented company production manager Sam Heneker. 'We were looking for something faster to keep up with demand and expand our capacity, and Daco had a great solution. I have to say the machine has not disappointed; the speed is incredible, and the print quality is second to none.
'The auto turret rewinder is a very clever innovation and this is what really speeds up production to increase output enormously. All the operator has to do is load the new cores, add a strip of tape with the handheld dispenser, then stack the finished rolls when the automatic roll eject system spits them out, and this is all done while the machine is running.'
Acorn Labels is currently going through a period of fast growth, with plans to double the size of its factory in Huntingdon, Cambridgeshire later this year. Having only just moved into the current premises last year, the company is investing heavily in machinery to keep up, such as the Daco systems. The TD350 line is reported to be 'already full to the brim', so another two rewinders of the same type have been put on order. This will take Acorn Label Daco fleet to 19 machines.
Mark Laurence, sales manager at Daco Solutions, said, 'The TD350 converter at Acorn Labels harnesses all our technologies in one machine for fast, inline converting of labels, and it has been a real success for the company already. The next TD350 will be delivered later this year, and there is a third 430mm machine in planning too. We look forward to continuing this great partnership with one of our longest-standing customers.'