Limpet Labels installs Digicon 3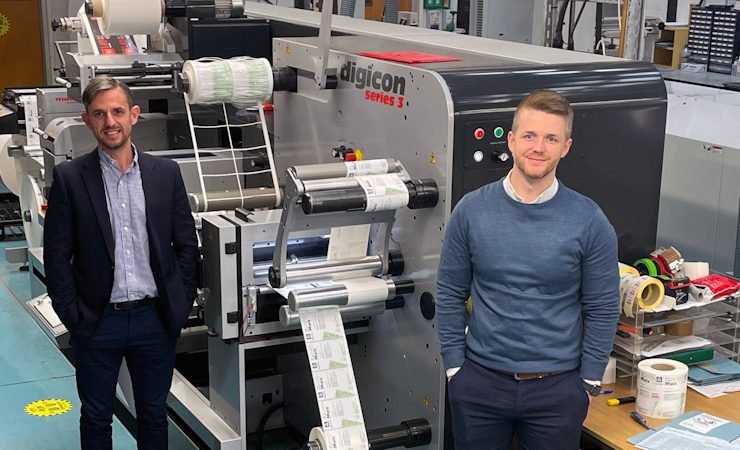 Ross Holloway (left) and Nathan Williams (right) with Limpet Labels' new ABG Digicon Series 3
UK-based Limpet Labels has installed a highly specified Digicon Series 3 finishing system from A B Graphic (ABG), future-proofing its business with a modular finishing line to match the label producer's growth expectations.
Located in Wrexham, Wales, Limpet Labels is a self-adhesive label manufacturer with over 25 years of experience in the printing industry. Traditionally a multi-flexo press based operation, specialising in the chemical, hygiene and oil sectors, Limpet Labels has now embraced a mixed digital/flexo operation.
Requiring the ability to produce hybrid and embellishment work, as well as make multi-page peel and reveal labels more efficiently, Limpet Labels' Digicon is configured with peel and reveal functionality for multi-page label creation, a semi-rotary flexo station for spot colours and spot varnishes, and a laminating tower for cold foiling and super varnishes. The Digicon also features auto based i-score and autoslit modules.
'We knew ABG had a great reputation within the label industry, but after meeting up with the team at ABG and seeing the operation at Bridlington, we were very impressed with its vision for the future of digital finishing,' said Nathan Williams, Limpet Labels operations manager. 'The automation features and higher run speed of the Digicon Series 3 will enable us to continue to hold steady lead times in what proved to be an incredibly busy and challenging year that was 2020.
'Going forward, we will continue to utilise this efficiency and explore where future investments can push this even further.
'Due to the modular nature of the Digicon, we are already looking at field upgrades. One such upgrade could be to complement our embellishment offering, which has recently seen an increase in interest from our customers. We are already exploring the next potential investment from ABG.'
Ross Holloway, business development manager at ABG, added, 'Limpet Labels is a dynamic company that has embraced digital print technology and evolved its operation over the years. We hope that this Digicon Series 3 investment will be the first of many, and we look forward to working as a partner for years to come.'
Read more about finishing and embellishment in the March/April 2021 issue of Digital Labels & Packaging; register here to receive the magazine, for free