Printing Expo opens Zone 2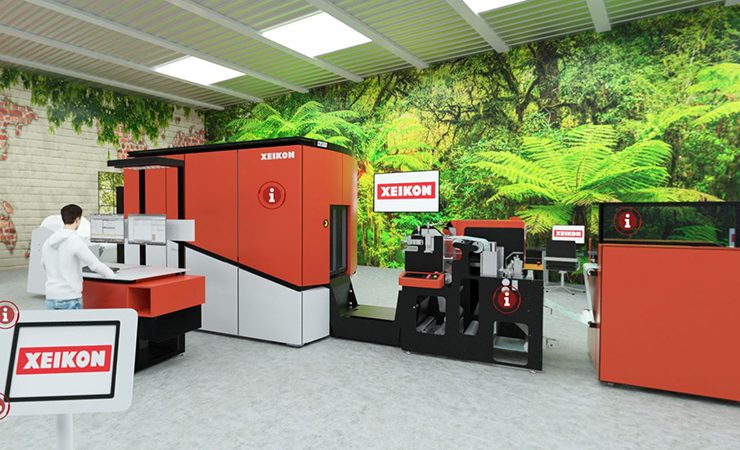 Xeikon's first 3D rendered showroom is dedicated to digital wall decoration
Printing Expo, a virtual tradeshow platform for the global print industry, has opened its long-awaited second zone.
Since the show opened in Q4 2020,  21,000 visitors from over 150 countries have been received. With the opening of Zone 2, show 'attendees' are now able to visit the 'Xeikon Virtual Innovation Center', hosting two walldeco production lines and myriad information relating to this digital production technique. A CX500 and refurbished CX500REX are used to demonstrate this.
The Xeikon stand also hosts the company's own auditorium, meaning there are now three presentation/webinar areas dotted around the Printing Expo show floor. The other two are part of the Muller Martini stand and the event's own auditorium, to the right as attendees come in through the main entrance at the start of Zone 1.
The Trade Association Hub in Zone 2 is populated by European flexo bodies FTA Europe and EFIA, UK-based trade associations BPIF and IPIA, European federation Intergraf, and FPA, a representative voice for the flexible packaging industry.
Regarding flexible packaging, the HP Indigo Digital Pouch Factory remains the main draw at Printing Expo for this flourishing digital production technique. This was introduced as part of the launch phase of the event, and features two showrooms to demonstrate the scope and scale of digital flexible packaging production, using thermal and solventless processes.
This 'stand' is also accessible directly via HP Indigo, as is the Xeikon Virtual Innovation Center. Via its direct channels, the Virtual Innovation Center is listed as presenting, 'a look at Xeikon's solutions for different digital production applications.'
This is slated to include 'real' digital printing options for different types of applications; application know-how and advise on how to get started in digital production; background information on the different markets and segments Xeikon is focusing on; information on digital production workflows and automation tools; and details of Xeikon's service and training programmes.
This hints at further introductions to its presence at Printing Expo, as the virtual trade show progresses and develops. Xeikon has gone on record to note that this new virtual platform creates, 'a unique user experience and will become the ultimate advisory hub for printers and converters searching for the latest innovations and advice on everything digital.'
With the first 3D rendered showroom dedicated to wall decoration, Danny Mertens, corporate communications manager at Xeikon, commented, 'Our new virtual showroom experience follows a set navigation path through Xeikon's machine hall where visitors will find all they need to book a demo, access and download product brochures, watch a selection of videos as well as print samples on seetheproof.com. Users will have easy access to connect with Xeikon's product experts. Content will be regularly updated and there will be facilities to download the latest information on the power of dry toner technology, technical specifications and the latest product updates.'
He continued, 'Our advisory service is an integral part of our offering. We know that a successful and cost-effective investment works best after consultation at all levels. The drive to customisation is extremely high in many areas in which digital production is the key technology. Xeikon will also use these tools during our ongoing programme of live events to ensure customers have a consistent supply of information at all times. With over 30 years of experience, Xeikon has an in-depth understanding of all digital technologies and we are looking to further build on this platform for other markets.'
As well as new exhibitors, Printing Expo has introduced avatars to populate the show floor and ambient background noise to help replicate the effect of being at an in-person event, albeit virtually.
In Zone 1, Global Graphics Group companies Xitron, Meteor Inkjet and Global Graphics Software, Close Brothers and Whitmar Publications remain present, alongside the likes of Grafitec and Excel. Reservations are reported to already being made for stands in Zones 3 and 4 at Printing Expo.
Printing Expo event director Wayne Beckett said, 'We are listening to the feedback. It is very important to us that we continue to improve the user experience. We believe that anything virtual has to be interactive and most of all needs to be fun to visit as well as useful. With new exhibitors coming on board, we are working on populating the surrounding space and have recently added people avatars – also a show audio soundtrack to give a real-life feel to the visitor experience. As we see the number of visitors increasing daily, there is more and more interest from exhibitors. The opening of Zone 2 is a natural progression as Printing Expo becomes more established.'
Printing Expo can be accessed here.