A new lease of life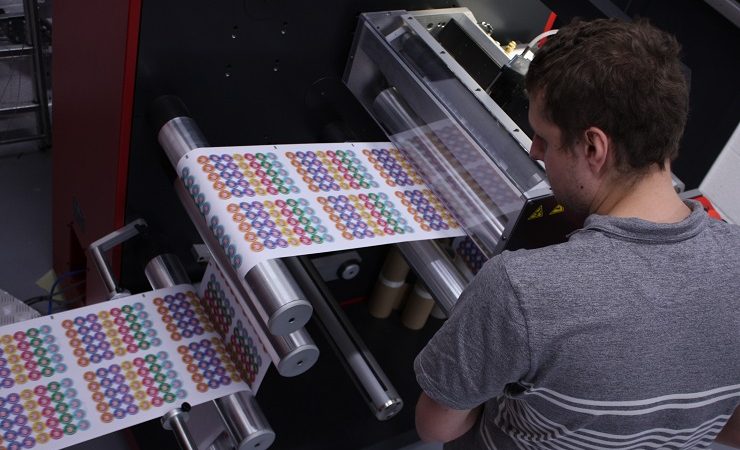 The Xeikon 3030 REX can print on substrate widths of up to 330mm and can print at up to 9.6m/min at a 1200dpi resolution
One way a converter might look to get into digital printing is via a 'not-new' press, with many refurbished/remanufactured machines now out in the field and successfully being put to work in their new homes.
For some, the capital expenditure involved in investing in a digital press has been and remains a barrier to entry.
Even with the financial support and services offered by the likes of Close Brothers (see page 25), it can be a step too far. This is particularly true if you're a new entrant into digital printing, or looking for an affordable way to expand your business into new and potentially profitable areas, such as labels and packaging.
To alleviate this pent-up demand and break down the barriers to entry, a number of digital press vendors now offer refurbished/remanufactured press programmes that provide a cost-efficient and assured way to get into digital.
'The benefits are very clear,' says Maya Poleg, head of products and solutions at HP Indigo. 'Reconditioned presses offer a lower cost entry point to start benefiting from the HP Indigo value proposition and be part of the most innovative group of converters in the world. And it's being done with the full confidence in a quality product, proven in the market, and certified by HP. It's a win-win.'
Ms Poleg identifies HP Indigo's refurbished press programme as a component of its overall strategy to drive digital transformation in labels and packaging. 'This programme allows smaller players or those who wish to enter the space an unbeatable entry to the world of Indigo and it is part of HP's overall commitment on sustainability.'
Something old, something new
Whether classed as 'refurbished', 'reconditioned', 'previously owned', 'not new' or whatever else, such presses go far beyond being second-hand pieces of kit that are past their prime.
HP Indigo offers a variety of previously-owned models as part of its refurbished press programme, including series 3 (narrow web/A3) and series 4 (mid web/B2) presses. This provides options for converters of varying size and need with access to the label and packaging market at a lower initial investment. Additional models are also available for commercial printing. Availability varies by region and specific models. Xeikon's REX is an initiative similarly introduced to support printers looking for entry-level, affordable digital production options.
Through REX, which stands for 'Remanufactured, Ecological, Xeikon quality', the company offers a range of remanufactured digital presses providing an 'attractive and affordable option' for printers and converters looking to expand their business with digital applications.
Currently, the 3030REX and 3050REX models are offered. 'Most likely we will expand the portfolio for other segments,' notes Filip Weymans, vice president of marketing at Xeikon.
HP Indigo hand-picks the candidate presses to undergo refurbishment, based on strict criteria including age, impression count, maintenance history, and more. Once a candidate press is identified, it is taken to an HP-certified factory for a thorough inspection of each key system. Dozens of parts are replaced, and the press undergoes a full battery of tests before being shipped to a new owner.
For Xeikon remanufacturing presses involves a detailed and intensive processes that sees machines taken back to the production floor in a 'naked' form, cleaned up, with all parts that have passed their lifespan or are damaged replaced, and all relevant hardware, software and electronics updated. The workflow/DFE software is updated to the latest version, and a full quality test performed.
At Mark Andy, the introduction of its second-generation digital presses presented an opportunity to increase support to converters by expanding its certified rebuilt presses to include reconditioned Digital One and Digital Series machines. Moreover, with more Digital One and Digital Series customers upgrading to the next generation of digital/hybrid presses, an inventory of used digital presses continues to be generated. This provides converters who might have a lower capital equipment budget the opportunity to find a machine that is affordable and suitable for their needs. Further, the trade-in programme is a direct result of an increase in the demand for new technology, as well as increased enquiries for previously owned equipment in growing economies.
Upgrade paths are another tantalising proposition for those investing in a refurbished press. Ms Poleg says, 'With the intent of protecting customers' investments, when launching a new press, HP Indigo offers an upgrade path, allowing customers to upgrade their existing press and benefit from some of the new capabilities included in new models. The owner of a previously owned press will be entitled to purchase the same options and upgrades as the original owner of the press.'
Mr Weymans says, 'The two current REX models available are members of the Xeikon 3000 Series which was launched in 2008.
Through those years the platform has evolved technologically. All those advancements are implemented during the remanufacturing. PSPs who acquire the press can at any later stage still upgrade to higher speeds and width when their business requires this, making it a true entry-level solution.'
Upgrade paths are complemented by comprehensive aftersales and service support. Xeikon offers the same aftersales support to REX press owners in terms of training packages, application training, technical service, breakdowns and fixes, as that offered to those buying a new model.
Ms Poleg adds, 'The new owners receive operator training as well, to ensure that best practices are maintained. In addition, they have a six- month warranty, just like any Indigo press.'
According to Ms Poleg, demand for previously owned presses is driven by a broad range of customer profiles. 'The key target customer for such a press would be a small customer finding it easier to build a business case with a lower capital expenditure or a customer without previous experience in digital that prefers to start with a lower investment but still benefit from the HP Indigo value proposition.'
Going deeper, Mr Weymans identifies that 40% of customers for REX presses are graphic arts printers expanding their application capability. 'They probably outsource some label work to a local label printer and use that volume to jump into this business,' he opines.
A further 20% are start-ups, 'perhaps those in web-to-print who began with a table model or wide format plotter and cutter. Such business is sold through the internet and they see potential to grow.'
The remaining 40% are label printers, of which the majority are small printers that want to tap into the short-run label market and make their conventional presses more efficient.
'In some cases, there are even analogue converters who want to make the leap into digital printing and minimise risks,' concludes Ms Poleg, 'or even Indigo owners in different segments who want to pilot diversification into a new era of business. It's a mix.'
This article was first published in the January/February 2021 issue of Digital Labels & Packaging, which you can read online here