Barberan and PrintFactory form strategic partnership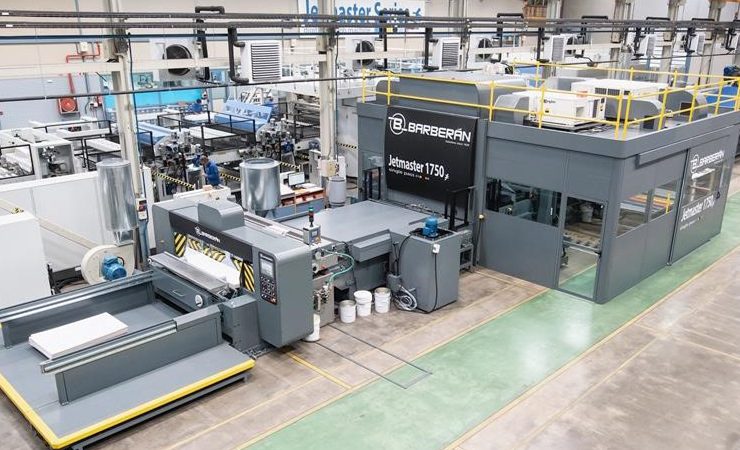 Barberan Jetmaster machines are UV inkjet digital printing systems that can be used to produce a variety of sheet-fed items
Barberan and PrintFactory have entered into a strategic partnership that sees workflow software provided to Jetmaster customers, helping them to work more efficiently today, and prepare for tomorrow.
Founded in 1929, Barberan specialises in the design and manufacture of equipment for surface printing applications in the digital decoration, packaging and sign industries. Jetmaster machines are UV inkjet digital printing systems that can be used to produce a variety of sheet-fed items, including corrugated packaging. Customers further produce industrial products on a variety of substrates such as wood, cork, plastic, ceramics and metals.
PrintFactory offers a suite of award-winning, workflow software that helps Industrial and large format printers to work more efficiently today, and prepare for more advanced levels of automation tomorrow.
With industrial production relying heavily on accuracy, reliability and maximum uptime, PrintFactory's Automation workflow supports Industry 4.0 operations, enabling 'eyes closed' printing processes to become a reality. PrintFactory Automation prepares, schedules, and nests production files via its Cloud servers while seamlessly reporting status, job criteria and production metrics automatically to customer's MIS and web-to-print (W2P) systems.
Isaac Contreras, electronics and colorimetry engineer at Barberan, said, 'This collaboration means another huge step forward towards the automation of processes and workflows in industrial printing since it allows to integrate prepress and colour management tools in a single platform. As it is also a multi-user solution based on cloud connectivity, permits the printing companies to decentralise the prepress tasks and to share advanced colour resources within the customer's ecosystem.'
Print Factory CEO Erik Strik added, 'This is a great partnership for us as it proves the Cloud automation capabilities of our workflow are suitable for industrial level print production. By automating the job preparation and colour management elements of an industrial printer's operation these factories can maximise their return on what is a considerable investment; allowing production managers to concentrate on manufacturing their products, better, faster and with minimum waste or disruption.'