Beau Label buys Dantex PicoJet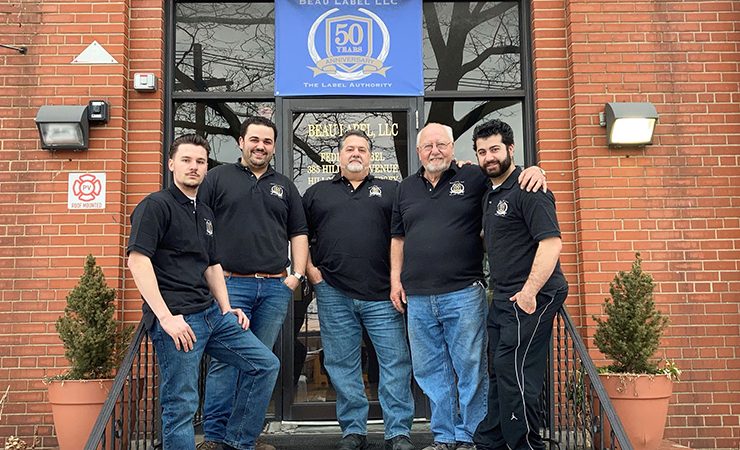 The Beau Label team
Dantex Digital will install a PicoJet UV inkjet digital press at New Jersey-based Beau Label later this spring.
Launched in 1967, Beau Label is a third-generation, family-owned print services provider, manufacturing labels for numerous industries, including food, beverage, wine and spirits, health and beauty, pet supplies, household products, industrial products and promotional products. The business, which offers a range of printing processes from a 30,000sqft production facility, sees the PicoJet as a 'perfect addition' to its expanding portfolio of print options.
'We have built a strong relationship with Dantex over the years and know them well,' said Vincent (VJ) Melapioni, Beau Label president. 'Investing in a PicoJet is everything and more that we were after. Spectacular print quality, opaque white ink density that surpasses rotary screen without the cost, an attractive price point and a web width that fits our model and existing tooling. Dantex has proven to be a valued vendor partner to Beau Label and we look forward to our continued association.'
This sale marks the first high-volume Dantex printing system to a US customer, and follows on from the company's successful use of virtual demonstrations during the coronavirus pandemic, with a trio of sales into the US attributed to this process.
Dantex CEO Ben Danon said, 'We are pleased to be installing our first PicoJet into the US. This is a fabulous digital press and I know that Beau Label will be delighted with the fast production efficiency and enhanced print quality that it provides. Once again, our digital support team have been able to successfully demonstrate the PicoJet's impressive functionality in a 'virtual setting.
'Clearly VJ and the team at Beau Label were very impressed with the US team's attention to detail in being able to demonstrate the functionality of the press in what is a globally challenging time. We look forward to installing their new press in April/May later this year.'