Print-Leeds targets self-adhesive market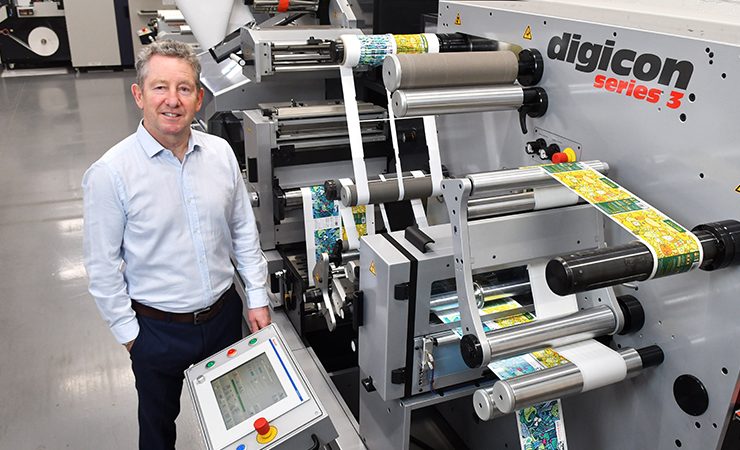 Print-Leeds managing director Rod Fisher with the company's ABG Digicon Series 3
UK-based specialist print house, Print-Leeds, has formally launched its new self-adhesive label division.
Established in 2001, Print-Leeds provides label, packaging, UV litho and digital print services. Its label division primarily prints wet glue labels – wrap-around, square cut, punched and tube wrapped –, which can be hot foil stamped or embossed. The company prints paper labels using UV or conventional inks with a gloss or matte varnish, and which are used for food and beverage applications. This is now being augmented with self-adhesive labels.
Starting life as a repro house before going into printing, and then into labels, a move into the self-adhesive label market is seen as further evolution of the business.
To deliver this offer, Print-Leeds has installed a seven-colour Screen Truepress Jet L350UV SAI S UV inkjet digital label press, and a Digicon Series 3 converting line from A B Graphic (ABG).
The Screen press installed at Print-Leeds is the first in the UK, has a 333mm print width and print in seven colours, including opaque white. It delivers a premium print resolution and operating speeds of up to 60m/min.
The addition of the ABG Digicon Series 3 is set to provide the privately-owned printer, located in Leeds, with added impetus to target the self-adhesive label market.
Print-Leeds managing director Rod Fisher explained, 'Given our impressive infrastructure, experience and expertise, we are ideally placed to make good in-roads into the self-adhesive label market. The investment in Digicon Series 3 is an important factor in making that happen, allowing us to create a clear and competitive advantage from the outset.'
Print-Leeds has identified investment in new machinery as the route to open up new markets and better serve its customers. Being modular in design, its ABG Digicon Series 3 is bespoke to the printer's requirements and features a number of options, including: a flatbed screen printing module, to add value with relief varnishes or vibrant screen inks; a delamination/relamination module for double sided labels; two flexo modules; and an auto-slit module to keep time consuming make-ready times to a minimum. With the Digicon Series 3 using fewer parts to increase manufacturing efficiency, the PC-based system allows for remote access monitoring and improved servicing capabilities.
ABG sales manager Mark Hyde said, 'We are delighted to supply Print-Leeds with the Digicon Series 3. As a new customer, hopefully this will be the first of many items of ABG finishing equipment. We fully share the company's drive and commitment to always delight the customer and we look forward to following its progress in the future.'