SITI launches 'My Tea Card'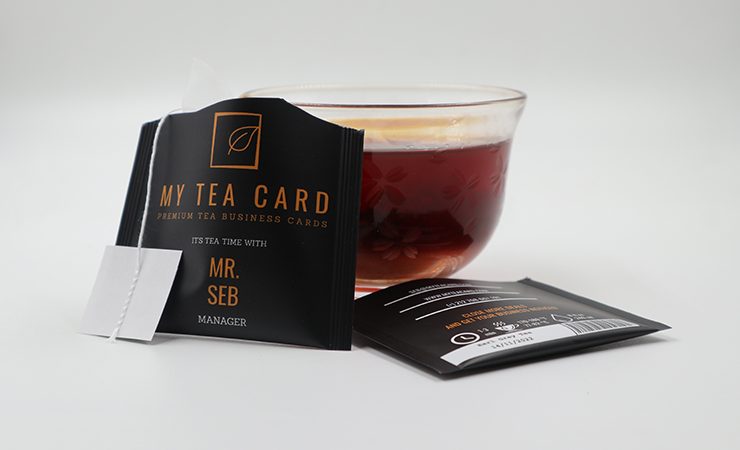 Teabag sachets have been turned into customised business cards using digital print
Moroccan tea packaging manufacturer Société Impériale des Thés et Infusions (SITI) is using its HP Indigo technology to create a novel new way of networking, and engaging and sharing with customers.
This sees teabag sachets turned into customised business cards. SITI founder Hamza El Baroudi explained, 'The idea began in 2013 when I was about to leave for an important industry event, before realising that I had no business cards left. Having called the printing manager at SITI, another problem arose in that there was no card left to print a new batch of business cards on.'
At the time, the company's HP Indigo 6600 was being used to print flexible substrates for tea sachets, which motivated Mr El Baroudi's decision to have his business cards printed onto a teabag sachet. At the event, the teabag business cards were a surprising hit, with people were curious and sharing them. From this, 'My Tea Card' was born.
Founded in Marrakesh in 1979, SITI provides turnkey options for premium tea packing, producing up to 1.5 million stitched teabags a day. Since installing its first HP Indigo digital press in 2013, SITI's fleet has expanded to six presses – two HP Indigo 6800 digital presses, three HP Indigo 20000 models and one HP Indigo 5600 –, which provide the business with the flexibility and speed-to-market needed in order to keep up with ongoing trends such as customisation.
Prior to using HP Indigo technology, SITI worked with outsourced printing partners. This meant that small volume demands became problematic, as speed to market was slow, which affected SITI's overall processes. Having made the transition to digital and investing in a range of HP Indigo presses, SITI now prints 100 percent inhouse, giving the company faster turnaround times and the ability to deliver high-quality products regardless of volume demands.
Mr El Baroudi said, 'The HP Indigo technology made it easy for us to produce small quantities for each customer, whilst at the same time maintain the highest visual quality that SITI is known for.'