Amberley Labels installs Kurz DM-Jetliner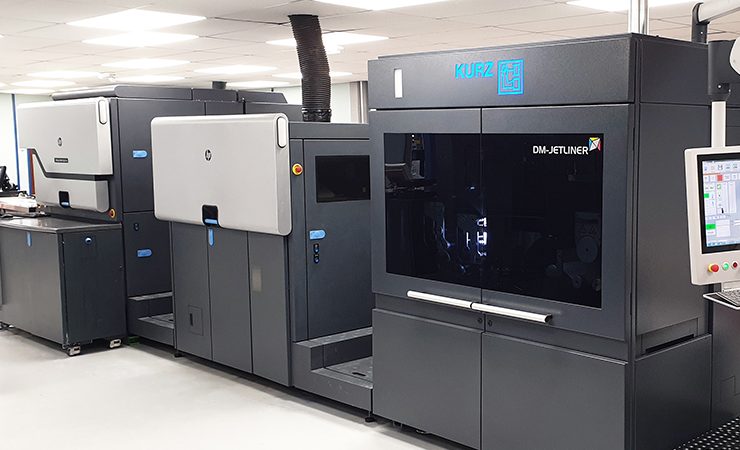 The Kurz DM-Jetliner unit has been installed at the Amberley Labels site in Blandford, Dorset, and is integrated inline with a HP Indigo 6000 Series digital press
Amberley Labels has taken delivery of a Kurz DM-Jetliner digital embellishment unit, as the UK-based converter looks to scale up its capabilities.
Amberley Labels, part of the Coveris Group, is an award-winning label manufacturer that extensively uses HP's LEP digital printing technology to produce a variety of premium, decorative label formats. The converter is also a long-time and active member of the Digital Labels & Packaging Industry Group.
The Kurz DM-Jetliner is a digital pre-print foiling unit that can be integrated inline with narrow web HP Indigo presses. It facilitates the creation of unique metallisation and metallic effects through the use of inkjet digital adhesion in combination with a silver base for inline Indigo ink application, allowing custom metallic colour varieties and combinations on a single label. With the installation Amberley has become the only UK label manufacturer with this system and to offer Kurz's Digital Metal (DM) decoration process.  Kurz also offers a wide range of colours and holographic formats for the Jetliner, to complement the 'printed silver' capability.
The Kurz DM-Jetliner unit has been installed at the Amberley Labels site in Blandford, Dorset, and is integrated inline with an HP Indigo 6000 Series digital press.
On a practical level, this investment allows Amberley to: improve the quality of finished and embellished labels, with perfect registration and fast, seamless application; rationalise the processes and materials required, therefore enhancing the sustainability credentials of its production; and provide customers with a faster turnaround.
David Richards, managing director at Amberley Labels, noted, 'We are investing in next-generation digital capabilities to continually lead innovation within the decorative labels sector. This is driven by increased customer demand for multi-foil capability in the cosmetics, fragrance and high-end beverage markets.
'The Kurz DM-Jetliner means we now offer next-generation inline foiling capability and flexibility, with greater colour possibilities and brand control. Mass customisation of metallic finishes – variable metallised print and colour – means versatility of design and print. Speed to market is also faster as the supply chain is reduced and fewer processes are required to get products on to the shelf.'
This investment follows on from the converter rebranding and an extensive multi-million GBP investment programme at its new sister facility in Boston, Lincolnshire. Coveris is now planning further growth of its labels estate, outside of the Amberley brand, and targeting core food markets served. Following the period of heavy investment over the last 12 months, attention is now turning to scaling up the company's new capabilities.
Mr Richards continued, 'Having this technology allows the creation and combination of labels that was previously unavailable; it also enables us to invest more future resources in additional embellishment techniques, such as silk screen and domed foil applications, to support continued innovation in this area.'
Read more about finishing and embellishment in the March/April 2021 issue of Digital Labels & Packaging; register here to receive the magazine