Durham Box delivers for D-Line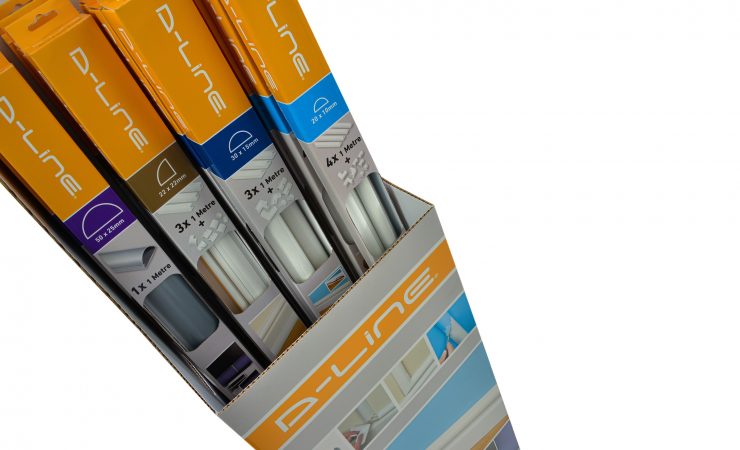 Durham Box currently produces FSDU units ranging from 10 to 2000 units and retail packs, in two sizes, with quantities up to 30,000.
By offering a combined packaging and POS option through its EFI Nozomi inkjet digital corrugated press, UK-based Durham Box is providing cable management company D-Line with cost savings of 35-40% on its packaging and display requirements.
Durham Box first started working with Newcastle-based D-Line in 2017, producing conventional kraft printed transit and shelf-ready packaging. More recently, and driven by changing customer demands, D-Line asked Durham Box to create new eye-catching premium primary packaging for emerging new product lines.
Following its investment in a Nozomi C18000 single-pass inkjet digital corrugated press in May 2019, Durham Box has been able to drive capacity through the machine by providing customers with packaging and POS in one streamlined and efficient process.
The ability to print and manufacture secondary corrugated packaging – SRPs, trays or outers – by using the same method to print POS/FSDUs, provides continuity of finish, colour and quality across all promotional opportunities. As the first UK Nozomi user with white ink capability, Durham Box can also match a broader range of brand and Pantone colours on brown kraft corrugated board, as well as produce higher quality halftone images on that type of material.
Using this combined approach, Durham Box converted and ran D-Line's inner primary packaging on the digital press, in addition to display packaging.
'There is complete flexibility in production with Durham Box, together with incredible cost savings compared to our previous supplier,' said Leigh Bestford, responsible for graphics and merchandising at at D-Line.. 'The print quality on their Nozomi is superb, I especially like the gloss that the printing process gives on the display units; it helps them stand out in-store. We are confident that when we give them a project to design, they will come back with the best and most cost-effective solution for our needs. Prototyping is rapid and usually only requires minor tweaks to get to the final product.'
Andy Smith, Durham Box POS business development director, added, 'Our work for D-Line represents exactly what the Nozomi is capable of doing. There is a new dynamic, and it's an exciting time for us, providing brands with so many possibilities to upscale their creative promotional targets.'