Screen appoints Benelux sales manager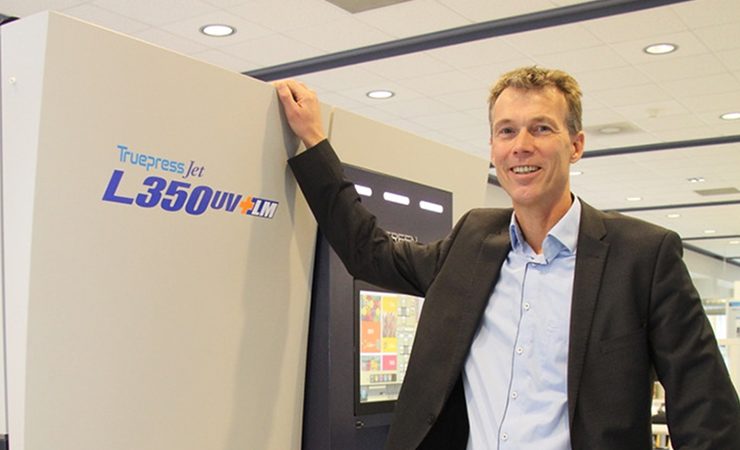 Martijn van den Broek has been promoted to a regional sales manager role at Screen Europe
Inkjet digital printing specialist Screen Europe has appointed Martijn van den Broek as regional sales manager, Benelux, reflecting the company's growth on the continent.
Mr van den Broek has worked with Screen for around 20 years in various roles in international sales, product management and marketing. In his new role as regional sales manager, Benelux, he will be responsible for sales of both Screen Truepress Jet label and commercial high-speed inkjet printing platforms. He will work alongside and gradually take over the role of area director Frans Kops, who will retire in late March 2021 after a long career at Screen Europe.
Mr van den Broek will also support sales of Screen's new flexible packaging inkjet digital printing offer. This technology was introduced earlier this year and formalised more recently with the creation of a new business unit and the separate appointment of Juan Cano.
Bui Burke, senior vice president of sales at Screen Europe, said, 'With his long experience in the business and in-depth knowledge of Screen's innovative technology, Martijn is the right person to drive expansion of our client base in Belgium and the Netherlands. He has a deep understanding of what customers need, an extensive network, and knows how our advanced digital printers can help print companies achieve their objectives in today's challenging market.'
In addition, Screen has confirmed Taishi Motoshige as its new marketing director, Europe. He joined Screen in 2014 and in 2019, moved from Screen's headquarters in Kyoto, Japan to its European operation, where he became manager of sales and operations coordinator. As well as his role as marketing director, Mr Motoshige will be responsible for managing the Screen Technology Center in Amstelveen.
Mr Burke said, 'With his proven marketing skills, Taishi has contributed to our expansion in Europe since he joined Screen Europe's headquarters in 2019. He will now drive our marketing strategy with energy and expertise in his new role as marketing director.'