Edale appoints after-sales manager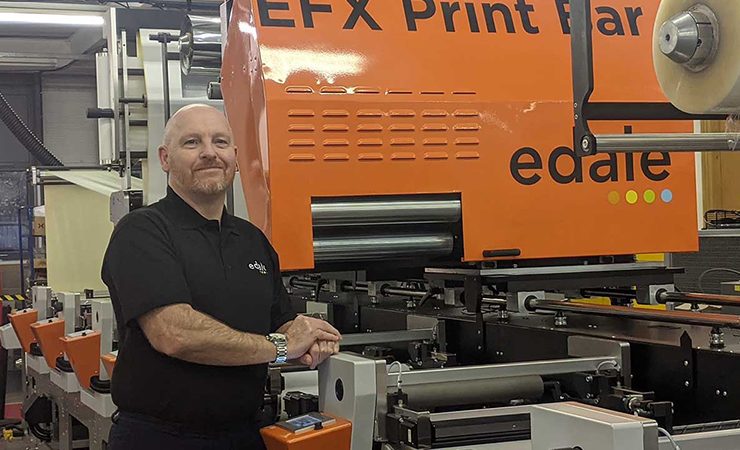 Mr Buchanan comes to the print industry after a 20-year career in aviation
UK-based engineering company Edale has appointed Shaun Buchanan as after-sales manager, augmenting the service experience for existing and new customers.
Mr Buchanan comes to the print industry after a 20-year career in the aviation industry. At Edale, he will lead the company's customer service team, 'driving a positive customer experience' for existing and new customers. Specifically, Edale's customer service team will be working to develop how it supports customers and will be creating new options to build on the well-known reliability of Edale presses and associated equipment. This follows Edale's ongoing year-on-year growth in sales.
Mr Buchanan is a mechanical engineer with over 25 years of technical and commercial experience. With a focus on continuous improvement, he will be using his know-how from former roles in detailed engineering, aircraft fitting and aircraft engine maintenance with companies such as Rolls-Royce and Lufthansa.
Edale managing director James Boughton said, 'Our customer service is of utmost importance to us and we are delighted that Shaun has joined the team. His engineering, technical and commercial expertise will be a real asset. We have customers worldwide who we support from initial consultation, design and build through to production and installation. Our mission is to provide world-class, after-sales service and support.'
Renowned as a narrow web flexo press builder, Edale is also involved in digital printing via its work on integration projects, such as the Canon LabelStream 4000, and with the EXF Print Bar, a UV-based inkjet system designed to digitise print finishing and embellishment.
Mr Buchanan commented, 'Unfortunately, my last 20 years in aviation was cut short by Covid, however I'm so pleased for this opportunity with a local company whose focus is on innovation and continued invest in R&D and creating and building amazing technology for our long-term future.'