Abbott Label installs Grafotronic SCF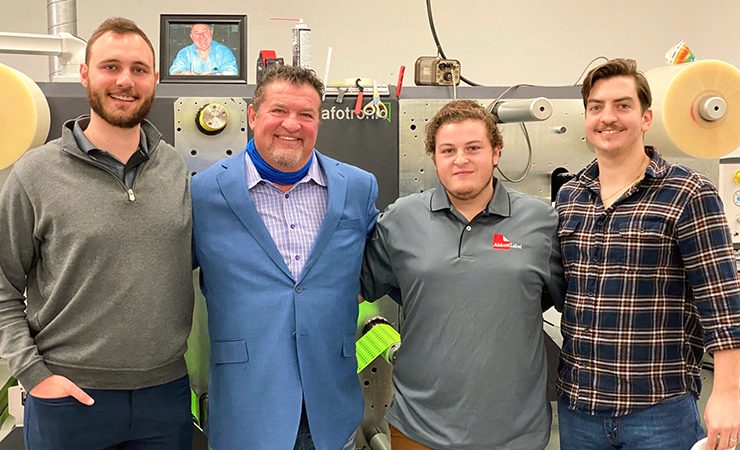 To maximise the potential of the new digital press, Abbott Label began to look for a suitable digital finishing option, resulting in installation of a Grafotronic SCF
US-based converter Abbott Label has invested in a Grafotronic SCF finishing line, complementing its more recent addition of inkjet digital label printing to its capabilities.
Abbott Label was established at the turn of the century by long time label industry veteran John Abbott. Today, the printer has manufacturing facilities in Atlanta, Illinois, California and Texas, totalling 210,000sqft.
Abbott Label first invested in digital in the middle of the last decade via HP and its LEP technology, building on this last year with the installation of a Domino N610i UV inkjet engine.
To maximise the potential of the new digital press, Abbott Label began to look for a suitable digital finishing option, as Mr Abbott explained.
'We needed a machine that not only has a compact size and will perfectly fit in our manufacturing facility, but also is able to finish digitally printed labels and keep up the pace with the inkjet machine.'
With this in mind, and after an extensive review of different digital finishing manufacturers, Abbott Label selected Grafotronic as its partner and has invested in a SCF super compact finishing machine.
Mr Abbott continued, 'The Grafotronic machine can run a full varnish or spot varnish and has a lamination station, which allows us to not only do long run productions but even extremely small print runs with variable content. A big advantage of the SCF is its semi-rotary die-cutting station that works at a 70m/min speed.
'SCF satisfies all our requirements, allowing us to remain competitive in the digital marketplace. We purchased the additional sheeter stacker unit, giving us sheeting ability for digitally produced labels.'
He concluded, 'The Grafotronic machine has been very responsive and easy to work with. The machine is reliable, easy to operate and we are happy that we chose this model.'
Abbott Label has also recently installed a Vectra ECTR four-spindle turret rewinder from A B Graphic.