ePac Silverstone achieves BRC certification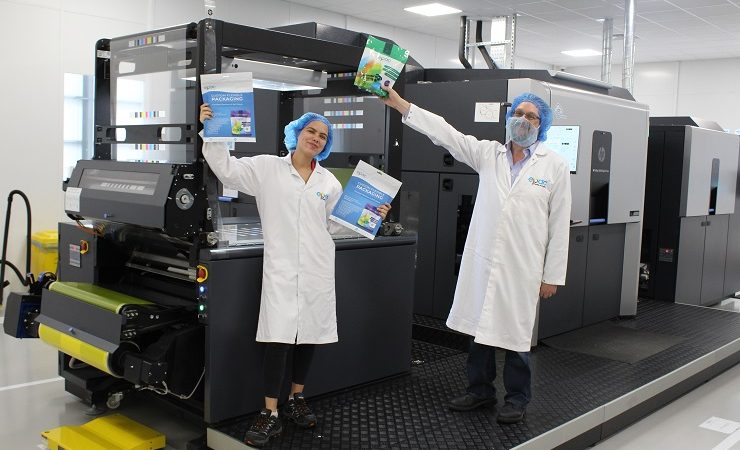 ePac UK's Daiana Bogdan (left) and Martin Pugh (right) celebrate the certification
ePac UK has had its site in Silverstone awarded certification for the BRC Global Standard for Packaging Materials.
The BRC Global Standard for Packaging Materials, which was designed to protect consumers, covers the manufacturing of glass, paper, metal, flexible plastics and other types of packaging, as well as the associated printing and chemical processes. It is used worldwide by manufacturers producing packaging materials for any product that ends up in the hands of consumers and is a requirement from most major brands in the FMCG sector.
The ePac facility in Northamptonshire was given an A Grade following an in-depth audit carried out at the beginning of September and is now ready to serve customers that require BRC compliance.
John Peat, managing director and partner at ePac Silverstone, commented, 'Getting BRC certification validates the quality of our business and we are of course thrilled to have passed the inspection and been given the top grade by the auditors. Right from the start, we have had excellent quality management systems in place – it is quite simply part of the ePac DNA – but we now have the formal seal of approval to support that.'
The ePac Silverstone site served as the global flexible packaging disruptor's first entry into Europe when it formally opened last year, and has now been followed by further sites across the continent.
Mr Peat said, 'It has been an incredible year for ePac Silverstone, and BRC certification was the next logical step in our quest to serve customers with high-quality packaging delivered at speed. Not only will it open up new parts of the market for us, but it will also reduce the audit burden on brand owners and retailers. The list of customers keen to work with us once we got the BRC stamp has been growing rapidly, so I'm very pleased to be able to make this announcement and open up our doors to them.'