Flexolabels upgrades to Xeikon 3300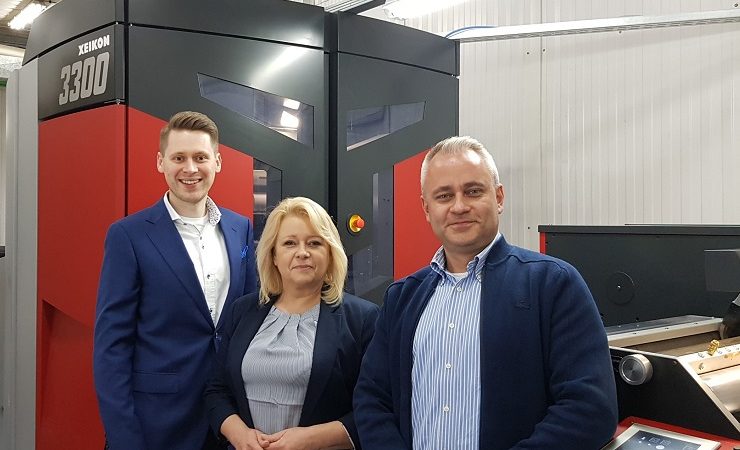 Pictured (from left): Michał Kuczkowski, sales manager, Xeikon; Izabela Harczuk, Flexolabels CEO; and Sławomir Perwejnis, also of Flexolabels
Polish label printer Flexolabels has upgraded to a Xeikon 3300 digital label press to further drive business and address customer demand.
Established in 2013, Flexolabels moved into digital production five years ago with the installation of a Xeikon 3030 digital label press to extend its capabilities and enhance the company's portfolio potential with new solutions and new products. Today the company specialises in digital label printing for the pharmaceutical, food and cosmetic industries.
Flexolabels CEO Izabela Harczuk said, 'When Flexolabels was established, we were an ordinary flexo label printer using traditional processes (flexography, typography) but right from the start we were looking out for new solutions that would allow us to extend our production potential and enable us to offer a range of new and original products. It took us more than a year to review the digital technology available. We knew we needed to find the best digital technology partner for our company and for our customers. In 2015 we invested in a Xeikon 3030 full colour digital press and since then our business has gone from strength to strength.'
Ms Harczuk continued, 'Today, Xeikon machinery is driving our business forward. The most significant benefit is the opportunity to extend our product range. Adopting Xeikon digital technology has enabled us to engage with several new industries and propose new solutions which were not possible before.
Flexolabels' customers are now increasingly placing bigger orders with the expectation of increasingly shorter delivery times.
'Now we have upgraded to a Xeikon 3300 with even more advantages enabled by Xeikon's amazing X-800 digital front end – increased speeds for faster delivery times, shorter runs and the ability to produce even more complex and creative labels. The lack of any requirement to invest in polygraphic pre-press processing changed our customers' approach to label ordering and there was an obvious appreciation of the quality of the labels we were able to produce with the Xeikon equipment. Clients were able to go online and alter the appearance of labels from one order to the next as they pleased. Introducing new versions, running shorter batches and making a new visual identification was no longer a problem for them or for us as the label manufacturer.'
Flexolabels is considering further investment in digital label printing, as Ms Harczuk explained. 'We are seriously considering investing in another digital press from Xeikon because the benefits so far have been invaluable to us, especially during these atypical circumstances. For example, the option to rapidly change the design of printed labels due to the Covid-19 pandemic has helped us meet our customer's requirements and the ability to print and deliver labels within 24 hours has also been very much appreciated by our clients.'