CS Pouches adds Karlville converting line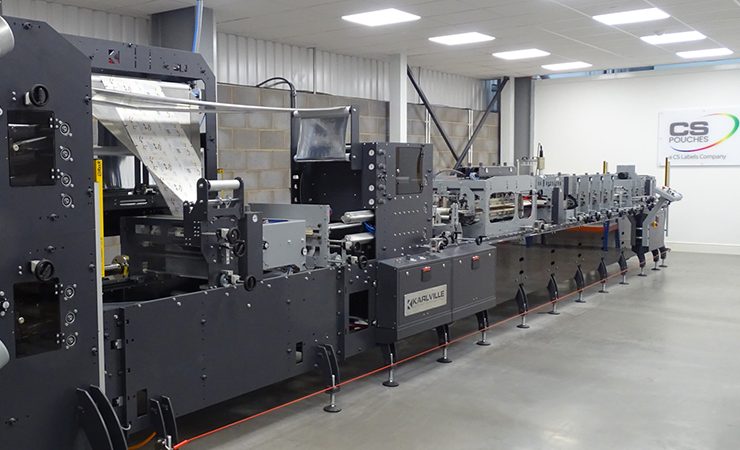 The Karlville pouch making line is housed in its own purpose-built production room at CS Labels
CS Pouches, the flexible packaging division of Xeikon dry toner digital printing expert CS Labels, has installed a Karlville KS-DSUP-400-GSW twin-web converting line.
Digitally printed flexible pouches were launched by CS Labels into the market back in 2015 through a huge innovation and R&D project to deliver a solution for an international brand. Following confirmation of the ability to produce pouches on its presses by Xeikon with the launch of fleXflow, CS Labels launched the CS Pouches brand last year. All the manufacturing processes were amalgamated into a single production location in Wolverhampton in the UK, together with the installation of a new, bespoke Quadropack converter.
This critical element of flexible packaging production has now been expanded with the installation of the Karlville KS-DSUP-400-GSW twin-web conversion line. This investment has been made to, 'solve many of the challenges we once had,' stated the printer.
Specifically, the Karlville line allows a much larger spectrum of pouch sizes to be converted, from 80 x 100mm h (x 100mm width, twin-feed), to 350 x 400mm (x 400mm height, twin-feed). Gusset sizes are now available from 15-65mm OBG. Up to 200 pouches a minute can be converted, six times faster than on the Quadropack line.
The new Karlville utilises ultrasonic welding techniques as opposed to standard heat and pressure methods, which is advantageous as there is no toner discolouration when forming pouches. A twin-web configuration gives flexibility in the size and constructions, and can include constructions with a mix of materials, such as a clear front with a metallic back
Improvements in quality output and additional quality control processes are also in place, including pressure testing.
As part of this investment project, the new technology is housed in its own purpose-built production room, together with newly installed additional racking to increase material stockholding to support lead times. An extended mezzanine floor provides additional space in the production area in CS Labels' 20,000sqft factory.
Earlier this year, CS Labels installed a Xeikon PX3000 UV inkjet digital label press.
These developments in hardware and infrastructure are complemented by the appointment of Emma Winton as business development manager working exclusively with the CS Pouches brand.
Read more on CS's latest developments in the next issue of Digital Labels & Packaging; register here to receive the magazine for free