Infigo and printIQ extend relationship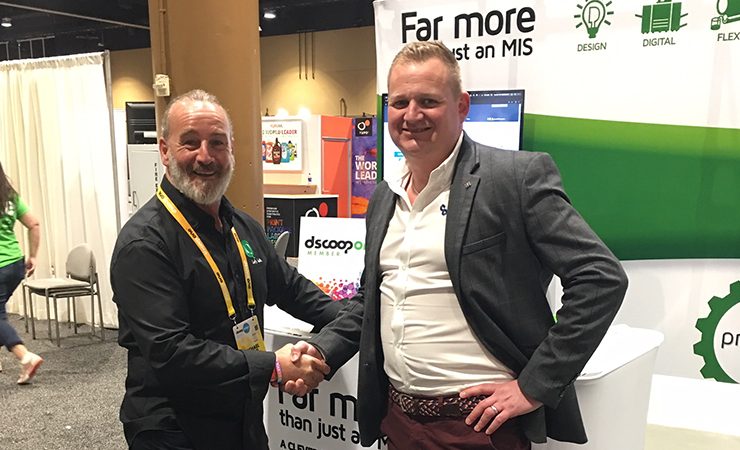 The partnership between Infigo Software and printIQ was realised at the PrintEx show in Sydney, Australia last year
Infigo Software and printIQ have deepened their relationship in an effort to streamline operations, improve workflow automation, and enhance efficiency for the former's web-to-print customers.
With pressure on print facilities to create diversified revenue streams and improve productivity, Infigo says it is 'committed to building partnerships that enable clients to fully digitalise and futureproof their operations.'
Through the dedicated integration with printIQ, the company believe its users will 'benefit from a seamless, end-to-end estimating, ordering, and production workflow system.'
The two companies are hosting a webinar on 30 September to explore the full benefits of their partnership.
Infigo Software managing director Douglas Gibson said, 'We are dedicated to building partnerships with software providers that share the same goals as us – helping print operations diversify and grow revenue streams, reduce costs and improve efficiency through automation.
'printIQ has justifiably built a reputation for a holistic, forward-thinking approach to its software. It's not a case of one size fits all – printIQ is constantly releasing exciting new features, that enhances the product, based on individual feedback from their clients. Which is exactly how we operate at Infigo.
Infigo Software and printIQ formed a partnership that was formalised at the PrintEx show in Sydney, Australia during August last year.
Mr Gibson continued, 'Building on the momentum we have seen over the past year as well as the feedback received from current clients, we have taken the decision to further extend the features we offer as part of our integration. This partnership will enable our customers to push boundaries and make decisions that are necessary to remain ahead of the game, in today's challenging environment.
'I'm greatly looking forward to the opportunity to discuss the benefits of the integration with our counterparts at printIQ during our forthcoming webinar.'