Infigo and printIQ enter partnership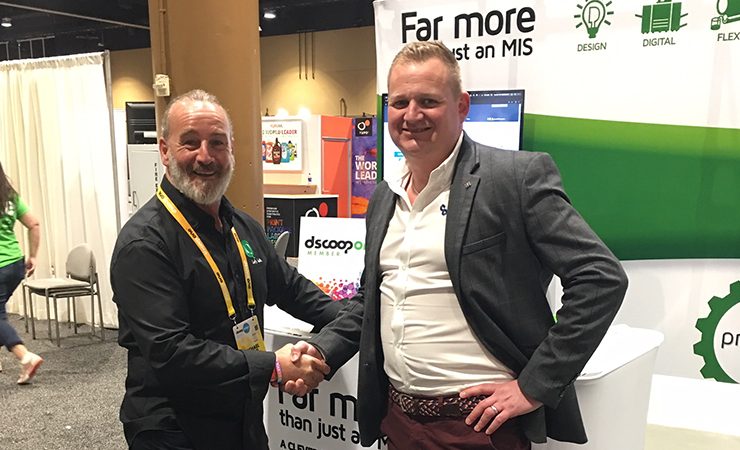 The partnership between Infigo Software and printIQ was realised at the PrintEx show in Sydney, Australia last year
Infigo Software has formed a partnership with management workflow systems (MWS) provider printIQ.
Infigo Software creates web-to-pack e-commerce software systems for business users across a range of industries. A recent project has been with The Packaging Lab in the US for its new digitally printed flexible packaging business model. Read the next issue of Digital Labels & Packaging for more.
printIQ is a 100% web based MWS, with web-to-print (W2P) capability built-in. The system is designed to handle the whole process, from quotes and production through to storage and shipping. Specific MWS options are available for digital printing, labels, packaging, wide format, design studio management, and more.
The deal with printIQ was confirmed following the recent PrintEx show in Sydney, Australia, but has deeper implications for the two businesses and their customers.
Douglas Gibson, managing director of Infigo Software, explained, 'We have been doing some interesting things that have been grabbing the attention of businesses in the marketplace. When we started talking with printIQ about our needs for the Australia and New Zealand market, I could really feel the synergies and like-mindedness of the two companies. We both look at implementation slightly differently than the norm—by delivering leading-edge solutions with the customers' experience at the forefront.'
Mr Gibson added, 'As Infigo Software continues its global expansion efforts, working with the right partners is an essential ingredient for our success. Not only does printIQ have one of the best products we've seen, but also the talent to deliver.
'We are excited that printIQ will not only be our local representation in the region, but that we will be looking to fully integrate our solutions – initially integrating our powerful editing tools within the printIQ platform and followed by a bidirectional integration from the innovative Catfish product directly into the printIQ system.'
Infigo customer success director Greg Young attended PrintEx and said, 'What I was taken back by was the amount of interest within the Australian market. It was excellent to meet some of IQs existing customers and talk about the possibility of W2P within their organisation and really walk through the benefits.
'We already have a few customers using Catfish embedded inside printIQ itself, and that is only going to go from strength-to-strength. It was excellent to meet some more members of the team as well, and to walk them through our platform. There is certainly a real energy about our partnership.'