EFI Nozomi white ink certified by Western Michigan University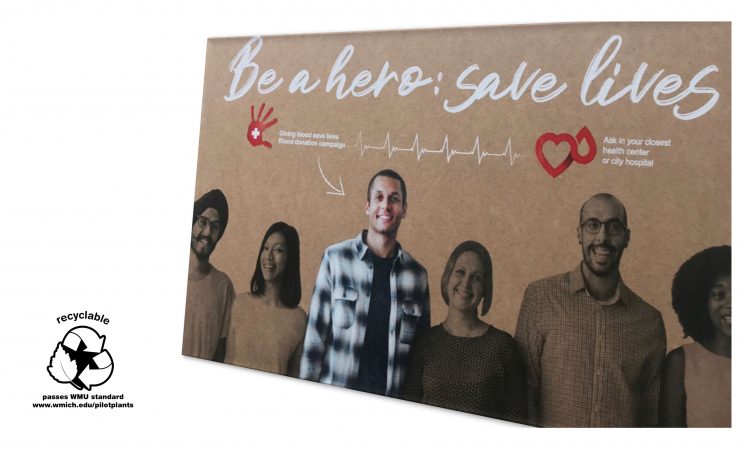 EFI Nozomi inks are the first single-pass digital corrugated printer inks to achieve this certification
The Western Michigan University (WMU) Recycling, Paper and Coating Pilot Plant, a leading certification organisation for corrugated recycling, has approved the recycling and repulpability of boards printed with white EFI Nozomi UV LED inks.
The WMU Pilot Plant provided an OCC (old corrugated containers) certification to EFI Nozomi white inks, adding to the evidence that Nozomi inkjet-printed corrugated boards can safely, efficiently and effectively enter recycling streams.
This new certification follows the WMU Pilot Plant's initial OCC certification provided for the EFI Nozomi C18000 printer's CMYK four-colour process ink set. 
EFI Nozomi inks are the first single-pass digital corrugated printer inks to achieve this certification, a key validation developed by modelling wax coating replacement protocols of the Fiber Boxboard Association, a group that represents approximately 95% of all U.S. corrugators.
'Sustainability is a key component of EFI's R&D efforts, and this additional certification speaks to the growing opportunities the packaging industry has to adopt efficient, greener practices with corrugated board,' said Evandro Matteucci, vice president and general manager for EFI's Packaging and Building Materials businesses. 'The industry is already producing approximately five corrugated boxes per second worldwide using EFI Nozomi C18000 printers. With this new certification, Nozomi customers can be comfortable adding white ink to create premium boxes without worrying about any negative impact on recyclability.'
Using EFI Nozomi white ink underneath process-colour inks on corrugated boxes extends the colour gamut Nozomi users can achieve and gives them the ability to accurately represent their clients' brand colours on brown kraft board. The white ink also allows for accurate printing of photographic images, including vivid designs, while maintaining the eco-friendly look of the brown board surface.
EFI UV LED low-odour inks are also Greenguard certfieid, contain no hazardous volatile organic compounds and do not require vapor recovery. In addition, the print research institute Fogra has certified that the Nozomi C18000 is the most energy-efficient printer in its class based on the ISO 20690 Energy Standard.