Digital wins in World Label Awards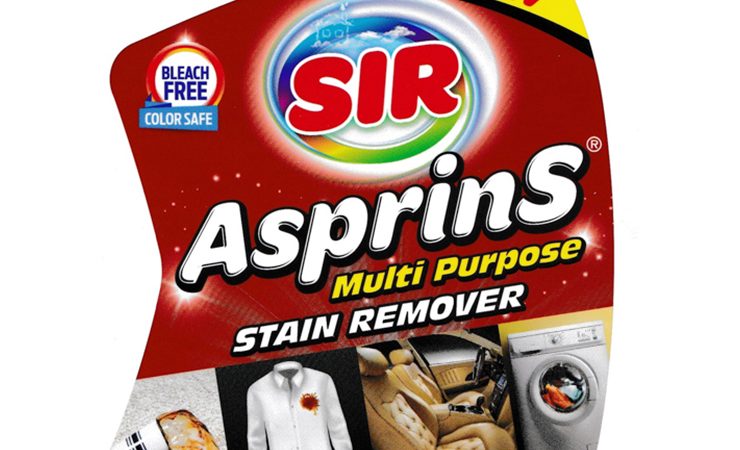 Ҫiftsan Etiket of Turkey won for its 'Sir Asprins Multi-Purpose Stain Remover' label
The L9 group of international label associations have confirmed the winners of the 2019 L9 World Label Awards (WLA) competition, with MCC, Ҫiftsan Etiket and Soar Print sharing the two digital categories.
In the WLA competition, all members of the L9 World Label Association worldwide are invited to submit entries in the 22 classes of the competition. In 2019, entries were received from FINAT (Europe), JFLP (Japan), TLMI (USA), FPLMA (Australia), SALMA (New Zealand), LMAI (India) and PEIAC (China). Entries are selected by a panel of judges from each association with the label having to have won an award in their respective 'local' competition. The entry must be submitted by one of the L9 associations, and each association is limited to entering only one label in each class.
In total, 68 entries were received for the 2019 WLA competition, which resulted in 27 winners and 21 honourable mention awards being given. The awards were judged prior to Labelexpo Europe 2019.
In the 'Digital Printing' class, Ҫiftsan Etiket (pictured, top) of Turkey (FINAT) and Multi-Color Corporation (pictured, below), Australia (FPLMA) were named joint winners, while Kiwi Labels (pictured, bottom) of New Zealand (SALMA) was awarded an honourable mention.
Multi-Color Corporation, Australia (FPLMA) was also named a joint winner in the 'Digital Wines/Spirits' class, alongside Soar Print (pictured, below) of New Zealand (SALMA).  TLMI member Multi-Color Corporation, Mexico was awarded an honourable mention.
An additional five awards are to be presented during Labelexpo Americas 2020, representing the '2019 Best of the Best Awards'. These winners will be chosen from the 27 class winning entries.