Bakers backs the NHS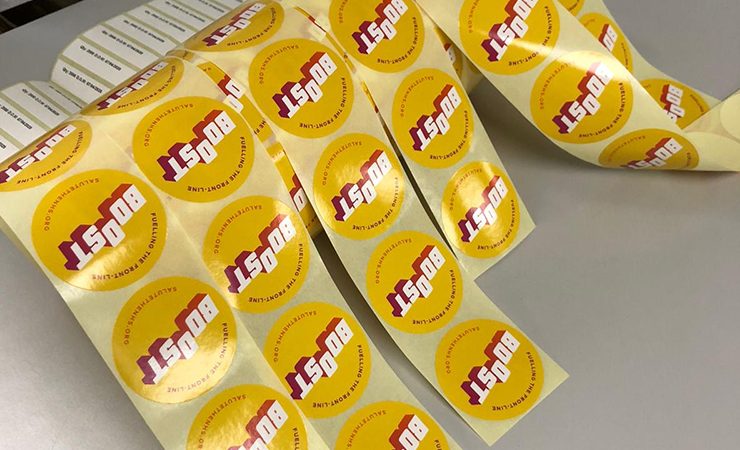 UK printer Baker Labels has been producing labels FOC for the 'Salute the NHS' initiative
UK trade printer Baker Labels is to produce three million labels, free of charge, for the 'Salute the NHS' campaign, which has been set up to provide a million meals to NHS staff over the next three months.
British businessman, Ron Dennis CBE, has launched 'Salute The NHS' as a non-profit initiative aiming to feed thousands of dedicated NHS workers with high-quality meals and booster snacks over the next three months.
The nutritious boost pack meals for vital frontline NHS staff, working either in hospitals or sick and confined to isolation at home, started to be delivered on Monday, 6 April, and commenced at the John Radcliffe Hospital in Oxford. They will then expand across the country to targeted locations, with the hope to be doing around 10,000 meals a day in the coming weeks.
The first labels Baker Labels has produced for the campaign have been used on the boxes and packaging of 'Boost' food packs. These have been carefully planned by a team of chefs and nutritionists, led by food expert Lyndy Redding, to ensure every pack is balanced, nutritious and tasty, and will sustain the body and mind. Wherever possible each pack will also include some treats.
Following the production of free social distancing floor stickers for local businesses, a £1000 donation to the Brentwood Foodbank, and the donation of 1000 protective face masks to nearby NHS facilities, Baker Labels' contribution to 'Salute the NHS' is a further example of managing director Steve Baker's commitment to supporting the community and doing the right thing.
Mr Baker said, 'When I was contacted by Ron Dennis and heard about the campaign I didn't hesitate. We are in a position to be able to manufacture the number of labels required and to be flexible on quantities, variations and demand. With the added support from our material suppliers at Avery Dennison, who have agreed to donate 15,000sqm of material I'm proud to be part of the team of suppliers collaborating to get this done.'