MPS celebrates new location in North America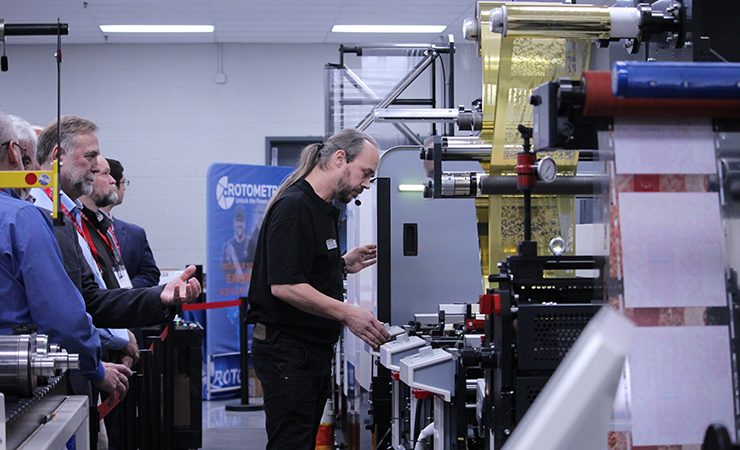 Hans Poortinga runs a demonstration of the MPS/Domino EF Symjet hybrid press
MPS Systems North America is now officially operational in Philadelphia, Pennsylvania.
MPS Systems North America has moved to the Philadelphia area as it provides a more central hub than its previous North American home in Green Bay, Wisconsin.
Michael Weyermann, vice president of sales and marketing at MPS Systems North America, explained, 'Levittown, our new home, is conveniently situated between two major hub airports, Philadelphia and Newark. Additionally, the move allows MPS to share a facility with our partner Imageworx, a label and packaging prepress specialist.
'We're really excited about this next chapter for MPS in North America.'
In the new facility, MPS offers live demonstrations on the hybrid EF Symjet press, a machine that combines MPS's flexo technology with Domino's digital N610i unit for hybrid printing and converting in one pass.  
Demonstrating supporting technology from MPS partners is also an on-going feature, such as that from pre-press specialist Imageworx, as well as connectivity connections with Label Traxx and Esko.
Harm-Jan de Jong, vice president at MPS Systems North America, said, 'Thanks to these partnerships, we can offer label printers an end-to-end demonstration experience that includes all services that extend beyond the machine.'
The North American subsidiary of the Dutch-based press builder celebrated the move with a grand opening event on 22-23 January, attended by over 200 visitors. The two-day event included an official ribbon cutting ceremony, MPS customer testimonials, a table-top exhibition, and live demonstrations featuring connectivity and hybrid printing on the MPS EF Symjet hybrid press with an integrated Domino digital inkjet unit.
Tom Staib, president at DWS Printing, took the time on 23 January to explain the benefits and advantages his company has experienced with hybrid printing technology after the purchase of an EF Symjet hybrid press.
Read more about developments in hybrid printing and from Mr Staib in the January/February edition of Digital Labels & Packaging; register here to receive all six issues of the magazine in 2020, and beyond, for free