Grafotronic and LasX seal strategic partnership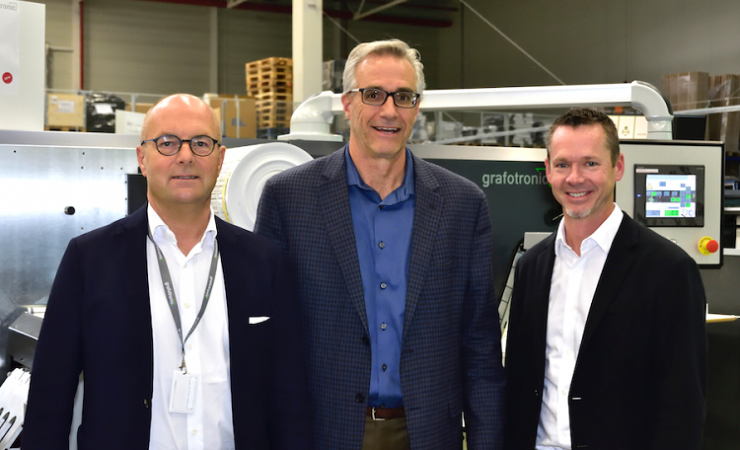 Grafotronic president Håkan Sundqvist (left) and USA sales director Mike Bacon (right), with LasX CEO William Dinauer
Laser technology company LasX Industries and converting specialist Grafotronic have formed a strategic partnership to serve the label industry.
Through this new partnership, LasX will integrate its LaserSharp processing modules into Grafotronic's fully modular digital converting lines.
Grafotronic has invested heavily in the development and expansion of its modular-based machines, most recently entering the wine and cosmetic label market. At Labelexpo Europe 2019, it will present 11 machines, including seven new modules. LaserSharp is one of these.
Grafotronic president Håkan Sundqvist said, 'Together with our hot foil, embossing and flatbed screen modules, and automatic slitting system, and now LasX's laser die-cutting module, we offer a complete solution for the effective finishing of short-run labels.'
LasX Europe business development manager Dave Birch added, 'Through Grafotronic's enhanced laser module powered by LasX, laser finishing is not an extra part but rather a seamlessly integrated solution. Moreover, each module can be put together in any configuration with the ability to install additional modules at record speed.'
Mr Birch continued, 'The strategic partnership with Grafotronic allows LasX to compete at any level in the narrow web marketplace with their wide range of innovative finishing solutions for the label industry.'
Mr Sundqvist concluded. 'Grafotronic and LasX are both focused on delivering automated solutions that increase productivity for our customers. We want what used to take minutes to now take second.'
Read a comprehensive preview of digital label and package printing developments to see at Labelexpo Europe 2019 in the September/October edition of Digital Labels & Packaging