Martin Peroutka introduces first 'HP Indigo Digital Pouch Factory' in Europe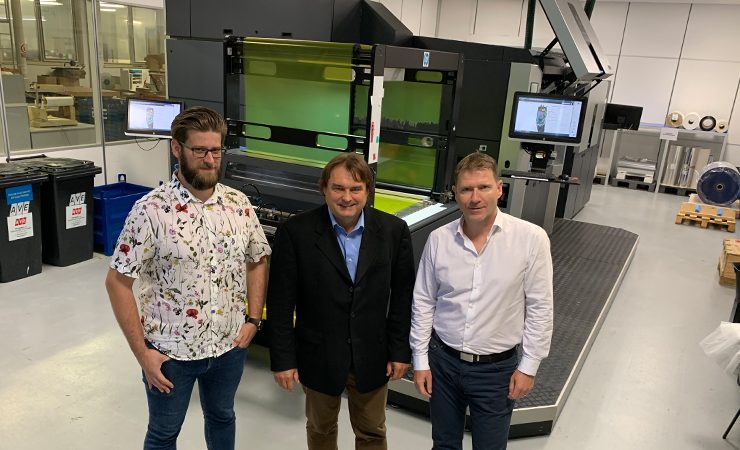 (L-R): Dallier Kovalcik, production director, Martin Peroutka; Roman Kandler, managing director, Martin Peroutka; Marcel Loreth, sales director, Martin Peroutka
Czech Republic-based label converting company Martin Peroutka has expanded its digital pouch production with the installation of a Karlville Pack Ready Lamination system and KS-DSUP-400 pouch making machine.
Martin Peroutka opened in 1991, specialising in the printing of self-adhesive labels, shrink sleeves and packaging foils. Over time, the company has progressed with new technologies, guaranteed quality and expanded its offering.
This new investment supports the company's addition of an HP Indigo 20000 digital press in 2018. The combined technologies have provided Martin Peroutka with an entire ecosystem, the so-called HP Indigo Digital Pouch Factory, to produce digitally printed pouches and roll stocks in less than three day, instead of weeks.
The HP Indigo 20000 has a 76cm web width and is intended for digital printing of flexible packaging. Pack Ready Lamination is a system that allows lamination of webs of digitally printed flexible packaging with zero cure time. KS-DSUP-400 is a stand-up pouch machine designed as compact and easy to use machine for high-performance for stand-up pouch production. The DSUP product line comes with different unwind options for single web and/or multi web synchronisation for narrow web printers.
Roman Kandler, executive director at Martin Peroutka, said, 'We are very proud on delivering excellent results and allowing for creativity freedom while not compromising on the sustainability values. We were looking for ways to grow in a competitive market and we found that the HP Indigo Digital Pouch Factory concept allows us to add a complete production line for flexible packaging with a minimal footprint, taking into account the full product lifecycle, supply chain and end of life.'