Digital used for winning gin labels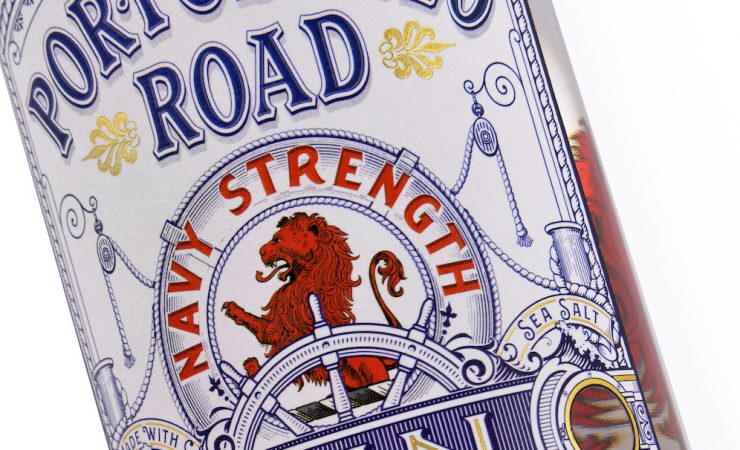 Award-winning work from The Label Makers
The Label Makers has showcased its inkjet and toner digital print capabilities with new front and double-sided back labels created for the Portobello Road Gin company.
Portobello Road first enlisted The Label Makers to produce the labels for its Gin No. 171 70cl edition, which won the digital labels and packaging category at the 2015 FlexoTech Awards. Continuing the relationship, the printing company has now worked on the 50cl Navy Strength variety, with these labels taking the winning trophy at the 2018 Digital Printer Awards.
The bottle's front label emulates an old parchment effect reminiscent of labels from the past. This was printed in a 1200dpi resolution allowing for subtler shades. The design was completed with hot foil during the finishing press to enhance the visual effect. The removal of the portholes within the label surface is a new, innovative process, as the backing paper is not cut to allow high speed labelling lines to run without fear of snapping.
Sales director Kevin Lyons explained, 'We were able to remove the punched chads from the portholes featured on the front label. This allowed the design on the reverse of the back label to be spied through the front label. This product was worthy of an element that truly added value and created something extra special for the consumer.'
The double-sided back label used both inkjet and toner-based printing methods with the two layers laminated together on an AB Graphic finishing line. The lid seal was printed in six different full colour versions.
Tom Coates, brand director at Portobello Road, said, 'We are very impressed with the creativity and detailed reimagining of our intricate, hand-drawn design.  The Label Makers' vision included cut-out sections, embossing, six different top straps, sequential numbering and two-sided printing. It is a far cry from a straightforward brief and they executed it beautifully.'