Fujifilm speeds up Jet Press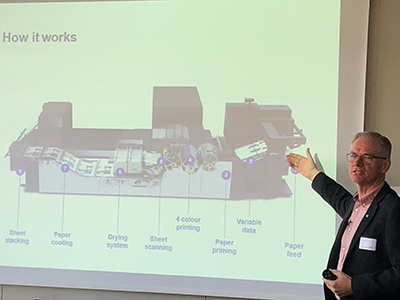 Fujifilm's Mark Stephenson
With the third generation Jet Press, Fujifilm is taking aim at the packaging market, adding food safe inks and thick stock option to the established B2 platform. The 750S has a slightly larger format, printing on 750 x 585mm sheets, and comes with the option to increase the capability to 600 microns, presenting a new opportunity for digital folding carton production.
Building on the Jet Press 720S, the press come with a new hot air drying system and heated transport belt, along with optional 100% inspection, which can also be focused to check specific areas. A new printhead retraction system with a sensor will detect any faulty sheets and lift the printheads out of harm's way while they pass through. This avoids stopping the press completely and is one of several improvements that enables higher productivity. Print speed is 3600 sheets per hour, a 33% increase, and the resolution of 1200 x 1200dpi comes from the next generation Samba printheads, which now also feature an overflow cleaning systems that reduces head cleaning frequency and automatic nozzle control to correct deviations and deposition inconsistencies on the fly.
The water-based Vividia inks (CMYK) have been tested to meet food safety regulations and are approved for non-food contact primary packaging. Sheets are pre-coated to optimise and control dot formation. This also prevents the ink from sinking into the substrate which means waste can be recycled using normal deinking processes.
Tilia Labs' Phoenix impositioning will link with Fujifilm's XMF workflow for carton production. The XMF workflow has been further developed to offer the ColorPath Brand Color Optimizer, which will predict the accuracy of brand colours before going into production. This is said to match 90% of Pantone colours with CMYK to within a Delta E of 3. A full Pantone library of 1872 colours can be created in 45 minutes.
The target market for the packaging version is food, pharmaceuticals, household and cosmetics/personal care, said Mark Stephenson, product manager, digital printing and press systems, Fujifilm Europe at the press launch in Brussels. He stated, 'We have developed the fastest B2 sheetfed press on the market and taking into account the high uptime our customers are already achieving with the Jet Press 720S, the productivity is phenomenal.'
Fujifilm also announced the first two customers for the Jet Press 750S: commercial printing company Floricolor in Portugal and Mediadruckwerk in Germany. The latter is a major full service print business employing 60 people and producing a wide range of products, from postcards and greetings cards, to brochures, calendars, posters, stationery, packaging, annual reports and short run books.
'Like print businesses everywhere, we're seeing a continual trend towards demand for shorter runs and Sven Kohlmeier. 'This has been ongoing for some time and as a result we began investing in digital print technology around 20 years ago. Since then, digital print has come a long way both in terms of quality and reliability, and we feel that the Jet Press 750S sets a new high standard for both in the digital print market. […] the increased speed opens up the real possibility for us to move a significant amount of short to mid-run work from our offset presses.'
He continued, 'The reliability was also a major selling point for us. We've visited several Jet Press customers to ask them directly how they would rate the up-time and all of them have said it's exceptionally good. Minimal machine downtime means additional productivity, and when you combine that with the increased speed of the 750S it's hugely appealing.'