HP launches new PageWide presses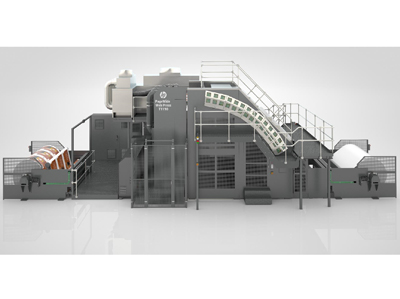 The new flagship PageWide T1190 press offers 67% more throughput productivity
The HP stand at Fespa premiered the work of two new six-colour PageWide ultra high-volume inkjet web presses for pre-print corrugated packaging. The HP PageWide T1190 and HP PageWide T1170 offer higher productivity and quality to help packaging converters meet fast-changing brand needs.
The new flagship PageWide T1190 Press offers 67% more throughput productivity compared with the current PageWide T1100S, delivering up to 305m/min in six colours at full press speed.
Italy's Ghelfi Ondulati installed a PageWide T1100S in the summer of 2016, and is now upgrading . 'The new six-colour capability of the PageWide T1170 press will allow us to address a broader colour gamut to help meet the rigorous colour demands of southern Europe's leading brands,' said Luca Simoncini, digital programme manager. 'This colour extension will allow us to open new opportunities, with virtually no quality obstacles.'
These 2.8m thermal inkjet technology web presses are designed for packaging converters seeking analogue-to-digital transformation with high-volume productivity in offset quality for pre-print corrugated packaging applications. Additionally, the presses use water-based inks that require no additional barriers for food packaging applications.
Both presses are suitable for both coated and uncoated media from 80gsm to 350gsm. Additionally, HP Multi-lane Print Architecture (MLPA) boosts plant productivity by splitting the web into multiple print lanes, so different jobs, with different box sizes and run lengths, can be printed in the individual lanes. 
The first PageWide T1190 press will be a field upgrade to the T1100S that DS Smith is installing in its Fulda, Germany plant. Stefano Rossi, CEO commented, 'The T1190 will enable new efficiencies for our customers. Plus, with our new six-colour capability, we will expand our gamut and create even greater digital value for brands.'