Inkjet open house to be held by Dantex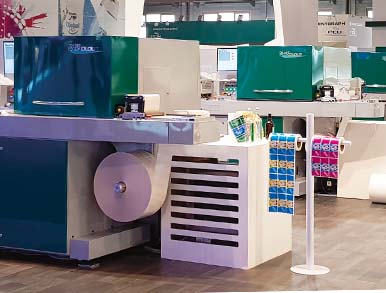 The PicoColour inkjet press will be showcased
Dantex is hosting an open house event on 17 and 18 July at its Bradford, West Yorkshire, facility that focuses on its inkjet technology and associated products. This will be supported by a number of partners and showcase the PicoColour UV inkjet press.
Business development manager Simon Cosh said, 'There are still many misconceptions and questions surrounding digital press technologies available in the market today. What this open house aims to achieve is to offer greater insight into true digital printing to enable customers to see why inkjet should be the preferred technology in the future of print. We will be supported by experts from across the full print process with presentations and live demonstrations of a variety of inkjet press specifications.'
'Experts will be on hand from Xaar, RotoMetrics, Herma, Bar Graphics, Graphic Republik and, of course, Dantex to answer questions on workflow, colour management, print materials, finishing, print heads and presses, including important areas such as service and support. We will also demonstrate the real cost of ownership of digital print based on customers' individual requirements,' added general manager Andy Abbott.
Dantex will showcase its UV Inkjet Label press PicoColour, which provides quality, finished labels from a small footprint with a low cost of ownership:
• Excellent quality and productivity
• Print on demand
• Wide range of standard substrates – no need to pre-coat
• Modular finishing options
• Optional variable data
• Colour management
• Fast return on investment
• Print width 210mm (8.26 inches)
• Up to 35m/min (115ft/min)
The event will feature:
Live PicoColour demonstrations
Presentations from Dantex, Xaar, Graphic Republik and Herma
RotoMetrics and Bar Graphics will also be in attendance.
Lunch plus refreshments throughout the day
Charity raffle prize draw
To register please email info@dantex.com or call 01274 777 777
This article is an advertorial; the featured company created the wording and paid for its placement. It has been checked by Whitmar Publications to ensure that it meets our editorial standards.