OPINION: Roll on 2024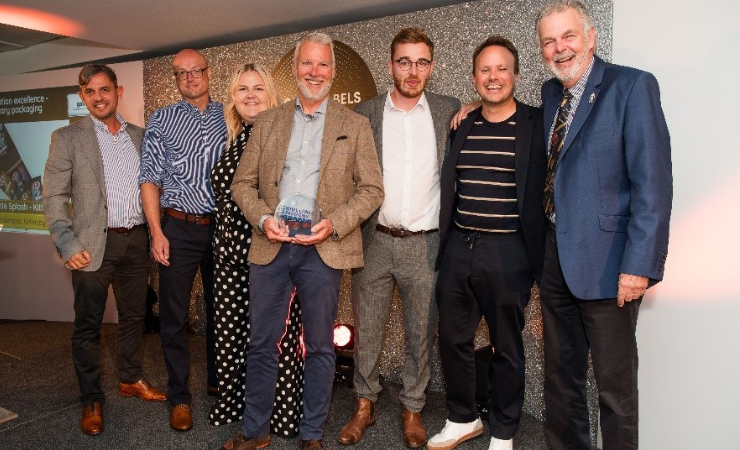 ProAmpac Grimsby was a winner at the Digital Labels & Packaging Awards 2023, with work for customer Nestle. Pictured, from left, are: Ross Holloway, label specialist at category sponsor Heidelberg; Greg Harness, product control supervisor, Abigail Sawyer-Parker, packaging technologist, Jeremy Hodson, managing director – all ProAmpac Grimsby; Greg Bland, digital and social media, and Stefan Casey, global design to deliver manager, marketing and consumer communication – global design, both Nestlé; and Digital Labels & Packaging 2023 Awards host Geoff Miller
As the summer becomes a distant memory and the holiday season fast approaches, so our thoughts firmly shift towards 2024.
For many this will put the focus on the returning drupa. Digital Labels & Packaging and I have already set the wheels in motion to achieve what we want/need to between now and then, and hopefully your plans are moving ahead at a similarly brisk pace. By the time the doors open to drupa 2024 on 28 May next year, it will have been eight years since the previous edition of the 'Olympics of print', so expect the show to have a distinctly different look and feel.
On a practical level, I was lucky enough to visit interpack earlier this year and use it as a gentle reminder to my feet that there will be a lot of miles covered. Let's collectively ask, 'Alexa, set me a reminder to buy comfortable shoes and break them in next spring'.
Let's also collectively make next year's Digital Labels & Packaging Awards the biggest and best yet. Since launching in 2022, we've already seen rapid growth in the number and profile of companies submitting work, more work being entered across more categories, and the type of work being entered diversifying.
It is the last point that I want to draw particular attention to, as we are actively working to have as much of the digital supply chain represented in the awards as possible. This will ensure they are inclusive and open to any and all converters – regardless of size, scale and reputation – and fully represent the supply chain. From cartons and corrugated boxes to pouches and shrink sleeves (and labels, obviously), we want to see it all being put forward for judging.
Note that I have intentionally not used the word 'print' so far. That is as I am conscious that 'digital print', 'digital print for packaging' and similar terms create a perception that these awards are only for those printing using digital. Whilst that inevitability reflects a large amount of the entries received, it is also incorrect as digital is so much more than the act of laying colours down on a substrate. Finishing is the most obvious example, where there are multiple technologies and systems being used to add value and alleviate production bottlenecks. Many of these are digital[1]based processes but are deployed alongside analogue processes such as offset litho and flexo to produce labels and packaging. So not digital print per se, but perfect for many of the Digital Labels & Packaging Awards categories. It is this that the judges and I want to see reflected more in next year's awards competition.
This editorial comment was first published in issue 6 (October) 2023 of Digital Labels & Packaging; register here to receive the magazine