OPINION: Apple's mixed reality vision brings clarity to print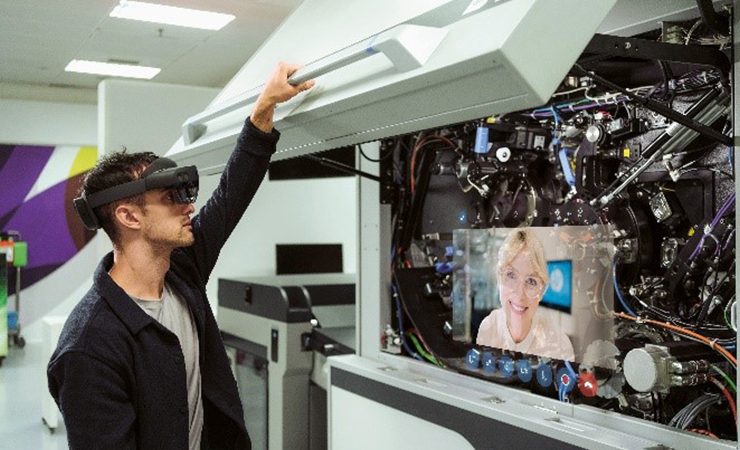 HP has partnered with Microsoft to introduce xRServices, whereby a virtual-real world combination connects customers with engineers through mixed reality
The unveiling of Apple's Vision Pro mixed reality headset could be a sight for sore eyes for the print industry writes David Pittman.
From Apple's point of view, Vision Pro marks a major milestone for the company as the first piece of brand-new hardware it has launched since the Apple Watch way back in 2015. This will please staunch fans of Apple products, who'll be keen to get their hands on such eagerly-anticipated technology from their preferred vendor.
Describing Vision Pro as a 'spatial computer', Apple CEO Tim Cook said, 'Just as the Mac introduced us to personal computing, and iPhone introduced us to mobile computing, Apple Vision Pro introduces us to spatial computing. Built upon decades of Apple innovation, Vision Pro is years ahead and unlike anything created before — with a revolutionary new input system and thousands of groundbreaking innovations. It unlocks incredible experiences for our users and exciting new opportunities for our developers.'
For more specifics, read Apple's announcement here.
Vision Pro will also likely please many in the print industry, who have either been made aware of or are already adopting mixed reality for the benefit of their businesses. Mixed reality is a user environment in which physical reality and digital content are combined in a way that enables interaction with and among real-world and virtual objects. Unlike virtual reality, which immerses the end user in a completely digital environment, or augmented reality, which layers digital content on top of a physical environment, mixed reality blends digital and real world settings.
A B Graphic (ABG) and HP are actively deploying this technology, both using Microsoft HoloLens to facilitate remote diagnostic and maintenance capabilities. For example, ABG's remote engineering virtual assistance tool – REVA – uses mixed reality to allow ABG's engineers to see machines and problems first-hand through the customer's eyes. ABG's involvement with mixed reality technology actually began nearly a decade ago but only became part of the company's service offering in a limited capacity in 2020 following the release of HoloLens 2 and the commencement of the coronavirus pandemic. Since then, it has provided an option that has allowed ABG to continue to service and maintain machines around the world despite travel restrictions. REVA was fully introduced as an option for its customers in early 2021.
ABG service manager Tom Bean commented at that time, 'The use of our REVA tool continues to increase in popularity as customers look to save money on servicing costs. It's a win-win situation as customers are able to solve technical issues quickly and cost efficiently and, as a business, ABG can lessen its impact on the environmental through less travelling.'
Confirming this, Oyvin Torvi, factory manager at ABG customer Digital Etikett said, 'REVA is a total game-changer in how we solve problems and train personnel and is a great solution in an ever-changing world.'
HP has partnered with Microsoft to introduce xRServices, whereby a virtual-real world combination connects customers with engineers through mixed reality, who can then advise on any issue, at any point of their print production. Wearing a Microsoft HoloLens 2 headset and supported by HP xRServices, users have the feeling of being physically present with a virtual coach on hand to guide them through the process, meaning no time wasted on long service calls, swift resolutions to issues, and press downtime minimised.
Having experienced this technology first-hand and spoken to those that have used it, mixed reality is a revolutionary way of dealing with many diagnostic and maintenance issues, which can allow costly machine downtime to be minimised whilst also preventing unnecessary delays and costs being incurred from having an engineer sent to site to resolve issues. Of course, some issues do require deeper investigation and a physical presence. So whilst not entirely replacing the need for on-site visits, mixed reality certainly helps improve the efficiency of service and support and helps get machines and printers back up and running quickly.
Whilst Apple's foray into mixed reality is unlikely to find its way into the hands and onto the heads of printers and press operators imminently, having a behemoth of the tech world join the mixed reality journey is only going to enhance the reputation and standing of the technology. Look what the iPhone did to telecommunications back in 2007 and, since then, how it has come to shape and define the way all of us interact personally and professionally. Apple was far from the first to bring to market a smartphone, but its approach to form as well as function has helped shift billions of units in the years since and seen the company take a sizeable share of the global smartphone market. This has allowed it to have a big influence on the market, whether you're an Apple fanboy/girl or not. For many, Apple and its iPhone was the start of the smartphone revolution that has taken us to where we are today (apologies Blackberry, Nokia, etc).
Can the same be expected when it comes to mixed reality? Only time will tell but it is safe to say that it will do the technology and its greater adoption no harm.
When sharing his thoughts on the long-term impact of the Apple Vision Pro through LinkedIn, renowned technology, media and telecoms analyst Paolo Pescatore of PP Foresight commented, 'Apple's focus around deftly blending the digital and real world brings a new category into the XR [extended reality] mix. Spatial computing, as Apple positions it, brings with it the start of a whole new platform. This provides a much-needed boost and is expected to reignite interest in the market. If anyone can kickstart demand for this segment, then Apple can.' See Mr Pescatore's full commentary through his LinkedIn profile. 
Similarly, I expect to hear and see more and more about mixed reality in the business-to-business realm. The introduction of Apple to the mixed/extended reality landscape will expedite this.
For more insights and analysis on technology developments shaping and defining the future of digital print for packaging, register here to receive Digital Labels & Packaging