State of the nations (part two)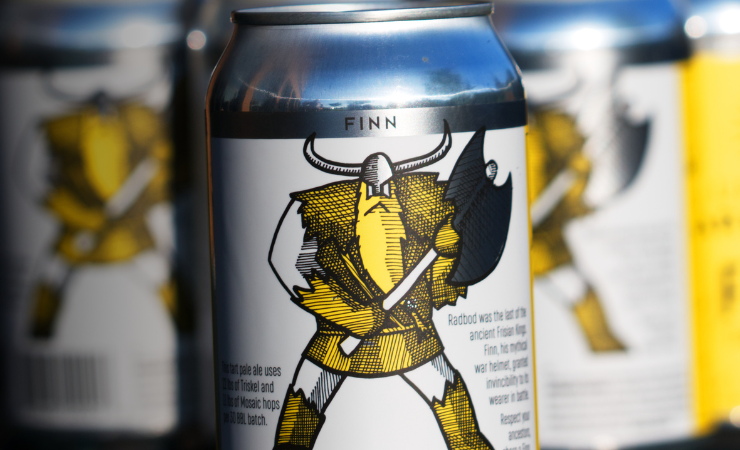 Changing label content requirements and a growing number of smaller suppliers have driven strong growth in digital with the need for small quantities of labels; picture c/o Michelman, which provides a complete line of digital printing primers and OPVs
Those active across the Americas continue their cross-examination of the region, identify where demand for digital is coming from, and detail the drivers that are shaping the market for digital, today and tomorrow.
This is a follow-on article from 'State of the nations (part one)', published in the July/August 2022 edition of Digital Labels & Packaging and available to read online now
Digital has already seen widespread success across the Americas, but with a 'new normal' now in play and a wave of investments imminent what will drive future successes?
First of all, it is necessary to understand why digital printing has succeeded thus far across the Americas.
Ray Cheydleur, printing and imaging product portfolio manager at X-Rite, confirms, 'Digital printing has been on a growth trend for years. We see an acceleration as companies invest in digital either as a start-up or more generally as an addition to their existing analogue print workflows.
'The ability to use digital for quick turns and short runs has always been an advantage over other processes but this has been balanced by other trade-offs. First, the per sheet/label cost of digital has been higher than its analogue counterpart. This is changing as new processes are lowering the per sheet cost. However, there is usually a trade between run length and cost for the digital process. Another issue has been quality. Concerning quality, it's not about can digital production equipment print well, but rather can digital hit the colours needed by major brands.
'In the label space hitting brand colours is critical. New devices with expanded gamut and even spot colours help hit brand colours but this usually has a cost component as well.
'The last driver for digital is sustainability. There is less make-ready waste, less need to overprint for stocking, fewer issues in the plant for disposal of environmentally unfriendly by-products of the whole analogue workflow.'
Sihl, which has been offering options for digital printing for 15 years, sees the success of digital technology being mainly down to strong growth in print-on-demand and the ambition for more sustainability. Here, print-on-demand printing technology is making it easier and more affordable to produce in short runs locally, on demand, thus reducing waste to a minimum while meeting customers' personalisation requirements. Aqueous inkjet, the company notes, plays an important role in this as a 'sustainable' printing technology, with high-quality prints possible on a wide range of base materials. The pandemic has further intensified the trend towards decentralisation, the company adds.
Looking back at the economic crisis of 2008/2009, when digital technology for labels and packaging 'came into its own', Victor Gomez, director, industrial labels at Epson America, says, 'As we go into the second half of 2022, there's a sense of déjà vu. The pandemic brought with it an enormous, sudden shift in consumer demand in 2020, even bigger than what we saw during the financial crisis. The huge shift in consumer behaviour came about this time as people stayed home and ate meals at home, rather than out in schools, restaurants or cafeterias, where they were being served from large size containers. Buying smaller size containers meant more labels for the same level of consumption.
'During the pandemic and persisting to this day, converters saw more orders, smaller but more frequent, like in 2008, and perfect for digital. Fortunately, digital is now a fact of life and most converters have some sort of capability so they can face the change better than in 2008/2009. Most in our label and packaging world adjusted admirably well.
Mr Gomez goes on, 'During the past two years, people have had more disposable income as well, supplemented by government subsidies. They weren't spending money commuting, parking, on car repairs, or eating out, going to the movies or on vacation. After the first, massive drop in the spring of 2020, unemployment has held steady, as companies adjusted to working remotely with Zoom and Teams.
'E-commerce exploded during the pandemic as people ordered everything from home, even things they would have bought at the mall or supermarket just a month before. That meant a lot more variety in labels and packaging. Variety is a boon for digital.
'More disposable income and online ordering means more products, more printing, more labels. And digital is the answer to the shorter run, to more frequent orders with faster turnaround times, and to the larger variety of print applications.'
Warren Catchpole, director, Wikoff Digital notes, 'Utilising digital printing technology allows label and packaging printers to increase profitability on short runs and reduce waste by minimising set-up times. Printers can also offer more customisable solutions to their customers such as reduced minimum order quantities, quicker time-to-market, personalisation and versioning.'
To illustrate this point, Mr Catchpol draws attention to the fact that, 'Over half of label printers are now utilising the technology and capitalising on the benefits of digital for shorter print runs and a growing number of SKUs. Additionally, the flexibility of short runs can be useful when supply chain challenges such as paper shortages arise.'
Benefitting Brett Stow, president at Absolute Printing Equipment, is the fact that, 'Our US customers are more open to new technology especially when it comes to digital. They tend to want to be the first when it comes to new technology.'
Conversely, Robert Buongiorno, president at BST North America, says, 'Like a lot of things in this world, digital technology is being driven by the market more than the need or desire to utilise new technology.'
He goes on, 'The growth of "boutique" brands that require shorter run lengths make use of digital technology, which is far more cost effective than traditional analogue technologies.  Large companies that purchase packaging and labels can easily experiment with different designs and formats to maximise the effectiveness to sell their products to the consumer. Companies that want to personalise their products to the consumer are a perfect fit for using digital technology.
'Digital technology offers more flexibility with minimum cost as compared to analogue technology for short runs or personalisation. Although it is still not cost effective for the long production runs, demand in the market will continue to grow digital technology as an important part of our industry going forward.'
Jason Rollo, Scodix's president in North America, highlights how, 'Runs are getting shorter and more complex as orders have a variety of SKUs, which need to get to market overnight. In turn, whether on the shelf or being enclosed in a delivery box, the product packaging must make an impact and product graphics are evolving to impress, inform and entice.'
Gianluigi Rankin, manager, global marketing at Michelman, sees the pandemic as having, 'accelerated the commerce trend, increasing the need for packaging.
'Brands are now looking at new ways to promote themselves through secondary packaging. They are looking at higher quality graphics and frequent messaging changes. Digital printing is therefore the ideal solution with its ability to economically print short runs and high quality graphics.'
Also referencing the label market, Mr Rankin says, 'The drive to digital started earlier in labels than in other packaging segments. Constantly changing label content requirements and a growing number of smaller suppliers helped drive the strong growth with the need for small quantities of labels. The cannabis industry is a great example here. Every state which has legalised cannabis has different legislative guidelines, which are updated frequently. Smaller suppliers can not afford to keep a large inventory of labels on hand that may be obsolete in a month. They order what they need, when they need it.'
Homing in on the claimed benefits of his company's technology in this regard, Kirk McLean, vice president and general manager at HP Inc, says, 'Customers across the region are realising the potential that HP Indigo and digital print technology can unlock. Whether this is streamlined production, expanding customer offerings, reduced waste, automation, superior print quality, superior colour matching, or the ability to customise every label or package to groups or individual customers. For example, Chicago-based PSP MCC has added an HP Indigo 6K to its existing fleet, as it looked to extend its productivity and profitability in the production of pressure-sensitive labels, shrink sleeves, IML laminate tubes, and more. The HP Indigo 6K press also offers MCC an extended application range, colour capability and workflow automation.'
He further references, 'many PSPs across the region are also realising the sustainability benefits to digital printing and understanding how the switch to digital can ensure they're not only meeting their own sustainability goals, but can also help customers meet their goals, by offering a more environmentally friendly service and end-product – another key driver for the success of digital technology.
'A great example of this is SunDance, a converter based in Orlando. The company is not only using its new HP Indigo 25K digital press to enhance business growth as it acts as the cornerstone of its newly formed flexible packaging division, but also meet the company's sustainability goals. By using the HP Indigo 25K digital press, SunDance can eliminate print media waste and plates, as well as use non-toxic inks and recycled print materials.'
Future demand
For Mr Buongiorno, the future for digital in the Americas, 'all goes back to market demand.
'If packaging and label trends continue at the pace they are currently, we will continue to see robust growth in the digital world,' he foresees. 'However, looking forward I would say that as we move toward 2023 and beyond, we'll see much more growth in digital technology than we can predict. But I qualify this statement that this growth is not at the cost of analogue technology. Flexo, offset and gravure technology will continue to be the dominant technology, but will have more and more synergy with digital. Until there is a technology flashpoint in digital, digital and analogue will continue to live together both serving the needs of the market.' 
In his crystal ball, Mr Catchpole sees the following factors defining digital printing and converting investments over the next 12-18 months:
'Companies that have not adopted digital printing will gain a better understanding of how digital can benefit their operations and their customers';
'Machinery suppliers need to be able to provide a practical benefit to end users – tangible ways that the technology will put money into their pocket'; and
'Understanding hybrid printing will be a huge factor for end users to convert to digital. This allows end users to add capability to their analogue processes without adding footprint or expensive end-to-end printers.'
He also notes, 'We will see better water-based inks coming into the market that will facilitate the transition to digital in flexible packaging.'
Mr Gomez advises converters to watch out for the following when doing due diligence with any equipment manufacturer:
'Anything that can save labour is going to help in a world when keeping or recruiting a workforce is a challenge'; and
'Anything that conserves cash is going to be even more important today. The cheapest isn't always the best, and neither is it better if it's more expensive.'
'Let's take speed,' he examples. 'A label and packaging converter needs throughput, not speed. How many sellable labels can I get out of my press in a shift? That has to do with uptime, set-up time, maintenance time, as much as print speed.
'When comparing different manufacturers' offerings, ask "how much is enough?". Anything above the minimal amount needed to add value to the final product is waste. How much throughput is needed? How many colours? What resolution? These questions have to do with the type of work they are going to be doing. One doesn't want to buy less than is needed any more than one should pay for more than will be of use in producing paying work.
'Capital investment thrives on predictability, too. An ROI assumes a certain return, which assumes a certain throughput of sellable product. Even small differences in engineering can yield more predictability and stability to a digital press. So when evaluating systems, a converter should be on the lookout for how the different elements have been conceived, designed and executed to contribute to a predictable, repeatable operation.'
He further notes anything that can save media, 'is a must under current conditions.'
Specifically, 'The uncertainty of media supply will be with us for some time. It's getting better than the worst of it, but it's still here for the next 12 months, at least. Converters have responded in the only rational way they could, by throwing out "just in time" and switching to "just in case" inventories. I've walked through many a shop that had stacks upon stacks of label media rolls. The cash sitting in inventory is an understandable trade-off when the alternative is not having media to cover incoming orders. But there's a risk involved if things turn. Anything that can save media through press design or waste reduction should therefore be noted.'
With 'investments driven by demand', Mr Cheydleur sees digital printing as solving several business issues. This includes the possibility to utilise less skilled labour; the ability to better load balance the entire shop, mixing work between sunk analogue presses and new digital investments; continuing to push for shorter run lengths and faster turnarounds; and expansion into adjacent markets, be they wide format, POP or signage. This is defined by the type of digital process invested in.
'Companies are going to look carefully at how they can save costs and set themselves apart from their competition,' opines Mr Rankin. 'They will analyse their run lengths, how they have changed and look at trends for the coming years. In most cases, the investments will be made in digital technology. Digital printing allows printers to balance their work more across their printing equipment. They can move small and less profitable jobs from their analogue equipment to digital and print economically on the digital equipment. The digital presses will also allow them to offer quicker turnaround times and win new customers. Any printer who is not willing to do the analysis is going to fall behind.'
'Economics, productivity and sustainability will be key,' according to Mr Rollo. 'With media shortages and inflation, converting companies are feeling the pinch and need to invest for producing quantities on demand efficiently and cost effectively. Digital, will enable less waste, on demand production and shortest time to market. Scodix as a foil and spot varnish alternative stands out due to its range of sustainability certifications for recycling.'
Sihl continues to see strong demand for printable options for decentralisation and personalisation. The trend continues 'unbroken' with aqueous inkjet to, 'play a major role in the future.'
'The topic of sustainability will occupy us more and more,' the company states. 'Performance improvements such as more resistant coatings or even thinner films could help sectors such as pharmaceuticals and durables become more attractive.'
According to Mr McLean, 'As digital printing for labels and packaging becomes more mainstream, converters will be looking to invest in equipment and partnerships that will accelerate their growth, give them new capabilities, reduce their waste and streamline their production. Factors like software automation, data tool sets that can pinpoint inefficiencies in production, and print features like brand security will drive press purchases over the next 12-18 months.'
'Digital printing and converting is perfect for shorter runs, with the US market going more in that direction,' says Mr Stow. 'Also, we have lost a lot of our conventional craftsmen due to retirement. The younger generation is not interested in old technology but likes working on highly automated solutions with a touch panel to tap on, such as the fully automatic FlexFold52 folder gluer from Kama [a company his business represents in the region].'
Mr McLean predicts the 'next big jump' in the adoption of digital print in pressure-sensitive labels will take place with the introduction of the HP Indigo V12 digital press. V12 is the first Indigo press to utilise the LEPx architecture, delivering 'print quality and application versatility' at significantly higher speeds – up to 120m/min. The HP Indigo V12 uses six inline HD imaging engines running simultaneously, with none stop winding capabilities and 'perfect' colour-to-colour registration. This press debuts in the region at Labelexpo Americas 2022, with the company predicting it to help shift the industry towards not only a digital-first mindset, but one that is 'Indigo-first'. 'A production floor combining HP Indigo 6K and the HP Indigo V12  will allow converters to become more competitive by shifting from an analogue-first to an Indigo-first mindset,' says Mr McLean, 'moving many mid and longer run jobs from conventional to Indigo.'
Mr McLean goes on, 'We will also continue to see investment in innovation and support for customers as we embark on an increasingly virtual-real world. With the exponential rise in digital printing fuelling the industry, customers have less time for service calls and higher production runs to meet. Collaborations such as HP xRServices and Microsoft Hololens 2 can help to create a virtual-real world combination in which customers can connect with HP engineers in a split second through mixed reality, advising them on any issue, at any point of their print production. In wearing the Microsoft Hololens 2 headset supported by HP xRServices solution, converters will get the feeling of being physically present with a virtual coach on hand to guide them through the process, meaning no time wasted on long service calls, resolutions are swift and press downtime is kept minimal.'
One final consideration from Mr Gomez is supply chains. 'Converters should work into their due diligence questions about the manufacturer. The more control over manufacturing of its critical components – printheads, consumables, media transport – a company has, the more control it has over its supply chain. The better it can face things when things get tough.
'These aren't just supply chain questions, by the way. They speak to design philosophy too. Is the press a collection of OEM pieces designed separately by different teams in different companies? This is the difference between an Apple computer, for example, and a PC. Apple controls all critical components, while Dell and other PC companies mostly aggregate existing, interchangeable parts. There's something to be said for each approach, but each approach has its own implications. In a label press, converters may want to ask which approach the manufacturer takes and draw their conclusions.'
Read the July/August 2022 edition of Digital Labels & Packaging for more on the Americas, and this autumn's Labelexpo Americas and Printing United expos
*The image used to illustrate this article is courtesy of Michelman, which provides a complete line of digital printing primers and OPVs, such as DigiGuard UV OPV strengtheners as detailed here.