Trends in toner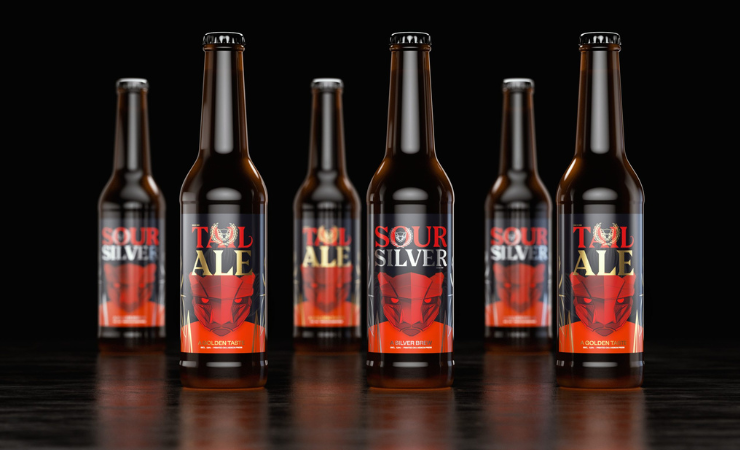 Xeikon's addition of metallic toners will allow for the embellishment of labels in a more cost-effective and less labour intense way.
From short runs of labels to industrial scale production of flexible packaging and folding cartons, the evolution of toner technologies shows no sign of slowing down. David Pittman reports.
By number of presses installed, toner digital printing in all its forms continues to lead the way in digital labels and package printing.
From HP's liquid electrophotographic (LEP) process and ElectroInks, to Xeikon's QB-IC dry toner with a low fusing temperature, and Kodak's Kodachrome Foil Dry Ink developed specifically for the packaging market, there's multiple options, depending on the application.
Eli Mahal, head of marketing, labels and packaging at HP Indigo, notes that as digital printing is used primarily for short runs and variable data jobs with fast delivery and low waste, 'The two main qualities that make LEP stand out is the high print quality and application versatility.
'90% of converters are small and medium in size, owning one or two digital assets. They serve brands from different verticals – food, beverages, healthcare, etc – and therefore require a digital press to meet the different needs of each vertical. LEP is the only technology that allows high quality, food safe printing on nearly any material, including challenging rough media, metallised and sustainable materials.'
Randy Vandagriff, senior vice president, print at Kodak, identifies, 'A key challenge for toner-based technologies is to be able to print the widest possible variety of packaging and label products on a wide range of substrates cost-effectively and in high quality in order to meet the evolving demands of brand owners. Another persistent cha
llenge is the strong trend toward greater sustainability and the use of environmentally friendly, resource-conserving materials in packaging.'
Labels
Labels is where many have succeeded with toner. In a relatively quick period of time, Konica Minolta has now delivered the 1000th AccurioLabel press, with Etiq'Lyon of France installing an AL230 model. AccurioLabel presses are designed to offer an affordable entry point to high-quality digital printing. They were originally targeted at small to mid-size label converters but are now also widely accepted by large sized businesses.
The next generation of Konica Minolta's AccurioLabel is imminent (read www.dlpmag.com/news for the latest), alongside a new version for security printing that is fitted with an inkjet module from Industrial Inkjet.
Mark Andy developed and launched Digital One as a compact toner-based press back in 2016. The concept of Digital One was to release capacity on flexo presses or enable companies to take their first step into digital label production. Off the back of the success of Digital One, Mark Andy developed the Digital Pro Series, which is available in two versions: Digital Pro 1 for roll-to-roll applications; and Digital Pro 3 for single-pass printing and converting.
With a production speed of 23.5m/min across a range of substrates, Digital Pro presses require no priming or pre-coating. They print at 1200dpi in CMYK, using dry toner electrophotographic printing with optional inline flexo decoration before and after the digital engine. Xeikon's latest innovations include gold and silver metallic toners for use with its Cheetah 2.0 digital label presses.
The addition of gold and silver options will allow for the embellishment of labels in a more cost-effective and less labour intense way than more traditional alternatives such as printing onto a metallic substrate or using a cold or hot foiling process, it is claimed.
'The development of application-tuned toners empowers printers to create their own digital solution, allowing them to stand out from other print providers and remain competitive,' explains Filip Weymans, the company's vice president of marketing.
Focusing on growth in shrink sleeves, HP Indigo has released a new premium white ElectroInk for sleeves, which is an opaque white ink with a coefficient of friction that allows reverse printing on shrink sleeve media.
Next up at HP are the presses that run its new LEPx technology, starting with the V12. Running at 120m/min in six-colour mode – 60m/min for 12 colours –, this press has the capability to replace two advanced flexo presses and deliver tens of thousands of linear metres per day, according to HP. Currently in the Alpha test stage, with beta presses in production, V12 is set to debut in the autumn of 2022 and will be officially launched into the market in the summer of 2023.
Flexible packaging
HP will hope V12 can do for the label market what its 20000/25K platform has done for flexible packaging. Since their unveiling at drupa 2012, these 30in-wide LEP presses have gained a lot of traction in the market for the production of digitally printed flexible packaging. Often installed in combination with converting equipment from the likes of Karlville and Nordmeccanica to facilitate rapid turnaround of printed pouches and the like, a number of profitable flexible packaging business models have been built off this technology, not least that of ePac Flexible Packaging.
Whilst it has already had some success in flexible packaging with its existing Cheetah engine and toners, Xeikon has moved forward in this space with the development of Titon. This is a new toner formulation responding to sustainability trends in packaging, and claimed to offer, 'all the benefits of UV inks without the disadvantages.'
The first digital press to run Titon technology will be the new Xeikon CX500t Cheetah digital press. Adding the extra capabilities of Titon to the successful 510mm-wide machine allows converters to broaden their reach and enter new market segments, according to Xeikon. Specifically, Titon can be used to print many types of flexible packaging for food products, including papers that are coated on one side for bags, pouches and sachets, or on both sides for wrappers such as baked goods, confectionery, sugar, flour, herbs and spices, and coffee and tea. As brand owners continue to convert film-based packaging to paper, Xeikon noted that allowing the move to recyclable paper-based packaging puts Titon technology in a, 'ground-breaking position in the digital printing landscape, and it gives printers the opportunity to expand their capabilities into applications that could not previously be addressed with digital, complementing their conventional flexo presses.'
Frank Jacobs, market intelligence and senior product manager at Xeikon, comments, 'With the new Titon technology, Xeikon is offering a sustainable solution for an unexplored and wider variety of applications to fully support brand owners, designers and printers wishing to increase their use of paper-based packaging for food products.'
Titon builds on the core value of Xeikon's dry toner technology which, due to the absence of any liquid (mobile) components, is said to be the most food-safe digital printing technology available in the market, even with only paper as the main functional barrier. Titon is also completely odourless and tasteless. Such characteristics make this technology suitable for a broad range of applications with indirect and direct food contact.
Titon toners also offer resistance to scuffing and scratching, water, sunlight, high temperatures and a large set of liquid chemicals, without the need varnishing or lamination. Being able to print directly on paper substrates without varnishing or lamination, either inline or offline, has a significant impact on overall equipment effectiveness (OEE) of the digital printing operation. Further, Titon toners can withstand heat sealing temperatures of up to 220-260 degrees C (428-500 degrees F).
 Folding cartons
Another market set to benefit from advances in toner technology is folding cartons. Demand here is expected to increase in the next five years, with emerging trends driving a shift to high-value digital production. HP Indigo's 30000/35K platform launched at the same time as the 20000, and whilst it has not achieved the success as delivered by its web-fed sister, this press is beginning to gain genuine traction.
 A notable name to have taken on the technology is CCL Industries, which installed its 100th HP Indigo digital press with the world's first 35K finding a home at the CCL Label Healthcare facility in Montreal, Canada.
At the brand owner level, global confectionery company Mondelez has run a campaign for its Milka chocolate brand, giving consumers the chance to disconnect and take a break from their daily routines. The 'Color Your Break' campaign was introduced across Belgium, with boxes of Milka Leo decorated in animated designs from 12 artists. The designs however are only half coloured in, with the idea that consumers will take a break from their daily routines and finish the colouring. German PSP Pfäffle GmbH Verpackungswerk used its HP Indigo 30000 digital press to print the folding carton boxes. Also serving the digital folding carton space is the Xerox iGen5.
This is identified by Xerox as a 'flexible and productive system', with the ability to select additional colours to CMYK, including white and fluorescent yellow; handle cartonboard weights up to 630 micron; and be specified with inline coating and die-cutting. Kevin O'Donnell, head of marketing, graphic communications and production systems at Xerox, says a system such as the iGen is, 'accelerating short-run printing for embellish, customisation, promotions etc. and focusing towards on-demand printing and SKUs to create more opportunity.' Ascend from Kodak is looking to achieve something similar, although on a bigger scale.
Targeting folding carton packaging and retail signage applications, Ascend is an electrophotographic press engineered to print heavyweight substrates at long lengths, with high-margin CMYK and flat foil embellishments in a single pass. Printing with a maximum 600dpi resolution and production output of up to 572sqm/hr, a large sheet length of up to 1220mm allows the press to offer 23% more print area than a B2 sheet. An oil-less imaging system facilitates the use of heavier substrates up to 762 micron/30pt, as well as two-sided (duplex) printing on synthetics and the application of new embellishment inks.
A further benefit is noted as better lamination and gluing performance of printed output off the press. The machine has a total capacity of 5000 sheets/500mm pile height. Feeding is done by two sheet feeders, each with 100mm pile height; two sheet feeders, each with 450mm pile height; or one sheet feeder for up to 711 microns (30pt), with 570mm pile height.
'Electrophotographic digital printing will continue to play a key role as a digital packaging printing process in the future, because it delivers the bold and vibrant colours that brand owners demand on a wide variety of substrates used,' says Mr Vandagriff.
 'Other reasons are EP's capabilities for fast production of small-batch packaging with minimal lead times, the trend toward more customisation or versioning of packaging, and the implementation of connected or smart packaging concepts.' 'The main challenge for digital label printing is the productivity of long runs,' says Mr Mahal.
'With the new LEPx serial architecture, converters will be able to benefit from LEP signature values for longer runs and outgrow the market by adopting an 'Indigo first' mindset, in which 50% or more of the label volume will be printed by a fleet of HP Indigo presses.'
Mark Andy's Mr Baldwin is somewhat more considered with his thoughts on the future of toner. 'There is a school of thought that toner technology has reached something of a plateau. This suggests that its future lies in some of the more niche, low-volume market sectors like wine labels that use textured paper, and short-run packaging, especially with porous materials. I foresee inkjet taking over the volume digital print business, with toner catering for speciality work.'
Conversely, Mr O'Donnell says, 'There's no denying that toner remains the most agile and flexible printing technology there is. Toner has the advantages of high quality, high productivity, automation, ease of use, mixed media in a single job, and scalability across the portfolio, over other printing methods such as inkjet or offset. Perfect for shorter runs, dynamic content, creative substrates and fast turnarounds. Most important is to ensure seamless integration into the broader production workflow so as efficiencies on the press are mirrored in the pre-press environment too.'