My Digital Journey: Rachel Tzirin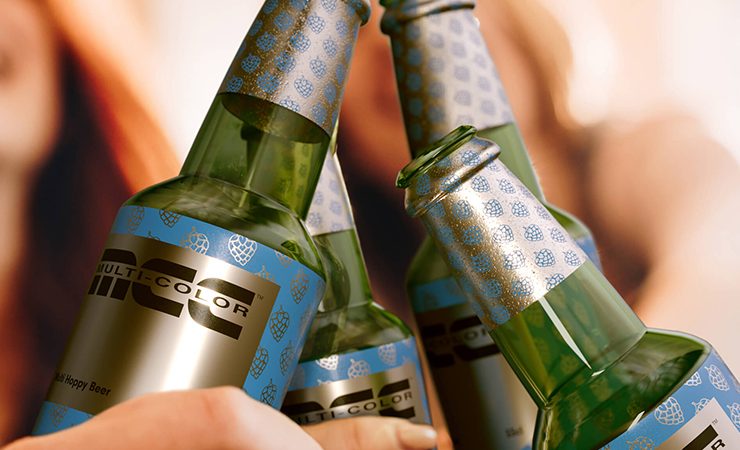 The beverage market is one of the core markets that MCC serves
Rachel Tzirin is a well-known name in the digital printing industry, having spent two decades helping to build HP Indigo's market position. She has now moved directly into the print industry, and is using her expertise to further MCC Label's global digital proposition. This is her story.
Where did it all begin?
I joined HP Indigo in 2000, based in Israel at the company's headquarters and working in the central marketing team. After one year I was tunnelled to the label division and from 2003 onward, I was dedicated only to labels and packaging. From this marketing role, I progressed into business development and sales.
In the early days, we focused in and around Israel, creating a hub for developing the technology, working with converters to test and prove the capability of the 4000 series press at that time. I worked closely with Alon Bar-Shany [now with Highcon] and Ronen Samuel [now with Kornit Digital], as well as the likes of Christian Menegon. We had great success and those were fun days.
In 2014, I was asked to help sell the new HP Indigo 20000 and 30000 presses, for flexible packaging and folding carton applications respectively, as well as labels. This was a really good experience, starting the digital package printing journey, talking globally, preaching, announcing and educating.
Where has this led you?
There are a lot of similarities from this to what I am doing today as global director, digital sales at MCC Label.
Both HP Indigo and MCC have good momentum and are innovating in new areas. HP Indigo for example established the market for digitally printed flexible packaging, whilst MCC is good in digital print. I have been asked to help focus this more and grow the digital side of the business.
As such, the launch of the HP Indigo 20000 and 30000 are most familiar for me to what I am doing today. In my previous role I was handling strategic accounts, such as MCC but also All4Labels, Skanem, ILS and other global players. I was building relationships, looking at them strategically and working to help satisfy their needs.
At MCC, [as global director, digital sales] I am working with our 350-strong global sales team to show them how the solutions work, how they can be used to deliver more, and drive campaigns. It is a massive job, and very interesting.
How are you looking to grow MCC's use of digital print?
We already have a large fleet of digital presses, of which the majority are HP Indigo with a few inkjet hybrid machines. Whilst this is a relatively modest part of our overall production mix, which includes all print processes and targets a number of specific verticals, I want to help create excitement and emotion with the use of digital print. We have established a strategic improvement project that we are using to generate this, and educate our colleagues and customers about the potential with digital.
I truly believe emotion is key when it comes to benefitting from digital print. Packaging becomes more than just decoration, and a way to connect and engage directly with consumers. With digital print, you can more easily create this and generate an emotional response.
Having come from a supplier background, I am taking my technical and business knowledge, and understanding of the features of the technology and what it can do, and bridging it to MCC and its capabilities. It is a very interesting challenge and one I am finding very exciting and enjoyable. Taking my background and implementing it at a printer is a real joy.
What challenges have you had to overcome?
When it comes to creating excitement and buy-in when you're working inside a company the size of MCC, you have to create something different and I must innovate.
If I were to go down the established routes and try to do things the traditional way, it would be hard to grow the use of digital. Instead, I must introduce something new, and show how digital can be used to create emotions, create valuable connections, and reinvigorate markets and applications in ways that conventional print can't.
As MCC is a well-structured business, targeting some key verticals, I am able to initially focus on identifying where the greatest opportunity for digital exists, such as in wine and spirits, food and dairy, personal care and beverage. My initial priority has been to align our baseline knowledge, create training and sales tools around what digital can do, and will now focus on projects and bringing my business development and sales expertise to the role.
What will this mean for digital and MCC?
We will grow. We have many sites globally with a digital offering. Never just digital, as digital complements flexo, offset or gravure. Each site is orientated towards a specific segment of the market, which allows us to manage our global footprint and deliver organic growth. We won't necessarily be adding more sites to do this, but enhancing our knowledge and harnessing existing capabilities to enhance the position of digital. Further presses might be added to specific sites, depending as and where demand develops.
For me, I am working to educate, train and make sure we can identify and win upcoming projects.
How do you see demand from brands growing?
More and more brands are not wanting to commit to long prints runs, months in advance.
Instead, they want to print month by month, making it easier to plan and forecast. Digital suits this. This will drive global growth.
That is not to say that selling digital is easy. It has become easier, but there are still many questions around ink suitability and the application, substantiality, etc. With Millennials and the Gen Z cohort being so savvy and tuned into the world around them, this helps move the conversation forward around how digital can be a viable tool to allow brands to meet their environmental and sustainability goals, and provide their customers – the consumer – with products and packaging to suit their lifestyles and behaviours. MCC's global footprint also supports this and allows us to optimally deliver such an offer, no matter who you are and where you are in the world.
We need to be super knowledgeable and stay on top of developments and market trends, to make sure our capabilities keep up with our customers' requirements.
How will technology need to change?
Digital technological developments will be defined by the application. If you are in the wine and spirits market for example, they are happy with current speeds and print widths, but demand more from finishing and embellishment as they are always looking to create something special. For CPG customers, there will be a need to build more robust platforms that are faster and wider.
How will the industry continue to develop post-Covid?
As an industry, we miss each other. From the suppliers, to the printers and their brand owner customers, we are all looking forward to meeting each other face-to-face again. We will see changes in behaviour, from how we work to how consumers interact with products and brands. This is leading digital print industry suppliers to innovate and develop more robust systems, which will lead to continued growth.
Personally, starting a new job during this time has been challenging. I was ready to take the plane and meet all my new colleagues, at different sites around the world, to educate and eulogise about the power of digital.
In reality though, it has not been that bad. It has allowed my conversations and introduction to the company to be very focused. I have learned a lot and continue to do so.
I have also been very impressed at the calibre of MCC's staff, who have all been happy to learn, ask questions, and push the boundaries of what is possible with digital.
The engagement level has been amazing, from Mexico and Chile, to the UK and Asia.
This interview features in the May/June 2021 issue of Digital Labels & Packaging; register here to receive the magazine for free