Cutting costs without cutting corners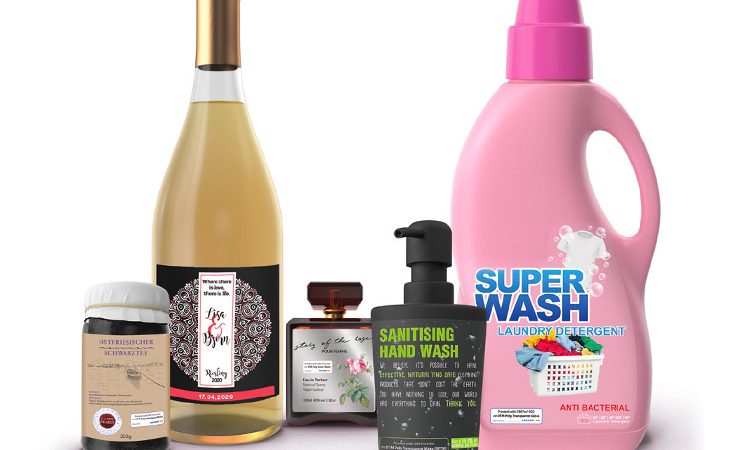 Samples printed on the OKI Pro1050
Myriad systems exist as a cost-effective yet productive means to enter the market for digital printing.
With digital package printing in all its forms continuing to make headlines, demand has accelerated for more affordable systems that can be used to enter the market, yet deliver the same quality and output customers have come to expect of digital printing.
From labels and shrink sleeves, to cartons and corrugated, many converters from many areas of the print industry are investigating the market value, analysing the potential, and assessing how it might fit into their production mix.
Affordability is a driver reiterated by Dayle Guy, product manager at Epson (UK), who says, 'Beyond the usual requirements of consistently high image quality and reliability we are now seeing affordability becoming a key driver to maximise profitability in the digital label and packaging industry. Compact systems that are easy to use and install, support the rapid turnaround of high-quality jobs. The events of 2020 encouraged the greater acceleration of trends and have driven the need for high quality production and application adaptability.
Digital technology delivers just-in-time production, which enables manufacturers to make only as much as the seller can sell. This also helps to reduce waste which chimes with the increased focus on sustainability, something that is likely to be brought more to the fore in 2021.'
Screen reiterates this message, identifying those investigating entry-level presses as likely doing so in order to minimise their risk via the lower investment threshold associated with an entry-level press. The company added that with ongoing economic uncertainty as a consequence of the Covid-19 crisis, 'cashflow is getting more important than ever, making smaller investments more attractive.'
Screen's entry-level option is the Truepress Jet L350 SAI E with a new inkset. The 'E' model carries lower equipment and ink costs than the SAI S, for instance. Whilst 'E' models do not come with a chill roller for printing thin films, a new UV inkset affords flexibility of material choice.
Moreover, the Screen Truepress Jet L350 SAI E can be upgraded from a 50m/min printing speed to 60m/min, as well as taking on additional inkjet modules to extend the colour gamut or for future functional inksets.
Such 'E' models are not uncommon in the portfolios of press manufacturers. The Durst Tau 330 RSC E UV inkjet single-pass press was introduced to bring affordable digital production to more label and packaging converters. With a starting price of €350,000, the company is targeting small and medium converters in the mid-tier market with this version of its RSC press series. The press, field upgradable to the Tau RSC high-speed version, is available in 330mm and 244mm print widths, printing in CMYK or CMYK+W in full-speed mode at 52m/min. It produces a native resolution of 1200 x 1200dpi, with drop sizes down to 2pL.
Production capability of 1020sqm/hr is achievable in full colour including white. High pigmented inks offer a reduced ink consumption by up to 20% per square metre, designed to optimise running costs. All options from the Tau 330 RSC can be fitted to the new model.
Small but mighty
Alongside such larger scale entry-level options, a plethora of systems and technologies exist that are smaller in stature, as well as smaller in cost.
Colordyne's 2800 Series AP – Retrofit, for example, is a compact, single-pass print engine that can be retrofitted onto existing analogue equipment. This entry-level inkjet retrofit uses aqueous pigment inks for greater versatility and durability through enhanced water fastness, light fastness and rub resistance. Industrial Inkjet's (IIJ's) modules can similarly be integrated into analogue machinery to create an entry-level digital printing option.
Afinia's FP-230 facilities printing of on-demand, short runs of flexible packaging. Based on the Afinia L901 Plus inkjet printer, the system utilises Memjet's Versapass DN technology to produce vibrant full colour prints at 1600dpi, with a maximum speed of 18m/min. It is one of numerous systems that use Memjet's technology to offer affordable production-style printing.
Offered into Europe by DTM Print, Primera's systems include LX Series colour label printers. Within that series and depending on the maximum print width you need, the LX610 Pro, LX910 or LX2000 (each with an 'e' on the end when sold into the UK/Europe) are viable options, notes Andreas Hoffmann, DTM Print managing director.
LX610e Pro combines colour label printing at up to 4800dpi with a built-in digital die-cutting mechanism. LX910e doesn't incorporate the digital die-cutting option but otherwise offers the same print quality and speed as the LX610e. It would be of interest if larger labels up to a width of 210mm (vs 127mm of the LX610e Pro) are needed.
Both LX610e Pro and LX910e utilise an ultra-high capacity single CMY ink cartridge. Ink droplets are fired precisely, meaning there is no need for a separate black ink cartridge. LX2000e, which can print labels up to a DIN A4 width, incorporates individual CMYK pigment ink tanks.
For converters with a focus on industrial applications that therefore need to produce extremely durable labels or more specifically, GHS compliant labels, LX2000e is more suited to their needs.
Mr Hoffman comments, 'Converters all across the globe realised that only relying on typical long runs of analogue and digital label prints are no guarantee to keep or expand their business, even though these types of jobs still can comprise a large portion of their production.
Customer requirements changed and evolved, including sampling, shorter run lengths, personalisation, more substrate variety and increased SKUs. Blocking of large machinery to produce such small jobs makes economically no sense.
'Two other aspects growing more and more in importance are environment and sustainability. In the past customers just ordered a large quantity of (mostly) generic labels, stored and then used them until they were out of stock or worse became out of date. Those out-of-date labels were just thrown away. These days customers want to order exact quantities in time, rather than a percentage of 'overs'.'
DTM Print also offers the OKI Pro1050 label printer that uses full-colour digital electrographic printing technology comprising CMYK+W.
Guy Boxall, senior marketing manager, narrow format printing at OKI Europe, describes this as 'something totally unique in a desktop label printer'.
The system costs under €15,000 for a five-colour option that is easy to set-up and install, offering a narrow format option for label widths up to 130mm covering an estimated 80% of labelling for food and beverages.
Mr Boxall goes on, 'The Pro1050 series is perfect for the smaller runs of labels of typically 8000 in one day,' he notes. 'Or just 50 'specials', if needed, all very easy to set-up and print very high-quality labels. Using OKI's LED and dry toner technology, the labels are high quality, and water-, alcohol-, chemical- and oil-resistant.
'Converters no longer turn away the smaller orders and can increase their bottom-line profit very quickly. Typical pay-back on the investment is six months.'
Epson's portfolio of on-demand, desktop colour label printing systems includes ColorWorks C3500, ColorWorks C7500GE and the ColorWorks C6000 Series. C3500 printers offer a speed up to 103mm per second, in full colour. C7500GE offers advanced on-demand, durable, full-colour glossy and customised label printing with spot colour matching at a claimed low cost per label and a quick turnaround time for demanding, high-volume environments. C6000 printers are specifically designed as a colour upgrade to black-only thermal transfer printers. The newest models deliver high-volume colour labels for production use, at up to 119mm per second.
Mr Hoffmann says, 'To start with a smaller desktop solution is a smart move as converters can test waters without investing too much money when they are beginning to make room for digital inkjet printing solutions in their business. And when the product works for them the return on investment is a lot quicker instead of buying a huge label production system. Like commercial printers, converters find that inkjet technology makes it easier and faster to produce labels and packaging. Moreover, inkjet lets providers quickly produce short-run, personalised packaging with the level of quality that rivals offset.
'On top of that there are several desktop label printing solutions out there to choose from. Even within the desktop range converters can choose between solutions for very small runs of just a couple of hundred labels and more industrial run lengths of a couple of thousands. So, depending on what kind of customers the converter is normally working with, what their needs are or what kind of new customers converters like to attract, they are not limited to one desktop solution.'
This article was first published in the January/February 2021 issue of Digital Labels & Packaging, which you can read online here