Events and expos evolve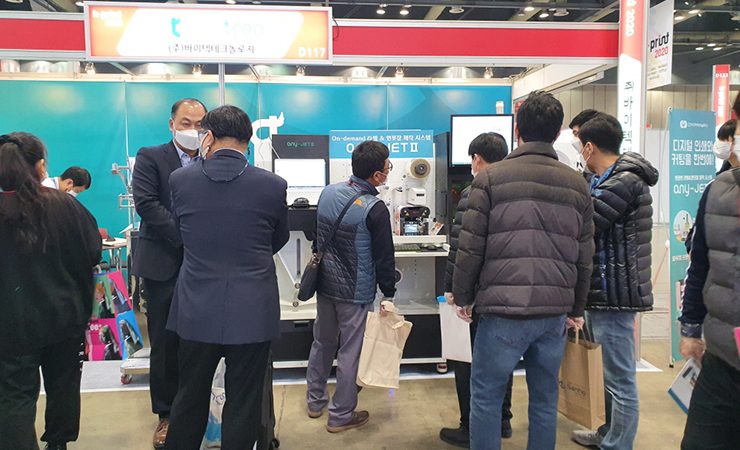 The anytron booth at K-Print 2020, run as a physical event during November on the outskirts of Seoul, South Korea in the shadow of Covid-19
Whilst many of the underlying trends that have been fast-forwarded by Covid-19 are far from new, the rapid changes and hastened evolution of print as witnessed this year has arguably had the biggest impact on industry events and exhibitions.
From welcoming a global exhibitor list to attendees flying in from all four corners of the world to see product launches and new innovations, they have quickly been shuttered with organisers applying virtual concepts to their business models – Labelexpo has now hosted its first Virtual Label Summit, the three-week Printing United Digital Experience has come and gone, albeit currently still available for catch-up, while drupa preview and Printing Expo are now open to experience.
The first physical events have taken place in the shadow of Covid-19 too, including All in Print China in Shanghai and K-Print in South Korea's capital, Seoul.
With all this in mind, Digital Labels & Packaging posed a series of questions to drupa director Sabine Geldermann (SG), Labelexpo Global Series managing director Lisa Milburn (LM), Printing United Alliance president and CEO Ford Bowers (FB) and Joe Riddett (JR), head of sales for Easyfairs' UK packaging portfolio.
Read their answers below, and the next issue of Digital Labels & Packaging for even more detailed trend analysis and predictions for 2021.
Since this article was published and the November/December 2020 issue of Digital Labels & Packaging, drupa has cancelled as an in-person event in 2021 and Easyfairs has rescheduled its Birmingham events.
DLP: What does the future hold for print trade shows, given the changes that have been forced on the industry by Covid-19?
SG: The pandemic will most certainly leave its lasting mark on the trade fair industry. The trade fair format of the future will therefore be a hybrid one, linking digital offerings with a live event. I don't expect purely digital formats to persist in the long term. Fairs like drupa represent an indispensable platform for industry participants, providing orientation, impetus and, above all, satisfying the demand for face-to-face meetings and experiences to a high degree. It is all about human needs, haptic experiences and running machines that fascinate participants and which definitely cannot be fulfilled at this point by digital media. What distinguishes leading world trade fairs such as drupa is the concentrated energy that arises from the selective gathering of many people; the personal and emotional exchange; the joint presence of decision-makers, multipliers and idea providers; lively discussions; presentations that set the pace; chance encounters; opportunities to acquire new customers; recruiting options; and more.
In the future, it will be important to combine the advantages of both formats – digital and live – to create a strong and successful trade fair.
LM: We are extremely excited about the future of print trade shows; we've seen that the label and package printing industry has remained incredibly resilient these last few months, as essential businesses supporting retail, pharma and other sectors during the pandemic. Short run digital printing and flexible packaging have done especially well. So the industry will keep moving forwards and need live platforms to showcase their latest technology more than ever. Only face-to-face trade shows and exhibitions can offer this.
From our side, the support of key trade bodies such as Finat and desire among suppliers to get involved in future Labelexpo shows has never been stronger. This year has also been a great opportunity for the industry to improve its training skills and knowledge and get ready to respond to future growth opportunities post Covid-19. We've seen digital learning really take off, and we envisage this appetite for knowledge will stay and be reflected at face-to-face shows. We hosted an extremely successful Virtual Label Summit and we continue to host popular virtual master classes and open discussions online with manufacturers and suppliers. All these endeavours have helped keep the industry connected outside our live shows and are helping build momentum for 2021 and beyond. So we are going to see much more of this sort of digital content aligned with our live shows in future – and, I am sure, also in the wider print trade show community.
FB: It has been a tough year for show organisers. In 2021, I'm hopeful we will see the beginning of the return to a regular show season with some variables yet to be determined.
From what can be gleaned in the 24-hour news cycle, it would seem that large shows and exhibitions will not be able to come back until a widely available vaccine protocol is available, and possibly even some months after that before it is widely adopted. As a result, we will probably experience a full year or more without trade shows in our industry. They will come back, but there will be some changes to behaviours and perceptions that will have to play out to see what the long-term effects will be.
First, virtual experiences are happening almost every week in some shape or form. Their success will determine if a number of exhibitors feel the ROI on a virtual event (which costs considerably less than an in-person event) is a viable substitute. If it is a viable substitute, then fewer will go to the expense of a trade show. The jury is still out on that.
Additionally, exhibiting companies will carefully wade back in to live events. I have spoken with many who have for a long while wished for more consolidation in the trade show arena. They may collectively, through their choosing some options rather than others, determine which shows either become economically challenged or are combined with others through other arrangements. Smaller, regional shows that were not strong before the pandemic will be the first to show strains. Even large shows will experience smaller footprints among their marquee exhibitors as suppliers test the waters. Some larger shows may actually gain overall exhibitors if smaller shows cease to exist.
That said, trade shows as a lead generation opportunity will not be replaced any time soon. The pandemic will, however, lead to further experimentation on how to do so. Shows have always been an expensive proposition for equipment manufacturers especially. Reducing the number of exhibitions they attend or supplanting some of that spend with more creative lead gen practices will be a continued focus. The pandemic has sharpened everyone's mind on this point.
JR: Covid-19 has naturally had a huge impact on every business and of course this includes the trade show industry. I think what has been certain, in an otherwise uncertain time, is the overwhelming want and desire for face-to-face meetings and trade shows such as Packaging Innovations in Birmingham to continue. Whilst digital marketing and technology is a huge part of the way we all do business, a recent poll showed that over 85% of the packaging industry are keen to get back to meeting (safely) and it is our absolute top priority to facilitate that. Easyfairs has recently partnered with SGS who will ensure every aspect of our events are Covid-secure. So in conclusion, the future is bright for meetings and events, as face-to-face is simply human instinct. We will of course be continuing to offer as many routes to market for our customers as possible, which will no doubt see more digital offerings as well as our leading face to face events.
DLP: How will the next instalments of print industry events and exhibitions, and future editions, evolve to reflect this?
SG: The pandemic has underlined the need for digitalisation in many parts of life. This effects meetings as well as shows or presentations. The corona crisis is acting as a catalyst, driving companies to intensify their digital business models and competences. Many companies are thus enriching their communication with online formats – as is Messe Düsseldorf to continuously enlarge our services for our worldwide community. We offer an extended online service for our exhibitors and visitors on preview.drupa.com and turn drupa 2021 itself into a hybrid trade fair. This is important these days to counteract existing travel restrictions for example and to give the entire community the opportunity to be part of the event and stay in touch.
We're convinced that digital formats will never be able to replace live shows such as trade fairs entirely. But as said before: a combined – hybrid – format will be the right way in the future to reach the biggest possible community on a global scale.
LM: We've always combined digital content with live Labelexpo shows – for example via webinars and master classes, Label Academy resources, show preview content and social media. Labelexpo Europe has always hosted a popular educational programme on site.
The last few months have been a great opportunity to explore even more creative ways for digital and live experiences to co-exist, and our aim for future shows is to build on that. We'll be placing more emphasis on learning and education and using digital technology to create even more innovative content in the run-up to and during the shows.
FB: The immediate future is all about virtual. We have spent the last few months working on our Printing United Digital Experience, with a number of different components including expert speakers, education, product demos and product launches. With this new capability, it is certainly possible to hold some sort of hybrid event that offers an in-person experience and a virtual one in the mid-term beginning in 2021. This approach, however, will always have to balance the cost of doing so with the value to the exhibitor and, again, it is too early to say if this will truly be a viable adjunct to future shows.
Beyond the hybrid model, there will certainly need to be a focus on how we put on the show physically. We are working with the Johns Hopkins Center for Health Security on putting in place mitigation efforts in 2021. Even if there is a vaccine widely available, there will no doubt be residual apprehension about such a large public gathering. We will look at everything from hygiene protocols to traffic flows to provide the safest possible environment.
In future years, some of the apprehension may fade, but reasonable preparedness measures will almost certainly be a permanent fixture of trade shows moving forward.
JR: The priority, as I mentioned is safety, as well as connecting the right people to do business of course. Easyfairs will naturally evolve, as all businesses will. This will not only be in response to government guidelines, but we are committed to leading the exhibition industry by example. The next edition will see some subtle but effective changes such as wider aisles allowing for safe socially distanced visits to our events. The good news for us at Easyfairs is that around three years ago we partnered with a technology company to allow the safe transfer of details from visitor to exhibitor and vice versa. This system, by chance, is a contactless system with visitor and exhibitor badges being 'chipped' with a small NFC chip. This badge then holds the information you upload – name, company name, email, phone number – everything you would typically find on a business card. When presented to an exhibitors' card reader the data will be transferred across automatically. This has set us in good stead with the focus being on reduced/no contact business meetings, which will be the new normal, at least for now. This technology, along with other measures, will keep everyone safe yet still allow that essential face to face contact we are all missing.
DLP: What plans can you tell our audience about now ahead of your respective shows in 2021?
SG: Messe Düsseldorf has developed a hygiene and infection protection concept that has already proven itself successful during the Caravan Salon in September. The concept offers all the prerequisites for safe and successful trade fairs in corona times. It ensures observance of the required health precautions, hygiene measures and distancing rules, and encompasses both measures for headcount and space management as well as hygiene, technical and organisational measures provided by the federal state government for holding congresses and trade fairs. The current Corona Protection Ordinance of the federal state of North Rhine-Westphalia serves as a basis.
Under the current circumstances, all forthcoming events at the Düsseldorf location will be subject to a limitation on persons present to ensure minimum distancing can be observed. Tickets will therefore be limited and only available online; visitors will have to register upon purchasing them. This permits the monitoring of headcount as people enter the venue and grants the best way to control visitor flows.
The safety concept has been specially developed for the current phase of the corona pandemic, in which we cannot yet rely on a vaccine. That it will modify the character of a trade fair is unquestionable. But it helps the industry to resume business under the given circumstances and to get in touch with customers again.
Of course, the hygiene and infection protection standards are constantly adapted to future developments and changing legal requirements and we will provide timely information on any changes. The safety of our exhibitors, visitors, partners and employees always stays our top priority.
Apart from this, our primary objective and trademark promise remains to offer our customers a highly relevant sales platform that meets the needs of our international community.
LM: It goes without saying that health and safety is our top priority, and, as we set out recently in our Reopening Labelexpo Europe framework, we will take all the necessary precautions to ensure we deliver the safest show possible at Brussels Expo next year. This might, for example, require creating wider show floor aisles, implementing enhanced cleaning regimes, and reconfiguring registration areas. These measures would of course mean the show looked slightly different, but will not in any way detract from the high-quality show experience the industry expects from Labelexpo Europe.
In terms of show content, the main feature will focus on the fast-growing flexible packaging market and we will reflect that in the educational programme. We will announce further details in due course.
FB: The Printing United Digital Experience 2020 has now happened, with three weeks of 'live' online programming with a focus on each industry market segment; available on-demand through 31 January, 2021. Over 100 world-class educational sessions and panels; more than 40 product launches from major OEMs; free and complete access for the entire team; access to the latest industry research, a complete library of whitepapers, case studies, video demonstrations; and more – all free.
We're particularly excited this year because, since it's virtual, anyone at a print service provider can attend, not just purchasers of equipment, And, of course, it's global.
Printing United 2021 will be held in Orlando, Florida on 6-8 October, 2021. Despite the pandemic, we are ahead of any previous year in our bookings for floor space, so it would seem there are many who want the face-to-face experience to continue.
JR: Whilst the past six months have brought many challenges, it has also brought incredible success and opportunities. We recently ran our first Packaging Innovations Discovery Day, a fully online event which hosted fantastic speakers and brought together brands, design agencies and suppliers, allowing our clients to connect and do business whilst maintaining that high level of content which everyone expects from Packaging Innovations. Without giving too much away just yet, it was hailed a great success from both exhibitors and visitors and as with everything we do, we like to build on success, adapt and make things even better. So whilst the next online event isn't officially scheduled, I can tell readers this will continue and we will be announcing some exciting news shortly for the packaging community.
Easyfairs has also taken this opportunity to launch a series of intimate, one-day, sector-specific events in Italy which have been extremely well received, with all exhibition stands selling out in just over a week. I am interested to watch this develop, learn from our Italian colleagues and evaluate the possibility to replicate this for the UK market, so watch this space.
DLP: Why should/must the digital printing industry attend your respective events in 2021?
SG: drupa is a meeting place, a place for exchange and agenda-setting. The fair is the number one platform in the industry, the place where things happen and the anchor point from which the future is set. The industry relies on the exchange of ideas, impulses and contacts to move itself and its products forward. drupa provides the framework for this. Only if the industry holds together can we maintain this strong network.
The restart and reactivation of our businesses is crucial. We must send out signals for new beginnings. To do this we need drupa – as a platform for exchange, presentation and networking, whether live or digital. We must make our industry, in all its diversity, visible and tangible. drupa is all about visions, ideas and the future – and under the impact of the Corona pandemic this is more important than ever.
LM: While the label and package printing industry has shown incredible ingenuity during the Covid-19 pandemic, there is simply no substitute for the face-to-face contact that only a unique trade show like Labelexpo can bring. Labelexpo Europe 2021 promises to showcase the very latest advancements in digital label and package printing. With an abundance of working machinery showing the latest digital technology, design solutions and feature areas, Labelexpo will bring the future of the industry to life.
The industry is expecting us to make this the best, and the safest, show ever, and we will deliver. The health and safety of our exhibitors and visitors is our utmost priority, and intense work is currently going on behind the scenes to make sure this is achieved.
Brussels Expo has invested in a world-leading air filtration and recirculation system, already used in hospitals and public transport, which means the quality of air inside the venue halls and public spaces is the same as the air quality outside. And as we now know, this is one of the key factors in stopping the transmission of Covid-19.
The timing of the show will also be particularly significant, as a catalyst for the industry as we move beyond Covid-19 into the recovery phase, and has the full support of the label and package printing community.
FB: For print service providers of all stripes, especially those involved with digital printing, Printing United is the most efficient way to compare and contrast the world of digital printing technologies. In one place you can see the depth and breadth of equipment, software, media, and inks that have come to the market and which you, or your competitors, need to appreciate. To survey all of these options and developments through a process of phone calls, site visits, sales calls, and so forth would take much longer and you still run the risk of not seeing all that is coming to market. There's simply no replacement (yet) for this type of exposure and opportunity. And, doing it at one show is better than three or four, so come where everything is under one roof.
JR: Digital print has always been a key part of our events; it is what many of the brands who attend are searching for as they adapt regardless of the size of their company. With the rise of flexible packaging and many companies diversifying into pouches, as well as seasonal and personalised packaging becoming increasingly important to SMEs as well as larger brands, digital printers, converters and machine suppliers are hot topics and there is simply no better or more time effective way to meet those buyers in the quantity that our event attracts in the UK. Whether you have a new product or service to launch, want to stay close to your existing clients or to focus on creating new opportunities, there is a clear need for brands to learn about new options available to them and source new suppliers who can help elevate their brand.
Read an abridged version of this article, as well as more detailed industry trend analysis and predictions for 2021, in the November/December issue of Digital Labels & Packaging; register here to receive the magazine, for free