Peanut butter maker hits the jackpot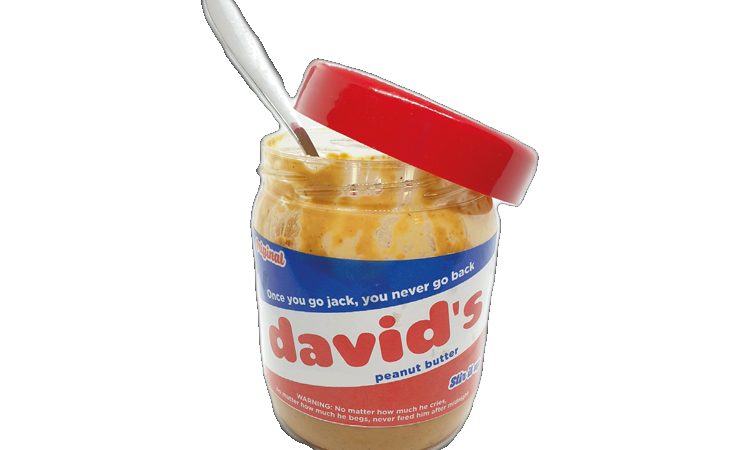 Editor David Pittman's personalised jar of Jackpot peanut butter, with a label digitally printed on an Epson ColorWorks C3500
Jackpot Peanut Butter, a young name in the growing FMCG category, has invested in desktop label printing technology to allow it to introduce personalised pots of peanut butter, and give founder Rupert Leigh the tools to disrupt the market.
The company had a fortuitous start to life, appearing first as a fictional brand via a logo on t-shirts sold by Mr Leigh. This led to him using his experiences from previous professional lives (he trained and worked as a chef early on in his career, as well as later working in high-level marketing positions) to launch Jackpot Peanut Butter in 2016. His intention was never for the company to be an also-ran in the peanut butter category, rather to have a social conscience, to lead social activism through action, and to reflect the values of its target audience as a culture brand.
Digital label printing is now another string to Mr Leigh's bow in his work to establish and confirm Jackpot as a challenger brand with a difference.
An Epson ColorWorks C3500 has been installed at the company's London base, where the personalised labels are printed in-house and manually applied to 'naked' pots of peanut butter, before being shipped directly to consumers. The Epson ColorWorks C3500 is a CMYK inkjet printer, offering a resolution of 720 x 360dpi and speeds of up to 103mm/s. The desktop label printer is designed to bring high-quality and on-demand versatility to labels, allowing businesses to save time and money on outsourcing label production.
Individual Durabrite Ultra pigment ink cartridges create fast-drying, highly detailed labels that are smudge, water and fade resistant. 'The value of printing within three seconds of pressing print is amazing,' adds Mr Leigh.
Gateway technology
For Mr Leigh, the ability to print personalised labels in-house fits well with the company's current and future proposition, and his plans for the brand.
Jackpot already uses elements of customisation on its labels to differentiate the brand, such as movie quotes, while jars for over 18s are available with a swear word printed on the label, referencing the 1970s rock band Destroy All Monsters' track, 'Peener Budder Mudder Fugger' and creating ownership of the product, albeit in a vulgar fashion. To overcome censorship issues on-shelf, a scratch-off label was introduced.
'All these little intricacies go into making Jackpot the brand we have built and want to develop,' explains Mr Leigh. 'If we operate purely as an FMCG food brand, which we are, we're only ever going to get what the other brands and competitive brands are doing; we are never going to be who we want to be.'
He identifies comparable FMCG brands as largely having 'no culture, no stylisation' behind them. Jackpot, he proffers, is proving that it has these in abundance by being creative and trying to lead the category through innovation.
To this end, Mr Leigh's plans for Jackpot include taking the 'House of Vans' concept and introducing it to the peanut butter category. House of Vans, a project brought into existence by lifestyle footwear brand Vans, embraces creativity and is a real-world representation of the company's strapline, 'Off the Wall'. Jackpot will take this and apply the core concept to its products.
'We want to take what Vans has done with different connotations for different types of shoes that you can have; we will do that creatively with peanut butter. To start, we will get influencers and creative people to design a label using the Jackpot tricolour, produce small runs of these pots, have them signed, and sell them as collectibles, putting money back into the Music Venue Trust.'
Personalised labels are the first steps on this journey.
'We have only just started with what we can and want do with this. We have started to seed it out to notable bands and artists, to get them to promote it, and raise money for the Music Venue Trust.
'Of course, COVID-19 hasn't helped but we've been looking to do this for a long time. Peanut butter is a category on the up, and has knocked jam out of second place behind honey. More people are eating peanut butter, which means it's going to get extremely competitive very soon.
'Jackpot has an opportunity as a brand, through differentiation and having an edge, to be more than just about putting peanut butter on the shelf.'
This article was first published in the July/August 2020 issue of Digital Labels & Packaging; to receive more articles like this first, register here to receive future issues of Digital Labels & Packaging, for free