OPINION: A career in print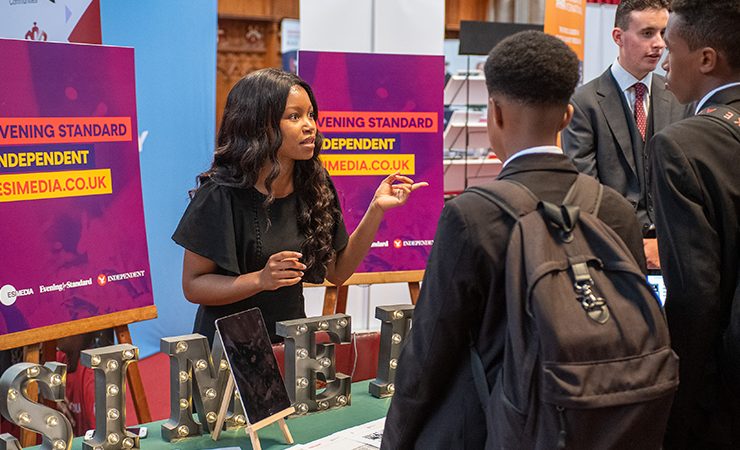 Apprentice 20 was due to take place at the City of London Guildhall at the end of June, although was cancelled due to COVID-19 and the Apprentice Futures website launched
Don't overlook print as a viable career path, editor David Pittman advises those looking to take their first steps into the working world
With many school-leavers now pondering their options as they look to take their first steps into adulthood, it is a fair assessment that far too few will consider the print industry.
This is a quandary pondered by many in print. I myself have been involved in discussion groups and planning sessions, brainstorming and spitballing ideas about how to bring the next generation into the industry. From engaging early on with a simple introduction to the world of packaging and the role it plays in all of our lives, to siphoning off those both creatively and technically minded later on in the education process to capture their attention, spark their interest and show them the myriad opportunities in print.
With these opportunities ranging from design and marketing, to engineering and sales, the roles that are available and skills that can be learnt are near-endless in print and packaging. Yes, there are still the jobs that require physical interaction with hardware and consumables, but is the modern print industry 'a dirty business'? Largely no. A look at Ozzle Jobs shows the variety of roles available in 21st Century print and packaging, from carton and corrugated structural design, through to packaging technologists, packaging managers and sustainability leads, and also sales, marketing and business development. Machine operator roles are there too, but as this includes finishing and other activities before and after the press – pre- and post-print –, it is evident that print is about far more than putting ink on paper.
Describing her journey into print, Mikaela Harding, technical sales support representative, Avery Dennison Label and Graphic Materials, Europe, says, 'All I wanted to do was to get into university to study chemistry; while still not knowing exactly what I did actually want to do as a career, chemistry seemed worth the money and would look good on my CV.
'When I finished my degree I fell into a job at Sun Chemical, where I was immersed into print. I was only there for six months but it opened my eyes to all the different opportunities in the printing and packaging industry and since then I've never looked back.'
Sarah Harriman, marketing and communications manager at Pulse Roll Label Products, has had a similar career trajectory in print, now spanning almost three decades. 'Having had the opportunity to enter the industry during my placement year at university, I continued after graduating and never left. I just moved from packaging to printing ink. I love our industry. It's fast-paced, dynamic, innovative and it's global – an amazing community, with fantastic people and great companies throughout the entire supply chain.'
Whilst many of the positions listed on recruitment sites may not lend themselves to new entrants to the jobs pool, apprenticeships can provide an ideal route into print, coupling on-the-job training and real-world experience with study. Whether sourced through a seat of further/higher learning or via direct contact and recruitment with companies, this can prove 'incredibly rewarding', according to Gill Lockley, marketing manager at UK printer CS Labels. As well as digitally printing labels, CS has been a pioneer in producing printed and converted flexible packaging using Xeikon's dry toner digital printing technology.
'We have successfully supported several apprenticeships in the past in various roles including print and finishing functions as well as back office and administration support. It can be challenging due to the often lack of structure within apprenticeship programmes across the industry as a whole, but it is incredibly rewarding both for us and the employee. More recently we have been approached by local colleges and even young people contacting us directly. Or, if a young person joins CS, and wants to formalise their training, we are always happy to support that.' 
In order to streamline apprenticeship programmes, the likes of the British Printing Industries Federation (BPIF) and The Stationers' Company in the UK have introduced comprehensive schemes and initiatives to support apprentices as they take their first steps into the industry.
BPIF claims itself as 'the largest supplier of apprenticeships to the printing industry'. This includes those for design and pre-press, print technicians, production, administration and planning, account management and sales, and customer service. BPIF has also recently introduced the Level 2 Lean Manufacturing Operative Apprenticeship Standard, with the accompanying BPIF Level 2 Lean Manufacturing Course designed to provide an effective curriculum to develop and stretch the knowledge, skills and behaviours that are required to be an ambitious and skilled lean manufacturer.
Another new development, this time at The Stationers' Company, has been the launch of the Apprentice Futures website as a resource designed to enable young people and other stakeholders to explore the world of apprenticeships and the potential career opportunities. The website – www.apprenticefutures.com – connects prospective apprentices directly with more than 40 employers offering an 'extraordinary and dynamic' range of career pathways. Apprentice Futures has been introduced as COVID-19 prevented The Stationers' Company from hosting its annual Apprentice event in 2020, planned as part of this year's London Careers Festival. Apprentice 2021 is planned for July 2021.
A further change affecting apprentices in 2020 brought about by COVID-19 has seen the Institute for Apprenticeships and Technical Education develop temporary flexibilities to how end point assessments (EPA) to be delivered to more than 100 apprenticeships since lockdown was enforced in the UK in March. 
This has allowed thousands of learners to complete their apprenticeships through remote assessment, as the institute's chief executive, Jennifer Coupland, explains.
'It is fantastic that thousands of the apprentices are not just meeting the unprecedented challenges around COVID-19, but thriving with remote assessment and moving on with their careers. Credit must also go to their employers, training providers, and our network of end point assessment organisations for making this possible.'
The success of apprenticeships in print and packaging is already being realised. At printing equipment manufacturer Bobst for example, a trio of apprentices have recently put their experiences into practice, having successfully installed a Novacut 106E die-cutter into the competence centre at Bobst UK & Ireland's headquarters in Redditch. This was handled by Tom Watkins and James Stout, who have trained as mechanical engineering apprentices over the last four years, while Lewis Davis has entered into the final year of his electrical apprenticeship. 
The trio installed and commissioned the die-cutter under the supervision of Paul Stevenson, technical service manager, who says, 'During the COVID-19 pandemic, the team normally responsible for installing the machines was very much focused on attending emergency call outs and offering remote support to customers. This provided the apprentices with a great opportunity to demonstrate what they have learned, and I am pleased to say that they have performed to an excellent standard. They each showed great attention to detail and a determination to ensure the installation was fully complete and the machine ready to operate, for when we begin to welcome customers and visitors back on site here in Redditch.'
Ms Harding adds, 'I love the fact that It's not an industry you necessarily have to go to university for. Its great to see the amount of apprenticeships and entry-level positions available to get the next generation in. There really is a place for everyone, from science and engineering, to the creative arts.'
Another to have gone down the vocational route is 20-year-old Georgina Daniel, who earlier this year became the first-ever female die-maker to join the workforce at Stockport, UK-based Arden Dies.
Arden Dies manufactures dies and tooling for the packaging sector, which are an important element in converting rolls and sheets into finished, printed products. Die-making is a highly skilled craft, and involves the construction of precision tools, or dies, which are used to cut out boxes and cartons for packaging, amongst other applications.
'When I first joined Arden, I hadn't even heard of die-making,' admits Ms Daniel. 'At the time, I'd been working as a customer service apprentice in a warehouse, but I wasn't enjoying it and needed a change. I always knew that I wanted to do a physical job and work with my hands. Growing up, I actually wanted to be in the military, but I had asthma, so it didn't work out. Manufacturing and engineering really appealed to me and I wanted to learn a skilled trade. I just knew I didn't want to be stuck behind a desk all day.'
Having joined in the company's rubbering department, Ms Daniel was eager to advance her career so has begun training as a die-maker on the shop floor.
She continues, 'To be a die-maker, you need to be technically minded, physically fit as it involves swinging a hammer all day, and have good hand-eye coordination, but women can have these skills too. I'm really proud to be Arden's first female die-maker. It's a great title to have and I'm really enjoying the role. The best bit about it is the feeling of satisfaction you get when you finish a job.'
Women make up a single-figure percentage of the workforce in skilled trades roles and less than 15% of people working in the STEM industries, (science, technology, engineering and maths) but Ms Daniel says she'd encourage more women to consider a career in such male-dominated sectors.
'It's not as daunting as they may perhaps think. I don't feel like the odd one out, I just feel like one of the lads – we have a good laugh. As a woman, I had struggled to get a job learning a skilled trade, but times are changing and employers are recognising that women have got the right sorts of skills too, so I'd urge anyone who is considering this career path to just keep trying and not give up.'
Reiterating this view is global bridge builder Cleveland Bridge, which has surmised that engineering as a profession needs to raise its profile and make itself more appealing to future generations, both women and men. 'It needs to reposition itself,' states Diane Boon, director of commercial operations at Cleveland Bridge.
Whilst the print industry is making moves to better position and present itself to future generations, Ms Harriman says, 'For young people, there are opportunities abound for a career in so many interesting and varied areas, from technical, design, print production to R&D and sales, and more. But, despite many great initiatives, I think more education is still needed to make young people aware of our industry, and we need to reach them at an early age. Companies must attract, develop and retain the next generation of workers and talent to drive our industry forward and secure a sustainable future for the industry we all know and love.'
One area where the print industry does currently excel is in nurturing talent. You will be hard-pressed to find someone not keen to talk to you about their job, and unwilling to share their wisdom and provide guidance.
My own personal experience saw me fall into print and packaging, as someone without a mechanical or scientific background. Granted, I did train as a journalist but as my university lecturers will tell you, 'anyone can learn to write.' Rather, having a passion was lauded. I have discovered that my passion is B2B – business-to-business –, and packaging.
Having spent the best part of eight years learning about the intricacies of flexible packaging, and then passing this information on via editorial to a segment of the industry largely unaware and unconcerned with OTR/VTR, etc, the opportunity arose to take up an editor position in an area of the package printing market with an extremely vibrant and engaging pool of partners, suppliers and friends.
As editor of Digital Labels & Packaging, I have been able to grow professionally and personally further still, and help inform and drive markets that I have developed empathy for and a deep appreciation of, although, truth be told, just shy of a decade ago, I like Ms Daniel was unaware of the industry I would come to call home. During my time in print and packaging, what I have learned and achieved would not have been possible without the help and support of too many people to name here, and who have nurtured, guided and supported me, and who continue to do so to this day.
Where will the next decade take the industry and myself? No-one can know for sure but what you can rely on is that whatever the path taken, the outcome is extremely likely to be rewarding and fulfilling for all those involved. For those starting out, or indeed progressing existing careers, it promises to be an exciting time,
'The printing and packaging industry is really on the forefront of innovation,' says Ms Harding. 'You only need to look at the amazing products being developed across the sector with regards to sustainability to see that. It enables me to still use my knowledge from my degree but also to interact with many different people across the supply chain and globe working on really interesting projects.'
Ms Lockley says, 'We truly believe that the print industry, especially digital print, has a huge scope of opportunity for those new to it, as well as those established to upskill.  From sales and administration, through to graphic design and artworkers, all the way to the countless roles in production, including printers, finishers, and specialist processors of embellishments. The access to knowledge and technology is a truly exciting arena for someone starting their working life and transforming what starts as a job into a career.'
I second this opinion, and implore all those planning their futures not to look beyond print as a career, even in these challenging and uncertain times.
Those starting and progressing their careers in the digital print industry during the coronavirus crisis previously shared their thoughts with Digital Labels & Packaging, and which you can read here
Find out about the latest digital print industry movements and promotions here
Read here why global bridge builder Cleveland Bridge believes female engineers are still a rarity
Register here with Ozzle Jobs to find your next career move in print, packaging and design
Register here to receive Digital Labels & Packaging, your must-read resource for all the information on what is going on in the world of digital label and package printing