Here to stay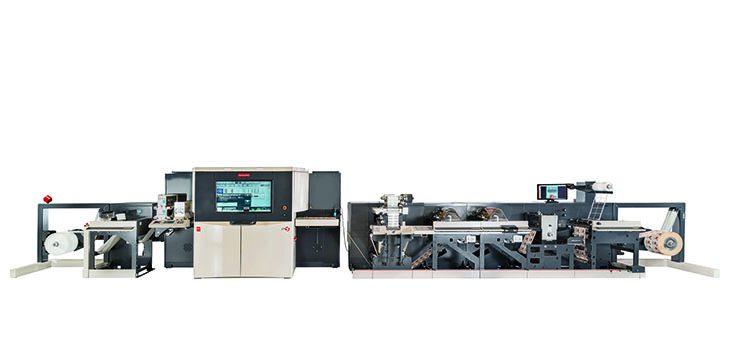 Nilpeter works with Screen to offer the Panorama hybrid line
New hybrid presses are still being developed with more suppliers coming to market. Combining digital diversity with flexo forte is a solution that appeals to many markets and meets the demands from end users for flexibility. Neel Madsen provides an update.
Hybrid printing presses for labels have been around for a number of years. Most combine flexographic and inkjet printing with converting processes inline, where the static elements of the design are done by the flexo part and variable ones by the digital engine. More functions are included to take care of die-cutting, slitting and other finishing processes.
One of the earliest contenders was the Caslon press – a joint venture between FFEI and Nilpeter – which laid the ground for the Graphium launched later in 2013 by FFEI. Named after a butterfly, the Graphium features Xaar printheads, Fujifilm inks and web transportation by Edale, and is still on the market (Edale offers it as the 'FL3 Graphium Hybrid'). Focus Label Machinery was also quick to see the benefits and used IIJ's expertise to add digital to the d-Flex press.
During 2014–15 the concept really took off, with numerous products being introduced by hitherto conventional press manufacturers, aiming to offer 'the best of both worlds'. Nilpeter worked with Screen on the Panorama, MPS incorporated Domino's inkjet expertise in the EF SymJet, Gallus cooperated with Fujifilm for the Labelfire 340 and Mark Andy introduced the Digital Series.
Many converting manufacturers have also incorporated inkjet print engines into their machines – some of the latest cooperations include Grafotronic working with Domino and Rotocontrol with Screen. And in step with the hybrid press concept gaining traction in the market, more options for adding inkjet capability to conventional presses are being developed in the form of retrofitted modules.
On stream
The expertise gained from the Graphium press can now also be found in the Océ LabelStream 4000 series hybrid line, which was introduced last year. Canon teamed up with FFEI and Edale to present the first UV inkjet press to incorporate Xaar's 2001+ U printheads. It offers a resolution of 720 x 360dpi at 68m/min for less demanding jobs and 720 x 600dpi at 48m/min when an 80% opacity white can be printed, and it can be supplied in either 330 or 410mm printing width.
The LabelStream won an iF Design Award 2019, which acknowledges the company's success in 'combining aesthetic design with an outstanding user experience for production printing systems.' An independent jury of 67 experts from across the world recognised the digital label press for 'its mix of innovative design and outstanding digital printing qualities,' declaring it 'one of the most productive and reliable label presses on the market.'
'We are delighted the Océ LabelStream 4000 series has won an iF Design Award,' said Crit Driessen, Canon's head of digital packaging. 'It is a testament to our continuous commitment to fuse outstanding innovation with impressive and user-friendly design to help grow our customers' business.'
Made in Italy
Omet has incorporated a digital module into its flexo presses for many years. It now works with Durst and together they have introduced the 'XJet Powered by Durst' hybrid line, with the first machine installed at Italgrafica Sistemi, in Italy, last summer, where it replaced two flexo lines. The two press manufacturers describe the press, which combines the Durst Tau 330 RSC high-speed UV inkjet engine with Omet's X6 flexo stations and converting units, as 'the jewel in the crown' of their partnership.
The XJet comes in a 330mm print width, running at a maximum print speed of 78m/min and producing a 1200 x 1200dpi resolution. With eight colour stations (CMYK+W+OVG) and newly designed high-pigmented inks, it promises to cover 98% of the Pantone colour gamut.
The press is modular with the option to upgrade as and when required by the customer. It can be fitted with hot foiling, web turning bars, delam/relam, cast and cure, lamination and rotary screen. Changeovers with Omet's Monotwin die-cutting unit uses just one cylinder with an auto-loading platemounter and works together with the Rock'n'Roll matrix stripping unit, which can strip and rewind the matrix of complex label shapes quickly.
At the official launch, Helmuth Munter, who is the segment manager for labels and packaging printing at Durst, said of the hybrid press, 'It combines the best technologies of both the digital inkjet printing and conventional pre- and post-press printing and finishing world, offering our common future customers a highly cost effective and complete 'all-in-one' printing process.' 
Marco Calcagni, Omet's sales and marketing director, added, 'We managed to create a complete made-in-Italy printing solution that meets the market trends of personalisation, just-in-time deliveries and final product variation, but also maintaining all the capabilities of a conventional press.'
With a view
At its heart, the Panorama line from Nilpeter has a Screen five-colour inkjet print engine, which provides a 600 x 600dpi resolution in CMYK and white (there is a Plus model that adds orange to offer a larger gamut). This is surrounded by 14-inch flexo printing units with quick-change Cleaninking chambers to form a hybrid press. Running at speeds up to 60m/min, it can be operated from either the built-in 42-inch touchscreen or a tablet. As well as semi-rotary die-cutting, Nilpeter value-adding units, such as the FP-4 for hot foil and embossing, can be integrated inline.
There are three types of offerings in the Panorama portfolio: the standalone DP-3 inkjet unit, the DP-3 with Nilpeter's own inline converting system and the DP-3 integrated into the company's All New FA flexo line. Options include adding a chill roller to run shrink film and other filmic materials. The press is also certified for use with the Color-Logic process for label applications, which means printers can offer 250 metallic colours and decorative effects to their customers.
'Digital printing is a very important part of today's printing environment – and the future, no less. However, no single technology can cover all applications of the very complex label and packaging market, which is why we at Nilpeter have always advocated 'combination printing'. Through hybrid printing, as we've come to know the combination of digital and analogue technologies, we combine the best of both worlds, and deliver highly reliable, productive, flexible and cost-efficient printing and finishing, creating results that meet brand owners' high expectations,' commented sales and marketing director Jakob Landberg.
'And when you look at our Panorama Hybrid, those advantages become very clear. It's highly profitable – offering market-leading 90% uptime and fast, easy start-up. The intuitive touchscreen interface is extremely user-friendly and requires little to no user maintenance. The smart, advanced workflow system offers simple job processing, and automated step and repeat functions, and last but not least, it's productive – with efficient high-speed printing up to 60m/min, excellent image reproduction with a wider colour gamut and valuable inline processes like foiling, embossing, multi-layer and lamination,' he concluded.
Customisation is key
Screen is now also working with converting equipment manufacturer Rotocontrol to offer new hybrid option. Unveiled at the press manufacturer's recent Labelfest event held at the company's facilities in Amstelveen, in the Netherlands, the new label line combines the Screen Truepress Jet L350UV+ UV inkjet press with Rotocontrol's DT 340 series finishing line.
'Customisation capability is the key strength of this end-to-end hybrid label printing and finishing system,' said Marco Aengenvoort, managing director of Rotocontrol. 'This partnership in combining technology expertise and experience into a single hybrid production line offers printers a range of options to meet and expand their label printing and finishing requirements.'
Features of the new modular hybrid system include an open and accessible web path with independent electrical control cabinets, foot pedals for complete web transport, accommodation of a wide range of substrates, 60m/min printing speed, Screen's expertise in variable data printing; standard and low migration inks with reproduction of wide CMYK colour gamut plus white, orange and the recently announced blue ink, 100% servo control from Bosch Rexroth and global round the clock support with certified technicians and remote diagnostics.
An example configuration of the modular hybrid solution is an unwind unit, corona treater, web cleaner, first flexo station and UV dryer, the UV inkjet label press, second flexo station with UV dryer, UV lamination or cold foil, full rotary/semi rotary combination die station with matrix stripping and rewind station.
Hybrid in HD
Mark Andy's Digital Series was upgraded to HD last year when the design of the inkjet unit was changed from a flat table section to an arched ink delivery system, meaning that it can print on unsupported films. The hybrid line is available in either five or eight colours, offering orange, green and violet in addition to the CMYK+W capability. The inkjet print station features UV LED pinning lamps cure after every print bar to ensure high-quality results at speeds up to 75m/min.
Adcraft in southern California makes a compelling case study having installed the Digital Series press to offer its own branded Jetflex Technology. The hybrid is configured with cold foil before the digital print engine, as well as five multi-purpose flexo stations to support spot colour printing, primers, adhesives, laminates and varnishes. Decoration is also supported digitally through Color-Logic software, which is certified on the Digital Series and widely used by Adcraft's pre-press team.
The press is equipped with the QCDC (Quick Change Die Cut) module, which provides fast changeovers and increased productivity. CEO Keith Mottram highlights satisfaction with the press configuration, stating, 'One of the biggest advantages of this press for us is having everything inline and being able to add all the embellishments in one pass. It gives us something to offer that's not available out there.'
Symbiotic relationships
Domino's N610i inkjet press – a digital standalone machine in its own right – has been the choice for many hybrid presses.
There are over 20 installations of the EF SymJet hybrid line from Dutch manufacturer MPS. This combination is built on MPS's established EF flexo platform and offers workflow integration with solutions from Labeltraxx and AVT.
Most recently, Canadian ASL Print FX decided that the Domino-powered machine was the right choice for its manufacturing plant in California's Napa Valley, where it produces wine labels for that region. President and CEO Charlie McLean, said, 'When we decided to invest in a press capable of printing complex, shorter-run wine labels to meet fast turnaround demand, the Symjet hybrid press was the perfect solution for our needs.'
Michael Weyermann, VP sales and marketing MPS Systems North America, commented, 'With the printing industry now embracing hybrid printing and the benefits it provides in combining flexo and digital inkjet technologies, we're honoured ASL has put their trust in MPS and Domino in their first hybrid solution press.
'The EF Symjet hybrid flexo inkjet solution makes the impossible, possible; it provides converters with a range of new print potential and combines the best of conventional and digital technology, as well as the operator focus that MPS is known for,' he concluded.
Domino is also working with many converting machine manufacturers. At a recent open house event held in Warsaw at Grafotronic's manufacturing facility, in May, a hybrid machine that combines the converting specialist's DCL finishing line with the N610i UV inkjet engine was unveiled. This includes 800mm unwind and rewind, web guide with ultrasonic sensor, corona treater, no-waste buffers either side of the digital print module, flexo stations before and after for priming and varnishing, semi-rotary die-cutting, added to the inkjet printing, which comes in four to seven colours. New modules, such as Grafotronic's Flex-Load automatic die loading system or Sci-Fi knives, can be added.
Other integration partners for Domino include AB Graphic, CEI, Gonderflex and Multitec (India), and there are a number of installations in the market place.
Smaller fire
Earlier this year, Gallus introduced an entry-level version of the Labelfire hybrid press. The new Labelfire E 340 offers the same image quality as its bigger brother, using Fujifilm printheads to produce a resolution of 1200 x 1200dpi and print in CMYK plus digital white, but without orange, violet and green inks.
Integrated into Heidelberg's Prinect workflow, the E model can be configured based on the current needs of the customer and then upgraded to eight colours at a later date should the need arise. Further embellishing options, including screen, cold foil and additional flexo, can also be added.
'We have many customers who want to get into digital hybrid printing, but do not need the complete high-end, fully featured configuration that an eight-colour Labelfire provides,' explains Michael Ring, who was then head of digital solutions at Gallus. 'This five-colour version allows them to get started in the digital arena but still provides the flexibility for expansion in the future while protecting their initial investment.'
In Switzerland, Philip Morris International uses a specially configured version of the original Labelfire 340 hybrid press to investigate how they can make digital for folding cartons.
In focus
But how do you know if hybrid is the right choice and which option should you chose? Director of business development at Industrial Inkjet (IIJ), Paddy O'Hara, stated, 'If you are producing complex labels that need additional processes, such as low cost flexo background and spot colours, foiling, varnishing, embossing, etc, then an on-press inline solution is the perfect way.'
IIJ is the sales and technical support centre for Konica Minolta industrial inkjet heads outside of Asia, and works with Focus Label, which integrates the IIJ ColourPrint module and software into its d-Flex Hi-Q press, a cost-effective way of going hybrid.
'Some of our competitors might be able to offer an efficient digital machine costing around £300,000 to £350,000 for labels, but then they will probably need a finishing line that might mean another £100,000 investment,' said Antony Cotton, technical sales manager for Focus Label. 'We provide a solution that can print flexo or digital with virtually no set-up time and that is really attractive, particularly as our capital investment cost will be around half what would be charged by competitors. The return on investment will be a lot quicker, certainly within three years.'
Mr Cotton added, 'Integrating digital systems into existing flexo presses is the future because of the way the label industry is going. Combining our expertise in labels with IIJ's in UV digital inkjet, as well as having the best printheads on the market for industrial applications, we know this is a partnership that will work well and provide huge opportunities for customers to grow their business.'
Retrofitting
An inkjet print module can be a cost-effective way into digital. Adding variable image and text capabilities, they make a great complement to existing flexographic printing presses by broadening applications as the press effectively becomes a hybrid in its own right. And as the print speed of these engines has increased, digital no longer slows
down production.
IIJ has been supplying inkjet engines for retrofitting since 2010. Mr O'Hara said, 'For a small label company, adding another piece of standalone hardware for near line production can be problematic and lead to additional costs of ownership. There is the extra space, services, staff, and storage of WIP etc. This is where hybrid solutions score big. Especially solutions that do not require extensive surgery on the press or require the press to be extended. Putting one of our ColourPrint HiQ modules onto an existing flexo press gives the user the power to include variable high-resolution colour images and text on multi-process labels.'
He added, 'And thanks to the use of Konica Minolta's extremely compact high resolution KM1800i printheads, IIJ's inline inkjet modules are some of the most compact on the market. This allows high quality digital label capabilities to be added to an existing press, without the need to remove multiple flexo stations, and also makes it easier for them to be added to older equipment than a system with a longer print station. The compact footprint added to the use of high efficiency LED curing allows the system to be used exactly when and where it's needed, especially when used on a rail mounted
press adaptor.'
Mr O'Hara also highlighted the fact that the press speed is governed by the slowest process, saying that for a long time inkjet solutions have been offered at between 25 to 50m/minute, which can cause an issue for inline production as it reduces production speed, undermining the value-add of the digital solution. He said, 'IIJ label modules typically operate at 80 to 100m/min, and for text and variable data, speeds from 100 to 200m/min.'
New additions
Colordyne Technologies has been offering retrofit products for a number of years. It recently added two aqueous pigment options to the portfolio, the 3600 Series AP – Retrofit and 3600 Series AP –
Engine Kit.
These new modules use an aqueous printhead technology that Colordyne said will make them last 10 times longer than other water-based inkjet printheads. Both can print CMYK plus spot colour at resolutions up to 1600 x 1585dpi in maximum speeds of just over 200m/min. The pigment ink is also said to offers greater durability, making them perform well in environments where they come into contact with water, light and scuffing.
The AP – Retrofit engine is designed to enhance existing flexo presses or web handling systems with cost-effective digital print capabilities. Meanwhile the Engine Kit is modular and scalable, aimed at meeting the needs of integration partners and the market. A single printhead, using Memjet's DuraLink technology, can print up to 215.9mm wide, but can also be customised to meet wider print widths by stitching multiple heads together for each colour channel.
'One of the biggest benefits for label converters and print providers is that the aqueous pigment inkjet works on a greater number of substrates than other water-based inkjet technologies,' said Taylor Buckthorpe, director of sales. 'The 3600 Series AP solutions can print high-quality images on coated and uncoated substrates, as well as prime substrates inline. This versatility makes the pigment technology cost-effective and expands the applications and markets it can be used in.'
Conclusion
As we look ahead to Labelexpo, we already know that Bobst and Mouvent will introduce a new hybrid press, and no doubt there will be more variants on the theme to come. Mr O'Hara commented, 'We believe that by evolving the analogue label production process through innovative use of inkjet, the result is much more powerful that the separate processes alone,' and in this thought process he is not alone.