AN Studio purchases Scodix Ultra 6000 SHD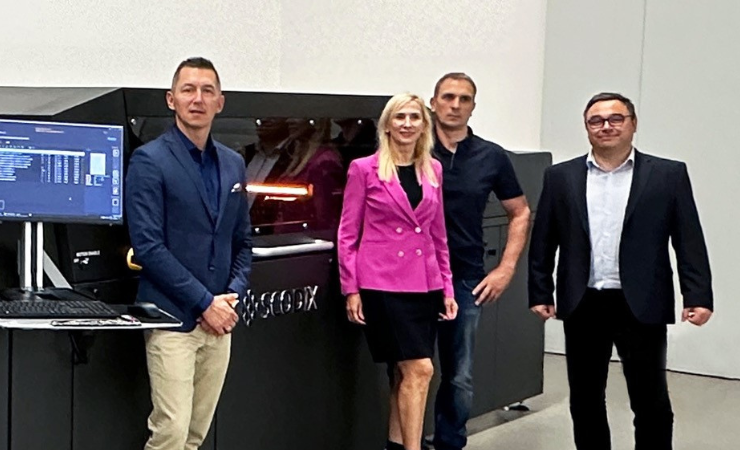 Pictured (from left): Slawomir Iwanowski, Scodix worldwide channel director; Anna and Pawel Jesiołkiewicz, AN Studio co-owners; Szymon Symonowicz, Digiprint sales director
Polish printing house AN Studio has acquired a Scodix Ultra 6000 SHD digital enhancement press, giving it flexibility to enhance a multitude of products with a series of decoration effects.
This is the first installation of this B1 press with Smart High Definition technology in the Polish market. With a wide range of product offerings – from packaging to calendars and POS materials – the Scodix press will give AN Studio the flexibility to enhance its multitude of products with over 10 decoration effects. All are available through a single press, with embellishments alternating from flat foils to raised glossy embossed textures and 3D-holographic effects.
'We were drawn to Scodix because, as a company with an emphasis on sustainability, Scodix's environmental credentials are second-to-none,' stated AN Studio coo-owner Anna Jesiołkiewicz. 'The digital technology eliminates the need for metal dies and harmful chemicals, delivering production benefits as well as reducing impact on the environment. Meanwhile, Scodix SHD technology delivers intricate designs, a must-have for the kind of applications our customers demand. We also love having the ability to combine different embellishments for really exceptional designs.'
Fellow co-owner Pawel Jesiołkiewicz added, 'The Scodix digital enhancement press is already up and running, with a quick and seamless integration into our production processes from purchase to installation. We needed a B1 format digital finishing machine and Scodix provided the most attractive option. We couldn't be happier with the application quality we're already seeing in production.
Mark Nixon, Scodix's executive vice president, global sales and marketing, said, 'This is another positive step forward for Scodix as AN Studio, a leading print provider in Poland, chose our embellishment solution of choice to meet the demands of the growing packaging market. The purchase echoes the sentiment that Scodix is fast becoming the provider of technology that differentiates companies like AN Studio from the competition.
Digiprint sales director Szymon Symonowicz said, 'We see huge potential for more installation of Scodix digital embellishment solutions due to market requirements and dropping run lengths.'