SMEs to harness next-gen barcodes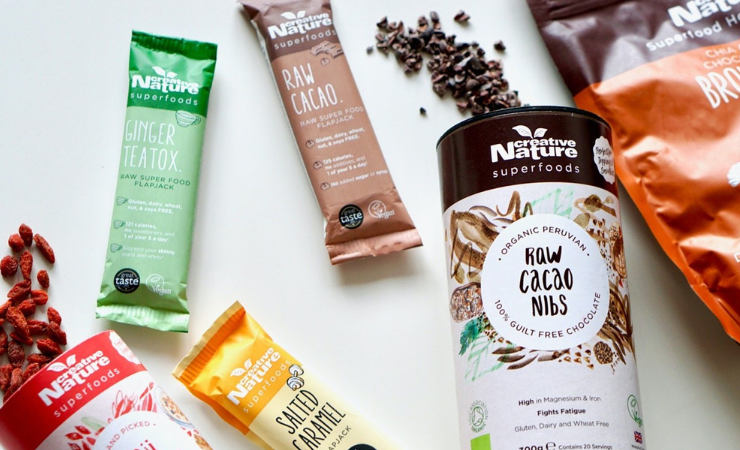 Creative Nature was among the first adopters and now use QR codes powered by GS1, to ensure consumers have consistent, easy access to trusted allergen information
GS1 UK has appointed award-winning businesswoman and free-from pioneer, Julianne Ponan MBE, to the organisation's supervisory board, in an effort to help UK SMEs harness the power of next-generation barcodes.
GS1 UK is one of 116 neutral and independent GS1 organisations operating worldwide. GS1 UK has a community of more than 58,000 organisations across the UK. The common language of GS1 global standards allow anything to be uniquely identified, described and tracked, whether online, in store or in a hospital.
As founder and CEO of an allergy-free food brand, Ms Ponan will use her deep understanding of the challenges and opportunities facing UK SMEs to help GS1 UK members grow their businesses and harness the power of next-generation barcodes.
As a sufferer of anaphylaxis to all nuts, some seeds and certain additives, she spent years carefully studying allergen information before deciding what to buy. After becoming frustrated with the current options available on the free-from market, as well as the lack of easy access to clear, trusted allergen information, she founded Creative Nature in 2012 and has gone on to position her brand at the forefront of free-from innovation. Creative Nature has grown from a small, purpose-led challenger in to one of the UK's leading allergy safe brands. The brand has also enjoyed success overseas, with exports to 16 counties. Creative Nature is now driving change for free-from food in the aviation industry, launching products on board Virgin Atlantic and more.
A member and advocate of GS1 UK, Ms Ponan will bolster GS1 UK's SME proposition, 'ensuring it reflects their diverse needs and provides the best possible support, products and services.'
This includes harnessing the power of the next generation of on-pack labelling – QR codes powered by GS1. By connecting a product's unique identity to multiple online sources, these new on-pack symbols allow brands to speak directly to consumers through a simple smartphone scan, providing instant access to trusted information, real-time content and richer personalised experiences.
Creative Nature was among the first adopters and now use QR codes powered by GS1, to ensure consumers have consistent, easy access to trusted allergen information.
Ms Ponan said, 'As a member of GS1 UK myself, I am thrilled to be joining the forward-thinking supervisory board. Creative Nature has benefitted greatly from the support and guidance available through our membership. I look forward to extending that to my fellow founders and seeing their businesses thrive.
'I am particularly excited to explore how the next generation of barcodes can transform the next 50 years of retail, keep consumers informed and protected with vital informant they can trust, and help other purpose-led brands share their stories. Having founded an SME, I also hope to give a voice that can highlight the challenges members face and enable opportunities for growth in the SME market for GS1 UK.
Chris Tyas OBE, chair of GS1 UK, said, 'With SME's accounting for roughly three quarters of our 59,000 strong membership, her experience and knowledge of what it takes to build a successful business will prove invaluable, not only to our organisation but also to our members.
'I look forward to working together to refine our membership proposition and strategic direction. As a passionate advocate for those with allergies and early adopter of QR codes powered by GS1, her support will be invaluable as we develop this new technology and drive wider adoption. This will ultimately create transformative industry change for the better, ensuring consumers are equipped with the information they need to make more sustainable, safer and smarter choices.'