Fujifilm and Henkel partner for inkjet flexible packaging lamination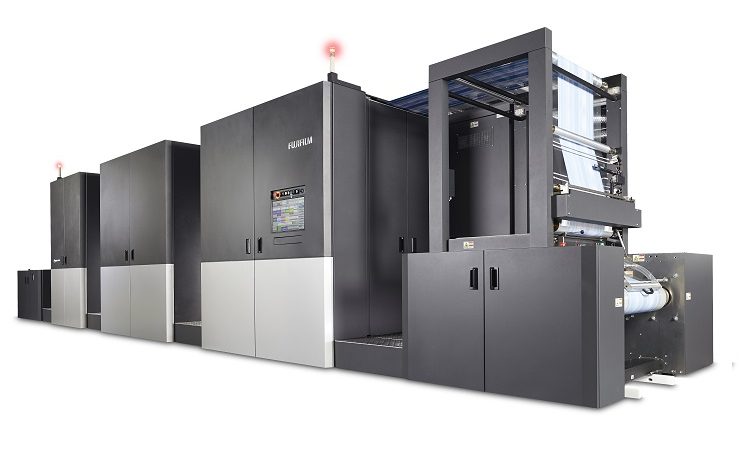 The Jet Press FP790 is a water-based inkjet digital press for flexible packaging
Fujifilm Graphic Communications and Henkel Adhesive Technologies have entered into a partnership agreement aimed at 'delivering production and sustainability benefits' for customers of the upcoming Jet Press FP790 inkjet digital flexible packaging press.
Henkel specialises in adhesives, sealants and functional coatings for the packaging sector. Commercially available later this year, Fujifilm's Jet Press FP790 features an environmentally friendly design incorporating water-based inkjet print technologies. It is capable of delivering high quality 1200 x 1200dpi image reproduction, can reproduce more than 90% of the Pantone colour gamut and has two dedicated white inkjet channels for high white opacity.
The partnership between the two companies has facilitated extensive testing of Henkel's portfolio of laminating adhesives during the development of Jet Press FP790. Specifically, the two organisations have collaborated to undertake a series of post-press tests involving Henkel's solvent-free laminating adhesives, to ensure compatibility with the Jet Press FP790 ink as well as verify adhesion properties and lamination performance in post-press production.
The results of these tests sees Henkel's solvent-free laminating adhesives become Fujifilm's recommended option in combination with its Jet Press FP790 inkjet digital flexible packaging press.
Manuel Schrutt, head of packaging, EMEA at Fujifilm Graphic Communications, said, 'With the challenging demands of the flexible packaging market, particularly the short turnaround times and regulatory requirements, we wanted customers of our Jet Press FP790 to be in the best possible position to maximise the production opportunities from day one.
'Working with such a renowned global brand as Henkel, and having access to its market leading laminating adhesives and the support of its technical team, has enabled us to undertake thorough post-press testing of flexible packages produced by the Jet Press FP790. As a result, future users of our new digital packaging solution can rest assured that when using Henkel's solvent-free laminating adhesives, press compatibility, optimum bond strength and lamination properties will be guaranteed for a wide range of flexible packaging applications.'
Stefan Gloetzel, senior business development manager, packaging adhesives at Henkel, said, 'It is always gratifying to work with like-minded organisations that are committed to delivering the best possible solutions for their customers. We have been extremely impressed with the test results which demonstrated that the solvent-free laminating adhesives, including grades from our RE range, perform seamlessly with the quality print output from Fujifilm's FP790 digital packaging press.
'In addition, our RE range is designed for recycling, therefore helping package printers to create sustainable flexible packaging solutions that go beyond their primary functionalities.'