MIS company Tharstern acquired by ePS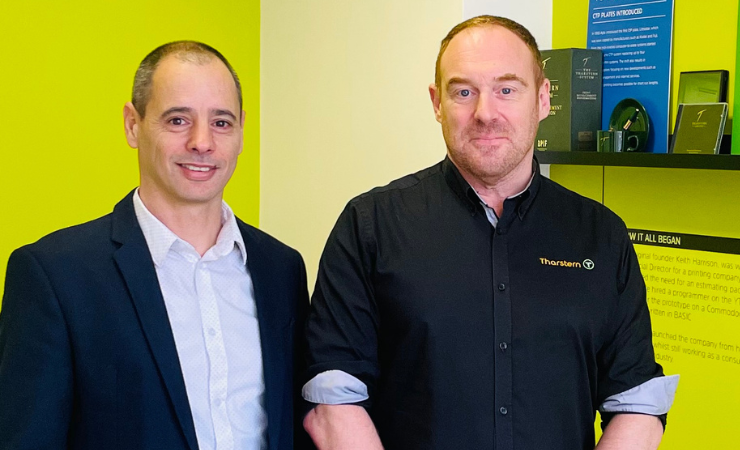 Guy Amos (left) of ePS and Keith McMurtrie of Tharstern are looking forward to integrating Tharstern's team and technology into ePS
UK-based MIS supplier Tharstern has been acquired by eProductivity Software (ePS), the packaging and print software company that broke away as an independent operation from EFI. Tharstern will become known as ePS Tharstern.
The acquisition will see the addition and application of ePS's scale and resources to the ongoing development of Tharstern's cloud-based MIS product, including features such as ePS's MarketDirect StoreFront web to print, auto scheduling and Auto-Count 4D shop floor production intelligence. Both companies said there will be no impact on support for Tharstern's customers.
Guy Amos, VP of corporate development and strategy at ePS, said Tharstern was a 'remarkable company, going back over almost 40 years, with a great amount of talent, recognised by the industry and customers'. It has a substantial market presence in the UK, with more than 550 customers, and Mr Amos said direct feedback from these customers had been very positive.
'Talking to these customers, they speak very highly of Tharstern, both the team and the product, and we were very happy to hear that.'
Tharstern managing director Keith McMurtrie said the company had set out with three objectives in 2014, following a management buy-out: the three 'Ps' of people, product and position. He continued: 'We definitely achieved the people objective: we wanted to create a real start-up culture in the company, a place where people love to come to work. With the product, we have continued to enhance and add value to our desktop MIS product, while also creating a class-leading cloud product.'
The third objective of position has been harder, although Tharstern has expanded from its UK base to gain some traction in North America, Australia and South Africa. 'With ePS we will have an organisation around us that helps to achieve that objective,' said Mr McMurtrie.
ePS has strategies for organic and inorganic business growth, and said Tharstern was 'high up' on its list for building its business through inorganic activity.