HP Indigo adds 200K to press portfolio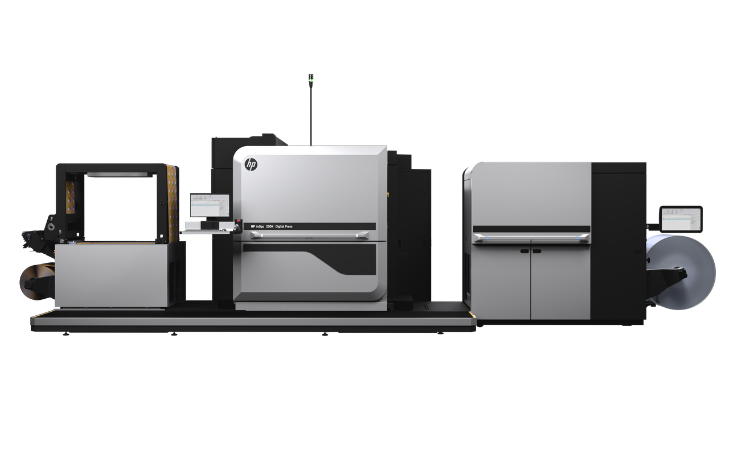 HP Indigo has introduced the 200K digital press to address more of the flexible packaging market
HP Indigo is adding the 200K to its press portfolio, with this new model targeting taking more of the flexible packaging market digital through specific productivity enhancements.
Based on the HP Indigo 100K sheet-fed commercial press – launched in 2020 and already with more than 100 installations – the new 200K can print at a maximum speed of 56m/min when running in three-colour enhanced productivity mode and at a width of 760mm. This equates to a 30% uplift in speed when compared to the company's previous generation of presses and up to a 45% increase in productivity.
With HP Indigo expecting its customers to be generating annual revenue from digital flexible packaging in the region of $1 billion in 2023, Eli Mahal, who heads up labels and packaging products at HP Indigo, explained, 'We started our journey around a decade ago with the HP Indigo 20000 Series 4 digital press. Today, we have more than 330 active presses installed worldwide across different customer segments. A fifth of those are producing labels and shrink sleeves, with the other 80% serving the flexible packaging market. Within that, two-thirds are digital disruptors – entrepreneurs and label converters moving into the market – and the rest are flexo houses seeking to augment their production with digital capability. That's been the journey so far but we knew we had to take the next step to serve even more of the market.'
In particular, he notes the growing number of small and medium sized runs from brands, both big and small. Whilst there is now a bigger pool of SME customers to serve as a consequence of the coronavirus pandemic at the start of the decade, big brands are seeing their product lines diversify and have more SKUs as a result. It is an acknowledged truth that whilst run lengths have by and large come down over a number of years, SKU proliferation, coupled with new market entrants, has meant the total amount of jobs has increased. For Mr Mahal, this plays into digital's evolving wheelhouse and has necessitated the introduction of the HP Indigo 200K.
'Flexible packaging is traditionally more of a volume production industry, focused on the food market which is a key vertical. This is totally different to what we know in labels, where there are lots of smaller players diversified across multiple markets. This inevitably means smaller runs in the label market. The lines are blurring and the two are starting to come closer, although flexible packaging will remain a market best served by higher volumes. So to better serve it, a more productive press solution was needed.
'The main difference between our Series 4 and Series 5 presses is productivity, which in terms of sheer speed are 30% faster thanks to an improved LEP writing head and re-engineered press components able to handle such a higher throughput. We have also worked to add more automation to shorten make-ready times from job-to-job, introduced AI-driven service tools and improved the ability of the press to handle thin films and sustainable media.'
Beta sites around the world have been working with the HP Indigo 200K over the past few months, with more to be added shortly. UK-based Sirane is one such business and Peter Ralten, the company's commercial and business development director, said, 'We have been looking into digital print for a while now, realising it is where the future lies. The HP Indigo 200K digital press, with its incredible increase in productivity, opens new business opportunities for us. With the unmatched HP Indigo quality and versatility, we can't wait to see the results of adding it to our portfolio.'
Mr Mahal goes on, 'These beta sites have shown that the HP Indigo 200K can result in productivity increasing by as much as 45%. The breakeven point also moves from around 2000sqm to 3000sqm – an increase of 50%. This means that for our existing flexible packaging disruptor customers and label businesses using digital to serve the flexible packaging market, they can increase their share of the addressable market threefold. For those conventional flexible packaging businesses who have so far not stepped into digital, it means the technology is an increasingly viable option for them also as they look to respond to a changing market. Both scenarios benefit.'
Adding his thoughts, Noam Zilbershtain, vice president and general manager of HP Indigo and Scitex, said, 'Flexible packaging is a growing market and HP Indigo customers are growing much faster than the market. I have no doubt that the HP Indigo 200K digital press will open the door for more flexo converters who want to join the success and reign in industry 4.0.'
Read issue 2, 2023 of Digital Labels & Packaging for an assessment of the current market for digital printing of labels and packaging, including more on the new HP Indigo 200K and further thoughts from Mr Mahal; register here to receive the magazine