Fujifilm adds OGV to RxD range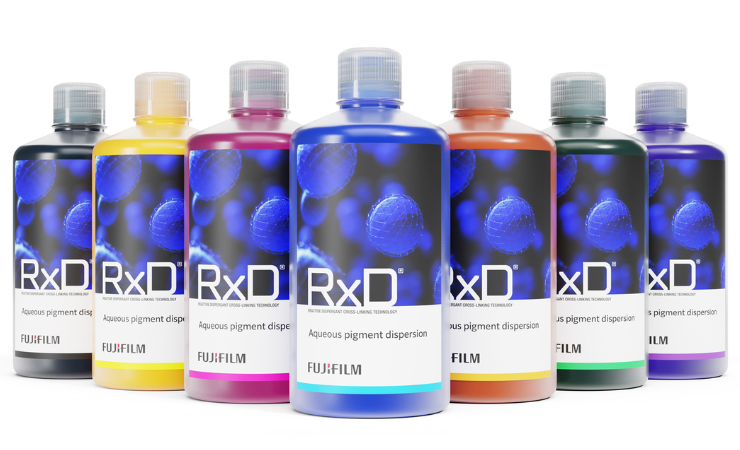 OGV colours are typically used to formulate ink sets that extend the gamut of a print system beyond the colour space achievable with CMYK
Fujifilm Imaging Colorants has expanded the range of colours in its series of RxD pigment dispersions for water-based inkjet ink formulation, with global commercial availability of Orange PO71 (O), Green PG7 (G) and Violet PV23 (V).
Orange, green and violet are typically used to formulate inksets that extend the gamut of a print system beyond the colour space achievable with CMYK, which is noted by Fujifilm as 'particularly important for achieving higher vibrancy, colour accuracy and matching brand spot colours', in applications from packaging to textile and commercial printing.
Grant Murney, product manager of RxD inkjet pigment dispersions at Fujifilm Imaging Colorants, said, 'In developing the new RxD OGV dispersions, we've carefully selected the best polymers and processing conditions to ensure optimum stability and print performance for our customers, in line with the standard CMYK products already in the RxD product range.'
RxD pigment dispersions are used in Fujifilm's aqueous ink developments for OEMs and are available to other ink formulators. The new inkjet pigment dispersions are now available worldwide through Fujifilm's Ink Solutions Group.
Last year, Fujifilm announced an expansion of its global RxD inkjet dispersion manufacturing capabilities, as part of a commitment to meet growing demand for new applications with aqueous inkjet inks and supporting its global customer base.
Read more about developments in inks and toners in issue 2, 2023 of Digital Labels & Packaging; register here to receive the magazine