O.C. Tanner brings packaging in-house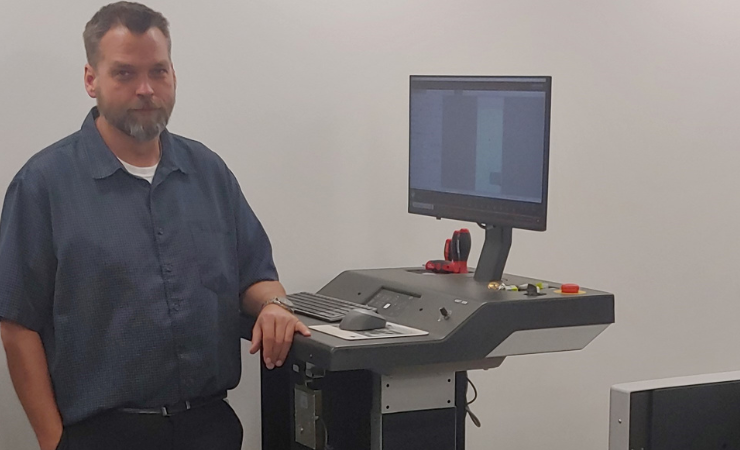 O.C. Tanner packaging engineer Daryl Leiser at the helm of the Kongsberg X24 Edge
O.C. Tanner has invested in a Kongsberg PCS X24 Edge digital cutting table to bring custom packaging production in-house.
The US company, a renowned manufacturer of retail and corporate awards operating out of Salt Lake City, Utah, had previously used third parties to handle packaging requests, placing bulk orders and making custom boxes and inserts by hand, 'which was both time-consuming and inefficient,' as noted by Daryl Leiser, a packaging engineer at the company.
'We provide employee recognition services and awards to more than 3000 clients from various industries in more than 180 countries around the world, and many of our items require custom packaging.'
The machine installed is fitted with a MultiCUT milling unit, delivering 1kW of milling power and speeds up to 45,000 RPM for milling, contour cutting, routing, drilling and engraving. A BevelKnife tool enables a 45-degree slanted cut for v-notching or single through cutting, while the corrugated crease tool creates crease lines without perforation. In the future, new tools can be added to allow O.C. Tanner to evolve its operations to meet changing customer and market demands.
Connie Adams, territory sales manager at Kongsberg PCS, said, 'Having made the decision to bring packaging production in house, O.C. Tanner needed a machine that could easily handle the full spectrum of materials used in its inner and outer packaging through as well as in the awards themselves.
'With its specialty tools, the X24 Edge handles a wide range of applications, offering speed, power and the flexibility to add new tools for new materials, new applications, or more capacity. Most importantly, the table can evolve to keep pace with the changing demands of Daryl and the team at O.C. Tanner.'
Mr Leiser continued, 'As costs and lead times increased, we weighed this challenge with our own desire to have more control over the quality of our products and opted to create our own packaging department. Now, we are able to both make custom packaging and inserts as and when they are needed, while also giving our designers the ability to realise their ideas and make samples for new awards.
'With such versatile options we are now able to cut paper, cork and plastic. Being able to customise our packaging has created significant cost savings, the ability to use more sustainable packaging, and as such we've enjoyed an increase in customer satisfaction. The versatility of the Kongsberg X Edge has meant we've not only been using the table for making samples and custom boxes, but also as a production machine. Half of the working day consists of production runs and the other half of making samples and running test on new products.'