AlphaJET arrives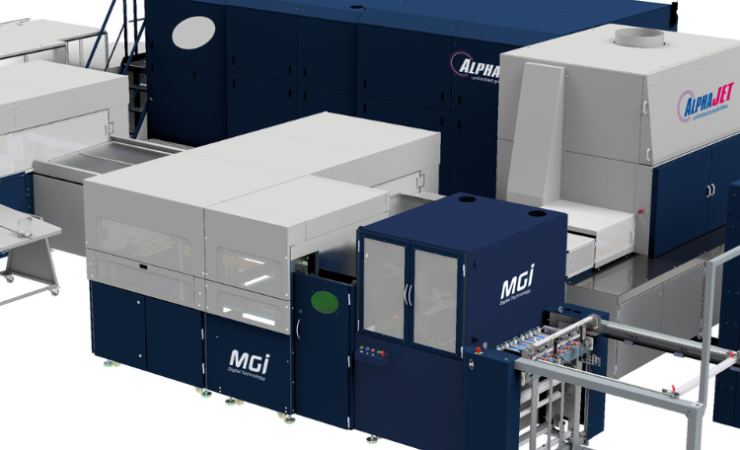 AlphaJET produces up to 1800 B1 sheets per hour, at a print resolution of 1600dpi
MGI Digital Technology has formally launched AlphaJET, claimed as the world's first single-pass B1-plus inkjet digital press, from printing to finishing.
The platform combines water-based CYMK inks with inline digital embellishment and eco-spot UV coating and green foil (flat, raised and embossed) stamping, and OPV lamination effects. The substrate range goes from 135gsm up to 2mm thickness. This includes coated and uncoated papers, folding carton, e-flue cardboard, and synthetics from B2 to B1-plus size.
It produces up to 1800 B1 sheets per hour, at a print resolution of 1600dpi. A patented flat paper transport with electromagnetic substrate transport with Smart Trays system achieves 'perfect registration and movements', resulting in high resolution printing and jam-free operation. Intelligent scanners and colour calibration with complete automation are used for registration of CMYK colours and the spot UV coating. Software enhancements include interactive digital proofing validation with a digital value-added sales assistant, an automated pre-press workflow, and state-of-the-art Cloud options using MGI Connect.
Further, AlphaJET is certified deinkable by Ingede for CMYK water-based inks, eco-spot UV coating and green foil on certain substrates, as well as being Fogra certified.
AlphaJET also dovetails with Industry 4.0/Smart Factory concepts being introduced, such as at ISRA, the first confirmed customer. ISRA is an industrial cooperative that operates in the packaging sector and prints cards with or without chips aimed at the retail, transport and authentication and access control markets. AlphaJET has been selected to optimise the business' entire production flow and deliver advantages of Industry 4.0.  
ISRA CEO Jean-Pierre Chauvin said, 'Today, five main steps are generally required in order to produce our products. MGI AlphaJET will enable us to simplify the production flow and free ourselves from certain printing constraints, without load breakages, without waste and in a time-efficient manner, with unparalleled productivity that is impossible to achieve using conventional equipment.'
Moreover, by purchasing the first MGI AlphaJET, ISRA has confirmed its five-year innovation plan that is part of the 'France Relance' initiative. This is a €100 billion investment plan to support businesses, rethink production models, transform infrastructure and invest in training in the European country.
For MGI, it and partner Konica Minolta are striving to bring Factory 4.0 to various graphic arts market segments, including packaging, folding carton, web-to-print/to-packaging, commercial printing, books and magazines. Being single-pass and with complete automation of manufacturing processes for customised and flexible mass production, and offering 'unique' value-added opportunities, AlphaJET sits well within the framework of Industry 4.0.
MGI CEO Edmond Abergel said, 'AlphaJET offers unlimited opportunities. The single-pass Factory 4.0 from printing to finishing using water-based and UV inks is a breakthrough innovation for the printing and packaging industries. One equipment operator, one press and one single factory. 
'AlphaJET has been a significant journey from concept to realisation, but I know I speak on behalf of all the team in saying we are immensely proud of our achievements as we head towards full commercial production. Our all-in-one concept provides huge flexibility for value-added production from proofing to run-lengths of millions – all at a competitive cost.'
Olaf Lorenz, senior general manager, digital transformation, Konica Minolta Business Solutions Europe, said, 'The global launch of the MGI AlphaJET is a significant step forward as we continue to accelerate our digital transformation journey – both internally as well as externally. Today, we are growing far beyond our core markets and successfully expanding in markets such as IT services, healthcare, and digital manufacturing, as well as finishing and embellishment. Both MGI and ourselves continue to work closely together and with our customers in a collaborative approach, and we expect to make further announcements soon.'
An AlphaJET demonstration facility has been opened at Konica Minolta's premises in Paris, with a second dedicated AlphaJET demonstration centre to open at Konica Minolta's premises in New York early next year.