All4Labels embarks on shrink sleeve campaign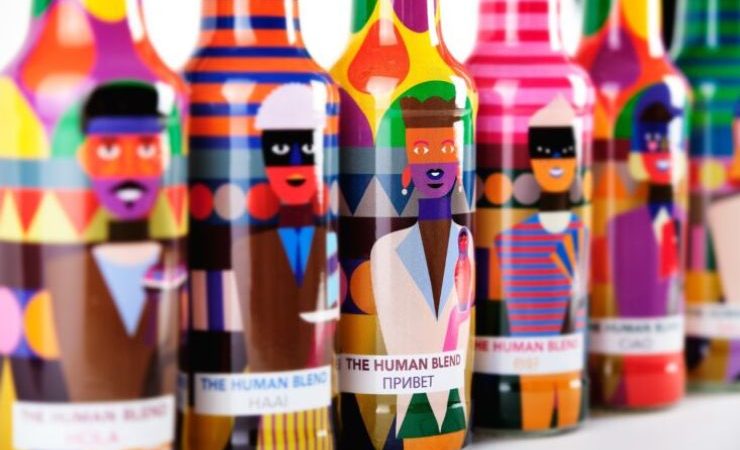 As part of the project showcase, a set of typical human features that represent different ethnic groups and cultures have been designed to form an image of a person
Global packaging group All4Labels has introduced a new campaign, 'The Human Blend', supporting brands with their work to 'build outstanding experiences' for consumers through digitalisation and variable data printing, notably using shrink sleeves.
The Human Blend combines All4Labels' long-term experience in digital printing together with the company's strong focus on delivering a claimed best-in-class example of a variable data printing. This approach, according to All4Labels, makes it possible to structure an innovation model in a way that supports brand owners all the way from a project's conception to completion.
Moreover, The Human Blend is said to respond to the emerging needs of Gen Z, members of which are inclined to look for values like transparency, individuality, inclusion and sustainability in the packaging of their favourite brands. Various research studies have shown that: 53% of Gen Z want brands to offer personalised or customised products; 69% are more likely to purchase from companies that openly share their values; and 73% would pay more for a sustainable product.
The Human Blend project showcases digital sleeves that respond to these trends, with 'highly creative solutions'. As part of the project showcase, a set of typical human features that represent different ethnic groups and cultures have been designed to form an image of a person. These have been created by All4Labels' in-house packaging design unit, All4Graphics, using the HP SmartStream Mosaic proprietary SW suite. The algorithm then randomised between the various elements and backgrounds to create thousands of possible sleeves. Printing of the shrink sleeves was also done using HP Indigo electrophotographic technology.
The result is stated as, 'customised packaging, capable of attracting consumers' attention while promoting a culture aimed at inclusion and acceptance of diversity, created thanks to combination, and blending of the various elements into characters that reflect a multicultural richness.'
In addition, All4Labels identified The Human Blend as highlighting how variable data printing is an 'outstanding opportunity' for brand owners that want to innovate through packaging and offer an 'unforgettable' brand experience to consumers. However, the project also shows that variable information is only a starting point for digital printing and that item-level customisation can be taken to the next level.
All4Labels CEO Adrian Tippenhauer said, 'The Human Blend highlights our long-established digital DNA and our commitment to explore all possible solutions available for our customers using new technologies. As pioneers of digital transformation, we keep on leading the change from digital printing to digital thinking and we constantly bring new applications to the market.'
Massimiliano Martino, CTO at All4Labels, added, 'We know from experience how much packaging can be transformed using digitalisation. By investing constantly in new technology and in the latest digital production machines, we are able to provide optimal variable graphics and applications at the lowest carbon emission possible. The Human Blend pushes forward the frontiers of creativity to sustainably reconciliate together humans' needs with the latest available technologies.'
Haim Levit, senior vice president and general manager, HP Industrial Print, said, 'In the HP graphic arts and digital print businesses, it is one of our core values to incorporate sustainability throughout the entire value chain, and we are committed to creating a powerful culture of diversity and equity across our ecosystem. We have a responsibility to channel our technology in a way that enhances our communities, and I'm proud to see that HP Indigo's technology is raising the bar on sustainability by helping to bring The Human Blend campaign to life.
'The campaign is a prime example of how digital printing can provide a platform for brands to help consumers connect to a greater purpose, celebrate inclusivity and gain a sense of belonging.'
The Human Blend follows on from All4Labels' Motherland project, a dedicated marketing campaign designed to shape the experience of consumers through 'unique, precious and sustainable' labels and packaging.