Commerce Label installs Mark Andy Digital Series iQ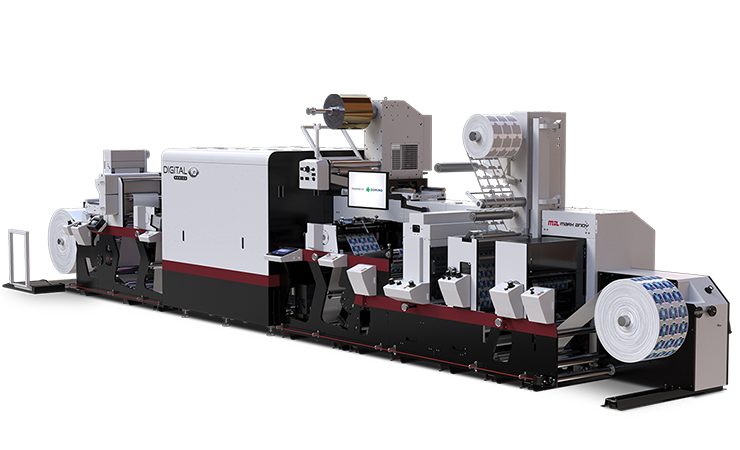 Commerce Label first invested in digital technology in 2009 with the installation of UV inkjet press, added to with the recent installation of a Mark Digital Series iQ hybrid press
Minnesota-based Commerce Label has opted to add hybrid printing to its production mix, as the company seeks to improve efficiency and maximise output.
This has seen it install a Mark Digital Series iQ press within its modern and well-equipped 22,000sqft facility in Plymouth, Minnesota. Combining the fully servo-driven Mark Andy Evolution Series flexo platform with a Domino N610i UV inkjet engine, this press is capable of printing 600 x 600dpi in up to seven inkjet colours at production speeds up to 70m/min in high-speed mode or 50m/min in high-quality mode on a 330mm web width. The model at Creative Label is specified with two flexo units before and two after the inkjet engine, as well as semi-rotary die cutting, web turn bars, and capabilities for cold foil, lamination, and slitting. These extra options were chosen for their ability to handle many of the various embellishments traditionally offered to Commerce Label customers.
Founded by a group of local print professionals in the early 1990s, today it's owned and managed today by Jim and Bobbi Senske, Dave Warner and Adam Schafer.
Initially running a narrow web flexo technology, in up to 11 colours, Commerce Label first invested in digital technology in 2009 with the installation of UV inkjet press. Explaining this decision, Mr Warner, general manager at Commerce Label, said, 'At the time it was a choice between inkjet and toner technology as standalone machines with offline finishing and converting. We chose inkjet because it offered the durability we needed to service our UL/CSA and compliance label customers.'
Move the clock forward 12 years, and the choice facing the company when it looked to add new digital technology was that things had changed drastically, especially with the advent of hybrid presses. Having performed offline digital finishing for more than 10 years, Commerce Label was keen to see what hybrid technology could offer as a means of streamlining manufacturing and maximising output. Because of the company's growing need to supply a wide spectrum of SKUs and volume mix, coupled with higher production flexibility, the combination of flexo and digital print technology and inline converting in one hybrid machine was an 'attractive proposition'.
Mr Warner said, 'Mark Andy has always been a great partner not only supplying press equipment but also in its dedicated after-sales customer support. When we looked closely at hybrid presses, Mark Andy was the obvious choice because of its engineering capabilities and customer commitment.'
He continued, 'We analyse job size and complexity and determine the best fit between traditional flexo and producing the job on the Digital Series iQ, taking the product quality and total costs, including prep, into consideration. We are accustomed to this flexo versus digital analysis for the past decade but the Digital Series iQ gives us expanded parameters owing to its width capabilities, inline options, print quality, extended gamut, and print speed.'
According to Mr Schafer, vice president of sales and marketing at the converter, 'We are running new work on it as well as work transitioned from our current digital and flexo presses. The markets we are supplying include industrial goods, durables, electronics, and OEMs, and on the consumer side, labels for nutraceuticals, the food and beverage sector as well as health and beauty.'
Mark Andy sales manager Ted Bright said, 'To have communicated the Mark Andy hybrid benefits to a quality label converter like Commerce Label and agreed its value as the right production tool for its customers, product portfolio, and ultimately profitability, says as much for the long-term cooperation between the two companies as the importance of the technology itself and the support involved in ensuring the success of the investment. We are very proud of that relationship and honoured to be one of Commerce Label's preferred suppliers. They, like us, believe that hybrid is the way forward.'