Essentra installs first hybrid label press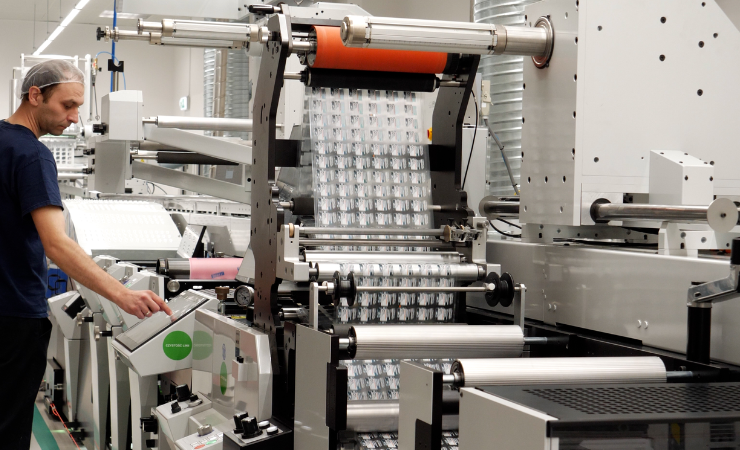 Mark Andy Digital Series HD at Essentra Packaging
Poland-based Essentra Packaging has installed its first Mark Andy hybrid label press – the Digital Series HD.
The company, which supplies the cosmetic and pharmaceutical industries with printed carbon packaging using sheet fed offset presses, manufactures approximately 270 million items of carton packaging and 1.5 billion of self-adhesive labels.
Manager Piotr Skalecki said, 'Job runs are still decreasing but customers are constantly asking for more complex and difficult labels, and in different versions. So, we needed a press that would meet their needs and expectations. Digital Series HD combines the best from digital and flexo technologies in one production line, so it seemed an ideal solution for our current needs.'
According to Essentra, increasing numbers of different versions of the same label, for a cream or shampoo, forces beauty market customers to respond quickly and implement new designs or adapt existing ones.
Mr Skalecki added, 'The configuration of print heads results in an optimum balance between 1200 dpi resolution, press stability, and life expectancy of the components. We see a kind of revolution in this area, partly because of the pandemic, but most of all, because of a greater emphasis on production costs. In the pre-Covid era our customers approved new designs personally by visiting our plant, but when the pandemic started, an increasing number were realised remotely. Our customers expect various options with any product, and we need to get quick responses as to which one they prefer.'
Mr Skalecki claims the hybrid offers a 50% waste reduction on short- and mid-length jobs, as well as measurable savings at the design approval stage.
He added, 'We can use one web of material to prepare several versions of a particular label, reducing usage by 75-80%. Digital Series HD also needs only half the power required by a typical flexo press and generates minimal ink waste. Previously, it took 4 to 5 business days to prepare five label designs for a customer. Currently we need only one day for the same task, and the customer also receives more designs to choose from and approve.'