Prati collaborates with Vetaphone for new Digifast model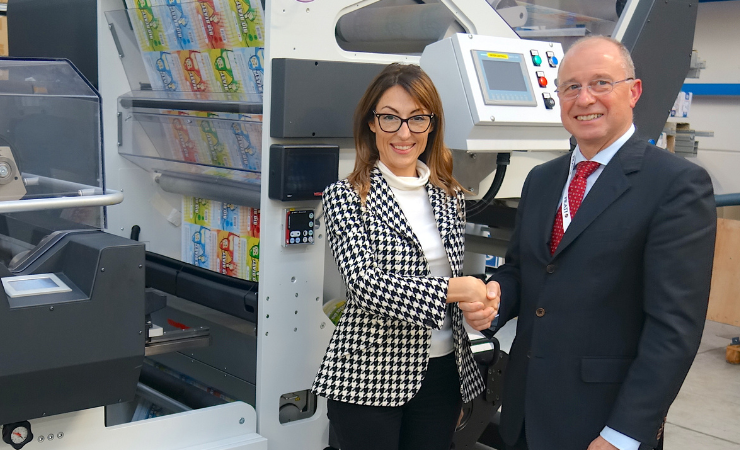 Chiara Prati and Giuseppe Rossi shake hands on an agreement to supply Vetaphone corona technology to Prati's new Digifast20000 line
Denmark-based Vetaphone has partnered with Italian manufacturer Prati on its new Digifast 20000 model, which is currently being developed for the HP Indigo 20000 and 25K lines.
The 760mm wide machine will need a 4KW corona system fitted by surface treatment technology provider Vetaphone.
Prati, founded in 1973, has a wide product range, from high-speed slitters and rewinders to more complex inspection and finishing lines. It relies on its 'Futura' technology to allow customers to grow their machines in line with changing business requirements.
The company's sales and marketing director, Chiara Prati, said, 'We first encountered Vetaphone when we were working on a special laminating line for one of the world's largest manufacturers of tube laminates.
'It was 450mm wide and required a 4KW corona system for secure over-printing on a difficult substrate. We soon came to realise why Vetaphone was the most popular brand on the market – when you invent something you have more experience than anyone else – and it matters.'
The two companies have worked closely together on a  number of special projects, as well as Vetaphone corona units becoming the standard fit for Prati's successful DigiFastOne and Digi Compact converting lines. Currently, they are working on a special 630mm project in Spain to handle linerless labels but needs the facility to spot-coat hotmelt adhesive.
Ms Prati added, 'We enjoy working with Vetaphone because our company philosophy aligns with theirs – we both like a challenge and using our expertise to find the best solution.
'The cooperative partnership is a good fit for both. Prati's requirements are for web widths from 370mm to 760mm, a sector in which Vetaphone has a large share of the corona treatment market, and for substrates that include PSL, PET, monofoils, multi-laminate and alufoil, amongst others.'
Giuseppe Rossi, Vetaphone's sales manager for Italy commented, 'We are delighted to be working closely with Prati on a number of exciting new products that will be hot prospects for the market. I think both companies appreciate each other's attention to detail and the investment made in R&D. This can only bode well for the future.'
Today, Prati has an annual output of more than 200 machines valued in excess of €20 million. Its headquarters in Faenza boasts a string of ISO certifications and its products are manufactured in accordance with CE, UL/CSA, and Industry 4.0 standards. A total of 80% of Prati's business comes from exports outside of Italy, with around 45% to Europe and 35% to other markets globally.